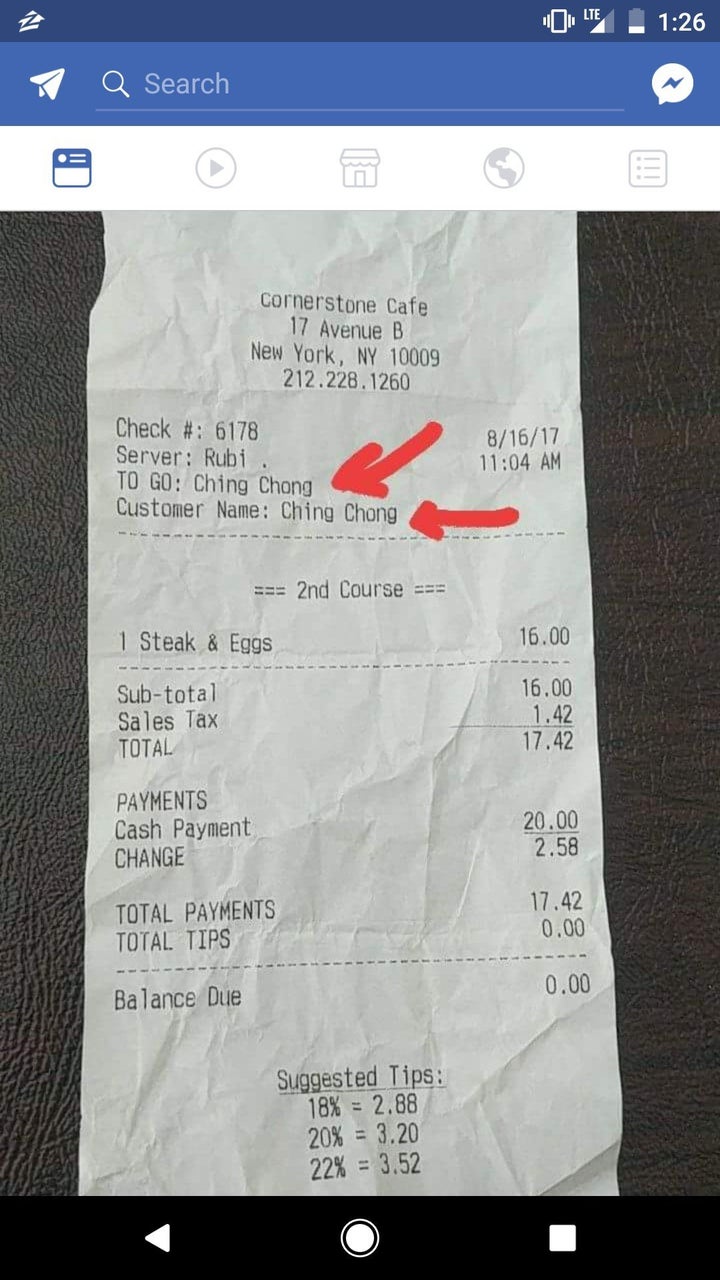 A New York restaurant is getting chewed out on social media after an employee referred to an Asian customer as "Ching Chong" on a takeout receipt.
The woman went to Cornerstone Cafe and ordered steak and eggs to go on Aug. 16. When she looked at the receipt, she noticed that a server, identified only as "Rubi," used the racial slur "Ching Chong" as the customer's name.
The woman showed her daughter the offensive receipt, and her daughter in turn shared it with a friend known on Facebook as "Ziggy Chau." The friend then shared an image of the receipt on Facebook, where it quickly went viral:
Chau at first asked for a boycott of the restaurant and suggested that people call it directly "and let them know they have a racist staff."
"Racism has no place ANYWHERE. Asians friends――- speak up for ALL... not just when it affects you, please. Can you please share this to your page? Hate to get political but in light of what is happening here in the USA and our current president seem to make it ok to come out and be blatantly racist."
Chau updated the post to explain that she took it upon herself to contact the restaurant:
"I explained the situation to the manager by the name of Rocco who then proceeded to ask me so what is the customer's name then? I said regardless, the receipt said Ching Chong, a derogatory term for Asians.

"He made an excuse and said maybe the server misheard the name. I said the receipt is being shared on social media and his restaurant should respond to it.

"I asked him to issue a public apology on their social media channels so we shall see what happens."
"This situation leaves me no choice than to terminate this employee for this unjustified act. It definitely does not reflect the way the Cornerstone staff or I think because of one individuals stupidity."
The Facebook account has since been deleted.
HuffPost reached out to the restaurant and to Chau, neither of whom immediately responded.
Before You Go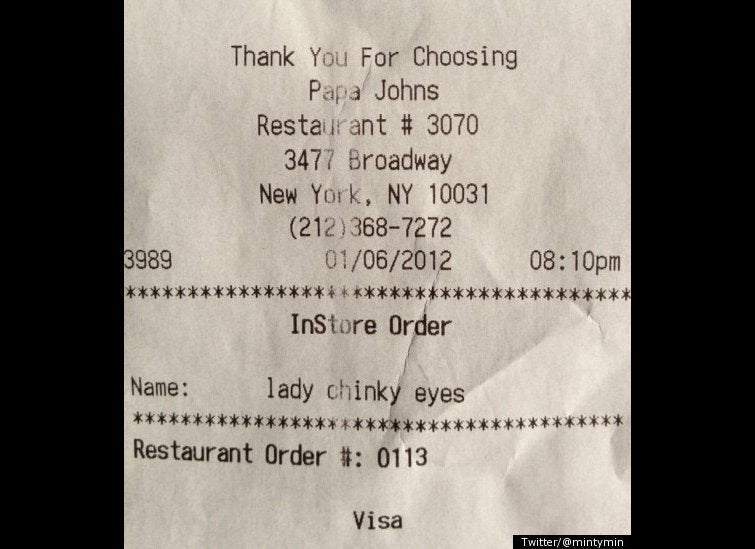 Outrageous Receipts (EXPLICIT LANGUAGE)
Popular in the Community