Chip Bell is one of my favorite authors. His books are smart, succinct, accessible, and practical. Among the mind-numbing, eye-glazing, sleep-inducing biz-babble of most business books today, Chip's writing is a breath of fresh air. What a joy it is to read an author who respects his readers, who doesn't fill 300 pages saying what could be said in 100, and who doesn't take himself too seriously. Chip writes the kind of business books I like to read. So it was with great delight that I welcomed the opportunity to talk with Chip recently about his new book, "The 9 ½ Principles of Innovative Service" published by Simple Truths.
BJG: There have to be a gazillion customer service books available today and yet service in so many industries is still mediocre at best, abysmal at worst. Why do you think that is? After all, serving customers isn't rocket science -- why can't more businesses get it right?
Chip Bell: I am asked this question a lot. Many senior leaders, particularly in very challenging economic times, tend to gravitate to what they can control; what is predictable. They are much more confident with the assurance of cause and effect. Thin margins in a global economic tend to bring out the "command and control" style of some leaders under the intense pressure of investors demanding a short term return on their investment. Convincing the board to open a new retail branch is much easier than talking them into adding twenty more operators to the call center. If you invest in a new branch based on solid market and site research, revenue almost always goes up; manage branch overhead wisely and profit will go up as well.
But, good customer service is more of a correlation than cause and effect. To use an admittedly dark analogy, it is less like drinking arsenic and more like smoking. We all know if one drinks arsenic, death is guaranteed. However, smoking is different. Smoking adversely impacts the body in a way that yields a probability, not a guarantee, of cancer, heart and lung problems and the higher potential for death. Yet, I have a 93-year-old uncle who has smoked two packs a day since he was 14! He knows smoking is not good for him. But, he has proven he can cheat death!
The correlation challenge means we need to help leaders see the probable benefits of investing in customer service. When leaders are directly involved in talking with customers as well as the front line employees who serve them, their faith in a return is strengthened. When they observe customer focus groups, sit with call center operators, ride with service techs, or spend time on the face-to-face counters, they are more willing to believe that great service has a likely bottom line payoff. Take a close look at where the senior leaders of great customer service organizations spend their time -- out of the office and meeting rooms!
BJG: You've written several books on customer service yourself. My favorite up until now is "Wired and Dangerous: How Your Customers Have Changed and What To Do About It." It's a great analysis of how the Internet in general, and social media in particular, have exponentially magnified the power of customers' word of mouth -- both good and bad. Tell me what's new in your latest book, "The 9 1/2 Principles of Innovative Service."
Chip Bell: This book is different than any I have written largely because the customer has dramatically changed in the last two or three years. Customers today demand high value for their hard-earned bucks. And, that includes a great experience, not just an okay, satisfactory experience. The expectations of customers have been elevated by other organizations they experience that provide a great experience. Consequently, they tend to look at every website through Amazon's or Zappos' eyes; every retail outlet through Nordstrom's or Apple's lens. But, another big change is the overstimulated, hyper-entertained daily lives of customers. Many retail outlets have become sensory theater; TV and the Internet are as vibrant as a theme park. They are quickly bored without a valued, emotional connection.
I believe customers today long for real, unexpected surprise. Surprise is not really a surprise if it is predictable, like telling you the present inside the wrapping. What is unexpected about getting an upgrade to first class as a frequent flyer in a coach seat? You have the miles, the seat is available, and the computer delivers an upgrade. The gate attendant has been removed from the decision. When randomness is gone, the well-intentioned value-adds become a basic, standard customer expectation, adding almost no value. My book is about the need to return to supporting the generosity and ingenuity of the frontline. If the Ritz-Carlton Hotels can empower even the housekeeper to spend up to two grand to ensure a guest leaves happy, organizations can figure out ways to make certain employees make smart decisions.
What three companies, in your opinion, really "get it" about delighting customers? What do they do that the also-rans don't do?
My favorites are Zappos, Ritz-Carlton and Southwest Airlines. All three companies start with a clear and present recognition that it is people in great cultures that create customer delight. They treat their frontline employees with the same deep respect they expect them to treat customers.
Here is quick example from my friends, Jackie and Kevin Freiberg's book, Nuts. When presidential candidate Al Gore was visiting Southwest Airlines his front people wanted to stage a town hall meeting with Gore and an auditorium full of Southwest employees. A part of their push to create what would appear as a picture perfect moment included planting "smart" questions in the audience. "No sir," said then Southwest president Colleen Barrett, "You will not plant questions. All our people know how to ask smart questions." That is the bold, people-first leadership you find in CEOs Gary Kelly of Southwest, Tony Hsieh of Zappos and President Herve Humler of the Ritz-Carlton Hotel Company.

What would you hope readers of this book would do with it... in addition to reading it?
I wrote this book for every person who serves a customer, client, colleague, guest, patient, member or passenger. The book is short (112 pages) but jam-packed with inspiring stories, simple-to-implement ideas, great pictures and memorable quotes. Some of my clients have already purchased copies for all their employees. Others have purchased copies as gifts for key customers. With National Customer Service Week coming up the first week in October, it could be a way to remind everyone of the power and importance of a great customer experience. My publisher, Simple Truths, has made the book available with deep volume discounts to encourage large bulk buys. As someone whose life goal is to elevate the nobility of service, I hope the book inspires, instructs and invites readers to share the book.

If you could give your readers just ONE piece of advice that could transform their business is they took your advice, what would you tell them? And why?

Customers cherish moments of magic. They not only come back for more -- they share those moments with all who will listen. True innovative service is simple and inexpensive. What was the financial worth of the free prize inside the Cracker Jack box? But, the emotional value made it a sought-after product for a generation. But service magic must feel genuine, generous and unexpected and come from people who are eager to share their passion for their customers. Turn your frontline employees lose and let them delight. Give them the tools and training to balance great service with responsible stewardship. And then celebrate their creativity.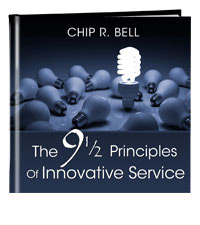 Popular in the Community