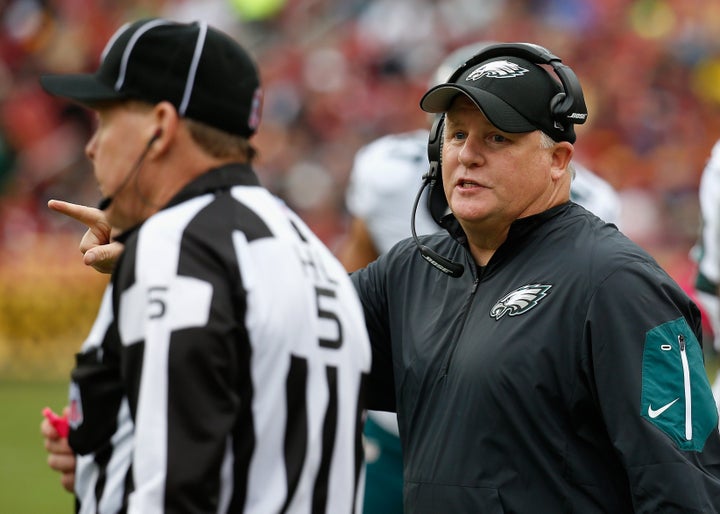 The leash on the Philadelphia Eagles' Chip Kelly has run out of slack. Amid a 1-3 start to the season, one of the offseason's busiest and most anticipated teams has been snakebitten by Kelly's ineptitude as both a head coach and de facto general manager. For those who don't know just how poor Kelly's football acumen has been, let us go over the basic facts.
He didn't want LeSean McCoy anymore, even though McCoy seems like the ideal fit for everything Kelly wants to run and once told The Huffington Post how much he believed in his coach. Kelly didn't think Jeremy Maclin's 1,300-plus yards and 10 touchdowns were necessary for his offense, nor did he think that Nick Foles -- 14-4 as a starter -- was good enough to run his system. Then came the trade for Sam Bradford -- 18-30-1 as a starter -- despite Bradford having a quarterback rating nearly 20 points less. Kelly also thought second-year wideout Jordan Matthews (with 281 yards and one touchdown so far this season) could instantly develop into a No. 1 receiver and that Nelson Agholor (seven catches this season) -- whom he nabbed 20th overall in the draft -- would become a playmaking burner. Maybe both will live up to such promise. But if they don't, Kelly will be at fault because they were his guys and he assumed plugging both in to his system would work immediately and seamlessly.
Bradford has been a colossal disappointment for a multitude of reasons, perhaps most glaringly in the sense that his calling card of being an accurate quarterback -- according to Kelly, at least -- hasn't rung true. Completing just 60.7 percent of his passes, Bradford has looked extremely uncomfortable in the pocket and hasn't been able to read coverages. He has had little success throwing the ball down the field and he's been far too indecisive for a guy running a quick strike, spread offense. The 27-year-old ranks 19th in yards and 24th in quarterback rating.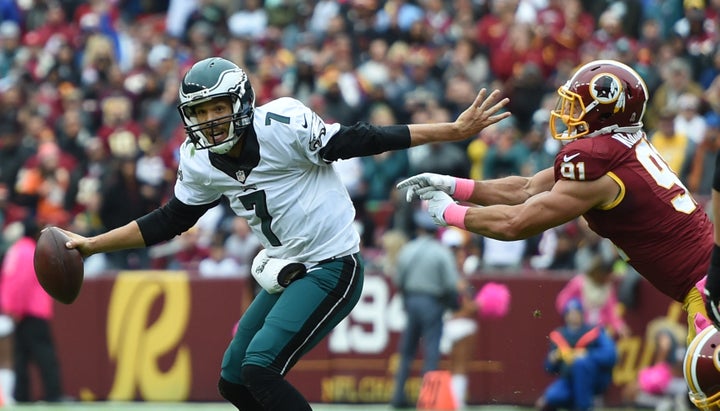 Kelly, who was given total control by ownership last January, may be most at fault for his arrogance and insistence that his system make the player and not the other way around. It's the reason both McCoy and Maclin are gone, and it's the reason he committed nearly $55 million to two running backs without seeming to have a legitimate plan in mind for how to actually use either one.
DeMarco Murray, last year's rushing leader and a first-team All-Pro with Dallas, was on the field for fewer than half of the Eagles offensive plays during a Week 4 loss to Washington. In fact, his 47 rushing yards -- for the season -- rank 81st in the league, behind 12 quarterbacks, including pocket statues like Ryan Fitzpatrick, Jameis Winston and Jay Cutler. That's right: Jay Cutler -- who, by the way, has played in only three games.
"Do I think I'm touching the ball [enough]?" Murray said following the loss to Washington. "No, I'm not. I don't think I am. But it's the plays that are being called."
Ryan Mathews would have every right to take same tone, as he's been on the field even less than Murray. He has a measly 33 carries despite being known as a workhorse back. (He had 285 carries during his last full season of health in 2013 with San Diego.)
Following highly productive offensive stints at both New Hampshire and Oregon, along with a record-setting first NFL season, the 51-year-old Kelly has always been known as an innovative mind and offensive guru. And while there's no denying that, it's also hard to argue that he has not been putting the Eagles in a losing position this season. In fact, his offense has failed to score in half of the quarters played during the four games this season. The Eagles are 30th in the NFL in offense, 29th in yards per play and 30th on third down. Moreover, they averaged nearly 420 yards in Kelly's first season and just under 400 last year. In four games thus far, Kelly's offense is producing fewer than 300 yards.
Kelly, to his credit, hasn't thrown his players -- even the ones that are underperforming -- under the bus. And it's not as if the NFC East is a stockpile of dangerous teams. "We know we have the right players here," he said following the Washington game. "I'm really not worried about this group." 
That may be true, but what's also true is this: Kelly is not the right man to lead this franchise. Firing him won't fix all of Philly's problems, but it will fix one of its biggest ones.
Calling all HuffPost superfans!
Sign up for membership to become a founding member and help shape HuffPost's next chapter