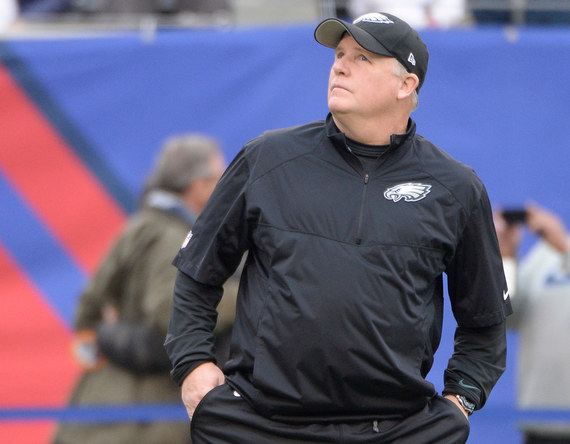 It has been an interesting year for the Philadelphia Eagles. They have looked like a high-powered offense at times, especially when they put up 33 on their rival Cowboys, but have also looked eminently beatable, as Matthew Stafford threw for five TDs on Thanksgiving, one week after Jameis Winston did the same.
With that, coach Chip Kelly has come under fire, with some saying he may be gone after the season is over. After back to back 10-6 seasons, the Eagles are 4-7 without showing much sign of improvement.
The problem is Chip Kelly. He is his own worst enemy.
Oh, there is no doubt he deserved his shot as an NFL coach. His success at Oregon was immense, and he was so well-respected that Bill Belichick and Pete Carroll had him consult with their football teams. His fast paced offense took the NCAA by storm, and became an instant success in the NFL.
But, the Eagles did more than make him the head coach. They gave him full control over the 53 man roster, and that is when Chip Kelly got too creative for his own good. We talk a lot about offensive coordinators, which Chip Kelly once was, being too creative, or too "cute" with their playcalling. When a general manager gets that way, it can be devastating to a football team.
Take the running back situation. Out goes LeSean McCoy and in come DeMarco Murray. On it's face, why not? Murray was the leading NFL rusher last season. But McCoy played well in the Chip Kelly system. He put up 1,600 yards in 2013, and 1,300 yards in 2014, adding 52 receptions over the two seasons.
McCoy was the type of back Kelly needed. He is a scat back that could make a lot of plays with quick feet and speed. That is not the type of player DeMarco Murray is. All of his success in Dallas came from setting up seven yards behind the quarterback, and reading the blocking. The numbers were great, but that doesn't mean the player is a great fit.
Players on a real NFL team cannot be shifted around like a fantasy roster.
He also moved on from DeSean Jackson and Jeremy Maclin. Granted, Jackson has been injured for much of 2015, but he and Maclin marked a deep threat that has not been replaced by Kelly. He needs fast weapons on the outside to keep his team moving, and keep the defense tired. They don't have that anymore, and that is Kelly's fault.
Even changing the quarterback made very little sense. Nick Foles had a great year his first season under Kelly, throwing for 27 touchdowns versus only two interceptions. Last year, his ratio fell to 13:10, but he was still a winner, winning six out of eight starts. The exchange brings in Sam Bradford who has potential, but has trouble staying on the field due to injuries.
Sometimes you have to leave well enough alone. Running an NFL team like a fantasy team simply doesn't work.
Chip Kelly does not need to be removed as the head coach of the Eagles. His system has worked. When other well-respected coaches come to Chip Kelly to teach them, you know he has something inside him that is special.
But being your own GM doesn't work anymore. It worked for guys like Bill Walsh and Bill Parcells because the game was different then. You didn't have the same team dynamics then that you do now.
Chip Kelly needs a general manager to help put his team together. Without one, Chip Kelly is a victim of his own creativity. He is his own worst enemy.
Calling all HuffPost superfans!
Sign up for membership to become a founding member and help shape HuffPost's next chapter