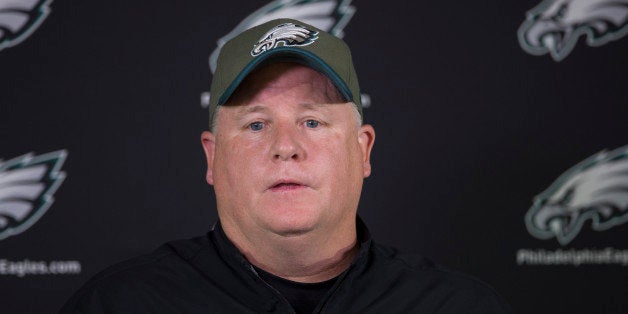 Philadelphia Eagles head coach Chip Kelly isn't a racist, as some have recently suggested, but he is extremely out of the ordinary.
The easy conclusion to make is that where there's smoke, there's fire. There have now been four separate instances (two former players, a former employee, and a television pundit) who have gone on record as suggesting race plays a role in Kelly's personnel decisions (though for the record, Boykin has since rescinded his comments). In conclusion, Kelly must be a racist, and his racial bias must be the main influence shaping the Eagles roster.
That conclusion is really, really dumb. While it's entirely possible (however unlikely) Kelly might secretly believe in white supremacy, every single piece of evidence demonstrates that race has zero affect on his personnel decisions. In other words, if Kelly is racist, his roster moves are actually working to hide it.
Lets start with McCoy, who was traded this offseason to the Buffalo Bills for Kiko Alonso, who is Latino. McCoy will be replaced in the line-up by DeMarco Murray (who is black) and Ryan Mathews (whose mother is white and father is black).
There was also DeSean Jackson, cut by Kelly last offseason. DJax was replaced last year by Jeremy Maclin (black), who has since been allowed to sign with Kansas City. Since taking over, Kelly has reshaped the Eagles wide receiving corp with the likes of Jordan Matthews, Nelson Agholor, Josh Huff, and Miles Austin, none of whom would fit in at a Klan rally.
Boykin, meanwhile, will likely be replaced in the slot by rookie Jacorey Shepherd, drafted by Kelly, who is a grown man of the same culture as his predecessor.
That theme continues on. Trent Cole was let go, to be replaced by Brandon Graham. Cary Williams was released, with Byron Maxwell taking his spot. Bradley Fletcher wasn't retained, and his duties will likely fall to Eric Rowe or Nolan Carroll. A basic Google Images search for any of the names listed above will uncover a blatantly obvious theme; none of them are white.
If Kelly is on a mission to replace his black players with white ones, he is failing spectacularly. The more likely conclusion is that the idea that racial bias from the head coach has influenced the Eagles is factually inaccurate at best, and moronically shortsighted at least.
Kelly is super weird because he's been getting rid of his best players.
Jackson and Maclin both had their best statistical seasons under Kelly. The same goes for McCoy. Boykin, meanwhile, led the Eagles in interceptions in 2013, including the pick that clinched the NFC East in Week 17 against Dallas. That's an impressive foursome any team would presumably be excited to build around.
Any team, that is, except for Kelly's Eagles. All four of those players are now elsewhere, because Kelly concluded their services won't be necessary for him to continue winning.
That principle doesn't make sense to a lot of people, and for good reason. Successful organizations don't usually get rid of their most successful employees. Kelly's vision for the way his roster should be built has led to some extremely unorthodox transactions. In an attempt to put a label on it, some have fallen to the sophomoric conclusion that it must be race motivated.
Again, there is zero evidence to suggest Kelly is letting race dictate his roster. It might be stupid, it might blow up in his face, and it might all end with his name becoming a national punchline. But it is certainly not racist.
Well, except for keeping Riley Cooper.
Calling all HuffPost superfans!
Sign up for membership to become a founding member and help shape HuffPost's next chapter