The San Francisco 49ers have found their man, and it's not pretty. Chip Kelly, who went 26-21 without a single playoff victory during his three-year tenure in Philadelphia, will take over for the 49ers' recently fired head coach, Jim Tomsula.
Kelly, 52, reportedly inked a four-year deal worth $24 million, according to ESPN's Adam Schefter. He joins a team beleaguered by personnel issues, particularly those surrounding quarterback Colin Kaepernick. The 28-year-old is coming off the worst season of his career, in which he was benched for journeyman backup Blaine Gabbert, whose woeful sub-56 percent completion percentage speaks for itself. Whether or not Kaepernick ever becomes a pure drop-back passer, his success under Kelly's guidance seems unlikely.
But the incessant and relentless drama around Kaepernick also overshadows the fact that San Francisco suffers from a slew of other issues -- gaping holes on the offensive line, a shortage of receivers and a defense that ranked 29th in total defense this season, surrendering over 261 passing yards per game.
To be clear, Kelly will not be tasked with front office power, as he was during his final season in Philly. That distinction goes to embattled general manager Trent Baalke and Kelly's confidant from the Eagles, Tom Gamble, who will be the team's senior personnel executive. And that's about the only good news for the 49ers.
This is not the University of Oregon, where full control of a collegiate program, plus Phil Knight's state-of-the-art Nike facilities and a dynamic spread offense annually results in elite recruitment, along with double-digit win totals. The rest of the NFL is too smart and too proficient to merely employ an extreme breakneck pace, as Kelly does. Adapting and evolving is just as crucial to success, but Kelly has never been able to achieve that delicate balance.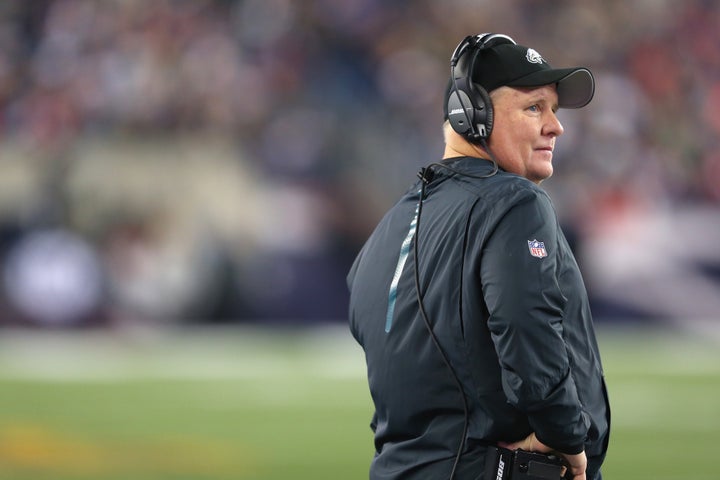 If Kelly couldn't sustain success with unique talents like LeSean McCoy, DeMarco Murray, Jeremy Maclin and Zach Ertz, how is he going to do it with Torrey Smith, an injury-riddled Carlos Hyde and Kaepernick (who is recovering from surgeries to his left shoulder, right thumb and left knee), and without any tight end of note? Remember, the 49ers finished 31st in the league in total offense and last in scoring during the 2015-16 season -- a full-on disaster with no silver lining to speak of.
While some might not question Kelly's offensive acumen and creativity, we should question his leadership ability. Kelly's Philadelphia teams never played for him the way they did during the Andy Reid era that preceded him. They didn't compete the way championship-caliber teams do, and personnel issues aside, a team's effort falls directly on the head coach. In Kelly's case, he is outmatched in the role, just as he was outmatched in having full control over personnel. 
"It's the San Francisco 49ers," Baalke told reporters on Thursday. "It's about championships. It's about being in a position to compete for championships."
The problem is, Kelly isn't likely to be a savior to the storied 49ers franchise because he is not a championship coach. During a disastrous 7-9 campaign this season, the Eagles' offense ranked just 12th in yards, a measly 13th in scoring and 30th in total defense. Kelly's supporters point to consecutive 10-win seasons during the two previous years, but the numbers weren't all that great then either, and the lack of postseason accomplishments speaks for itself.
49ers ownership and CEO Jed York may also have unrealistic views of what this team can do right now. The 49ers and their bare roster have clearly not yet recovered from the firing of former head coach Jim Harbaugh just one season after he led them to a Super Bowl appearance.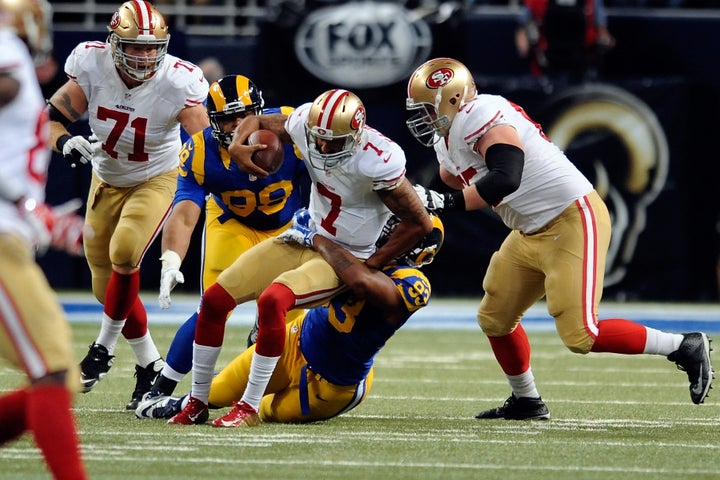 Another fact that gets lost in his uptempo attack is that Kelly desperately wants to run the football. That should bode well for Kaepernick, whom Kelly can highlight as a dual threat option from the pistol, as Harbaugh did. And ideally, it will help Hyde -- a young workhorse back -- along with a porous line that simply could not pass protect under Tomsula.
Or perhaps he won't. In all honesty, what has Chip Kelly really done to deserve the benefit of the doubt? 
Calling all HuffPost superfans!
Sign up for membership to become a founding member and help shape HuffPost's next chapter