Over the month of November, Disney will be spending some serious cheddar on its Big Cheese. But that's all because Mickey Mouse will be celebrating his 89th birthday on November 18th.
As part of the lead-up to his big day, Mickey has begun traveling around the globe. Making stops in places like London so that he can then surprise some of his biggest fans (and – of course – share these encounters on Disney's official Mickey Mouse Facebook page).
Which is all well & good. But Mickey isn't the only Disney cartoon character who has a big milestone coming up this month. 70 years ago (on November 28, 1947, to be exact), "Chip 'an Dale" was released to theaters.
Mind you, there's some debate among animation history buffs as to whether this particular animated short should officially be considered Chip 'N' Dale's cinematic debut. Were you to ask the staff at Disney's corporate archives, they'd point to two previous shorts (i.e., 1943's "Private Pluto" and 1946's "Squatter's Rights") where Mickey's pal Pluto finds himself battling an identical pair of mischief-making chipmunks.
On the other hand, when I interviewed Disney Legend Jack Hannah (He's the animation legend who directed 20 of the 23 "Chip 'N' Dale" shorts that were released theatrically) back in the late 1980s, Jack was insistent that these cartoon characters didn't actually officially arrive on the scene 'til 1947. As Hannah pointed out, it was in this specific short that these characters went from being identical chipmunks to taking on their signature looks (i.e., Chip is the one with the nose that looks like a chocolate chip. Dale is the one with a tuft of ruffled fur on the top of his head).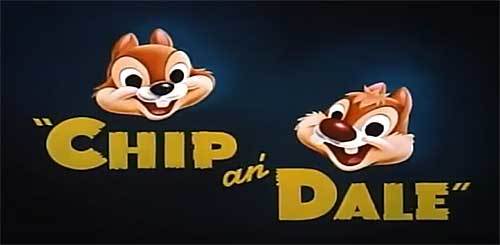 Moving past Chip 'N' Dale's debut debate … Over the next nine years, Walt Disney Animation Studios kept churning out theatrical shorts featuring these characters. With the very last one, "Chips Ahoy," bowing on February 24, 1956. Which should have spelled the end of these mischievous chipmunks. But because the folks who produced the "Disneyland" television program for ABC repeatedly found new ways to fold old Chip 'n' Dale cartoons into this TV show's line-up, these rodents remained in the spotlight.
Mind you, millennials don't think of these Disney characters as obnoxious rodents who get great pleasure out of torturing Donald Duck. To them, Chip 'n Dale will always be the Rescue Rangers. The stars of that Walt Disney Television Animation production which premiered on Disney Channel in March of 1989 and – after airing as part of the "Disney Afternoon" programming block -- and syndicated for some time after that.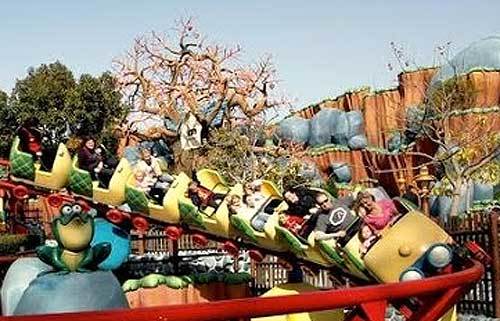 "Chip 'N' Dale Rescue Rangers" was so popular that – when the Imagineers decided to create a new "land" to Disneyland in the early 1990s which would serve as the permanent home for tunes at that theme park – this "Disney Afternoon" show served as the inspiration for two attractions in Mickey's Toontown: Gadget's Go Coaster and Chip 'n Dale's Acorn Crawl.
"Chip 'n Dale Rescue Rangers" wrapped production after 65 episodes. But these two chipmunks continued to pop up in other Walt Disney Television Animation productions over the past 25 years. They were the central characters in a September 2002 episode of Disney's "House of Mouse." Not to mention making their CG debut in Disney Television Animation's "Mickey Mouse Clubhouse," which aired on Disney Junior from May 2006 through November of last year.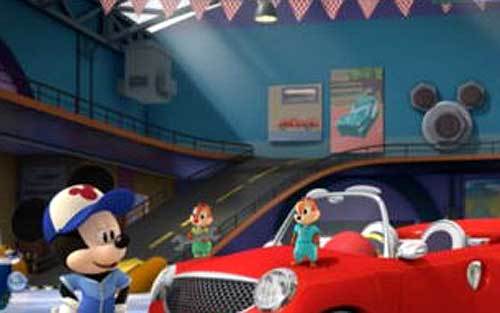 These days, Chip 'n Dale can be found among the supporting cast for "Mickey and the Roadster Racers." In this new Disney Junior production, the chipmunks now work as mechanics in Mickey's garage high up in Hot Dog Hills.
Speaking of the "Mickey and the Roadster Racers" … The team there (i.e., executive producer Rob LaDuca, and co-executive producer/supervising story editor Mark Seidenberg) clearly has a few Chip 'N' Dale fans on it. Why else would they have given these characters the chance to make more mischief with that new series of 2 ½ minute cartoons that feature these characters that they just put into production?
Written by Robert C. Ramirez ("Sheriff Callie's Wild West") and directed by Ramirez and Jeff Gordon ("Jake and the Never Land Pirates"), "Chip 'N' Dale's Nutty Tales" debuts on Disney Channel, Disney Junior, Disney Junior YouTube and the DisneyNOW app ) on Monday, November 13th. But if you're really not willing to wait 'til Monday … Well, Disney Television Animation was nice enough to give us a complete "Chip 'N' Dale Nutty Tales" to view ahead of this new short-form series debut on the 13th.
Just in case you're wondering, this birthday-themed short (which will begin airing on Disney Channel and Disney Junior on Friday, November 17th) is part of a company-wide celebration of Mickey's 89th birthday. Over that weekend, there'll be a special celebration cavalcade staged at Disneyland that travels from that theme park's "it's a small world" attraction all the way down to Town Square. Out in Orlando, guests there will be able to dine on Sorcerer Mickey cake as well as pick up a free "Happy Birthday Mickey!" At both the Shanghai Disney & Tokyo Disney Resorts, people can take advantage of special party-themed photo opportunities as well as sing "Happy Birthday" to the world's most famous mouse.
Speaking of Tokyo … Mickey is supposed to swing through Japan on his magical moments world tour before he then stops by the Good Morning America studios in NYC's Times Square on November 15th. Here's hoping that the Mouse gets the chance to drop by Tokyo Disney so that he can then check out the hot new seasonal souvenir at that Resort's two theme parks.
"And what is that?," you ask. A line of Chip 'N' Dale merchandise that reimagines these ageless cartoon characters as snowmen. Kind of a nutty idea, don't you think?
Related
Popular in the Community