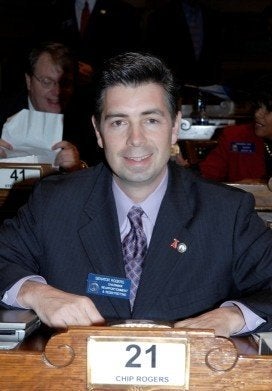 The Georgia Republican leader who organized an October lecture for GOP lawmakers in which a birther activist said that President Barack Obama and the United Nations are using "mind-control" to implement a sustainability agenda is resigning from the state Senate.
Senate Majority Leader Chip Rogers (R-Woodstock) announced Tuesday that he is stepping down from his Senate seat to take a position with Georgia Public Broadcasting, WSB reports. Rogers, who worked in broadcasting prior to his 2002 election to the state House, will assume a position working on combining Georgia businesses with public education. The Atlanta Journal-Constitution reported that among Rogers' new duties will be hosting a weekly radio show on economic development.
In November, following the disclosure of the "mind-control" lecture, Rogers announced that he would be stepping down as majority leader at the end of the year, saying he wanted to spend more time with his family. He kept his Senate seat, however and was elected to a third term last month.
The October lecture regarding Agenda 21, the U.N. sustainability program, came to light in mid-November when Better Georgia, a progressive group, released video of the four-hour workshop. In the workshop, Field Searcy, a birther activist who was expelled from the Georgia Tea Party, claimed that Obama and the U.N. were using "mind-control" to implement the program. Agenda 21, which does not contain the force of law in the United States, was designed during an international environmental conference in Brazil in 1992 and has been endorsed by Democratic and Republican presidents.
Searcy also claimed that Agenda 21 would eliminate rural development, paved roads, floor and wall tiles, sewers, golf courses and scuba diving, among other issues. Searcy compared Obama's rural agenda to genocide programs employed by Soviet leader Joseph Stalin and Chinese leader Mao Zedong.
Rogers distanced himself from the lecture, saying that he was letting a constituent group discuss issues with senators. Rogers' spokesman told The Huffington Post last month that Rogers did not know the content of Searcy's presentation beforehand and that the senator didn't attend the entire presentation. Rogers had previously pushed legislation to ban Agenda 21 implementation in Georgia in 2011. Searcy's full presentation can be found here.
"I don't know if he was there for the more salicious parts," Rogers' spoksman, Rogert Trim, said last month. "He probably sat politely if he was there, that is his style."
Agenda 21 has become a common foe for conservative state legislators, with lawmakers in several states pushing outright bans or resolutions denouncing the moves. Democrats have criticized the anti-Agenda 21 crusade, with New Hampshire state Rep. Christopher Serlin (D-Portsmouth) calling the issue "real tinfoil hat material" and Kansas state Rep. Mike Slattery (D-Mission) denouncing his colleagues as "stupid is a stupid does" for debating the issue.
Rogers serves as the treasurer of the American Legislative Exchange Council and was reelected to a third Senate term last month. Georgia Gov. Nathan Deal (R) named Rogers to a state task force on digital learning last month.
Calling all HuffPost superfans!
Sign up for membership to become a founding member and help shape HuffPost's next chapter
BEFORE YOU GO
PHOTO GALLERY
Secretaries Of Defense