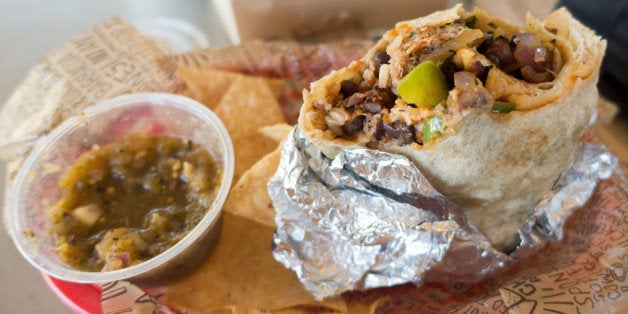 The hottest fast food chain in the country has been out of a key menu item for four days at hundreds of its restaurants, and it's still not clear when it will come back.
Chipotle announced Tuesday that about one-third of its more than 1,600 stores would stop selling carnitas, a traditional Mexican dish made by slow-cooking pork until it becomes tender. The popular Mexican chain made the decision earlier this week, after discovering that one of its suppliers didn't meet its standards for humanely raised pork.
Carnitas is one of just six burrito bases the chain offers.
Chris Arnold, a Chipotle spokesman, wrote in an email that the burrito joint is looking into several different ways to rebuild its supply, including getting more pork from current suppliers, using different cuts of pork (the dish is typically made from the shoulder) and looking for additional suppliers. Carnitas make up about 6 percent of entree orders, he said.
"We are working through those options now, but it's too soon to say how long this might last," Arnold said.
It's also too early to tell whether the shortage will hurt Chipotle's bottom line. The company's stock price was down slightly when the market opened the morning after the chain first announced the shortage. Still, at around $711 a share, the Friday stock price was up about 34 percent from the same time last year.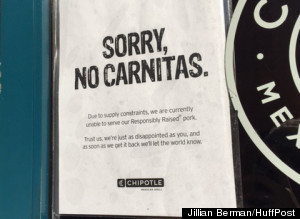 A sign declaring no carnitas at a Manhattan Chipotle Friday.
Despite a sign notifying customers there weren't carnitas, several customers at a Chipotle in Manhattan's Union Square during Friday's lunch rush said they hadn't heard about the shortage. Many said they typically order something else; others prioritized ethically treated animals over their tastebuds.
"It would make me not want to come here more if they did have the (carnitas) and (the pork) was mistreated," 15-year-old carnitas fan Lincoln Barron said after being told the reason behind shortage.
Even if some carnitas lovers do turn elsewhere for their fix, the publicity over the shortage will more than make up for any sales hits. There's marketing power in scarcity, according to Aaron Allen, the founder of Aaron Allen & Associates, a restaurant consulting firm. Though the pork shortage is unintentional, the fact that carnitas is limited makes it a little bit more special, he said.
More significant, in marketing terms, Chipotle's decision reminds fans why they like the restaurant in the first place. The Mexican chain sells itself as a place that sells fresh, healthy food. That reputation is a big part of why it's been growing rapidly for the past several months, while places like McDonald's have stagnated.
"It's not just buzz around some promotional activity," Allen said. "It's really reinforcing what the brand stands for."
Of course, Chipotle will still lose some business while carnitas are gone.
"My desire to be there is significantly diminished if they're not going to have carnitas or if it's going to be spotty," said Doug Ludemann, a 36-year-old who owns an aquarium cleaning business near Minneapolis. "It's not going to draw me in and make me pay 10 bucks for lunch."
Still, Ludemann said he respects Chipotle's decision, even it means they don't have the only thing he orders there.
"I wish it didn't mean that I had to not shop there," he said. "My hope is that it increases the demand for more humanely produced pork."
Popular in the Community