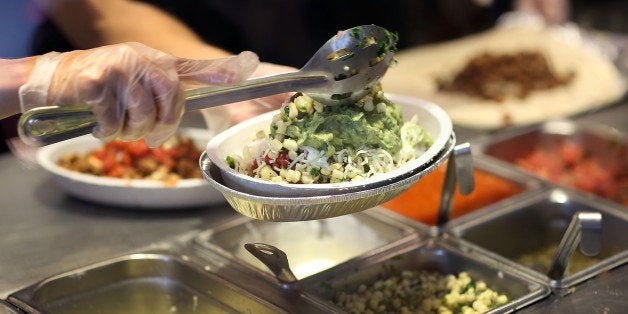 Chipotle made a name for itself by selling ethically raised meat -- now, the fast-food chain says it will turn its ethical eye to hourly workers.
Late last week the company announced that effective July 1, it will offer hourly workers paid sick leave, paid vacation and tuition reimbursement -- benefits that were previously only on offer to salaried workers.
"We're going to say that we take the same care in sourcing the employees that work in our restaurants and company as we do in going out an finding ingredients to serve in our restaurants," said the company's recruitment strategy manager JD Cummings, according to reports that were confirmed by Chipotle. Cummings said the move was part of a new "employee branding effort."
Cummings and another executive announced the move at a conference, telling the audience they hoped the benefits would make Chipotle more competitive on hiring and retention -- issues that are increasingly crucial for big employers as they contend with a more competitive job market.
"If you can't compete at the bottom in the terms of entry-level wage, what incentive can you build into that process -- what path can you create -- that's going to hold your people?" William Espey, Chipotle's "brand voice lead" told the crowd. "You've got to promise them you're going to develop them. You've got to promise them a future that if they are dedicated and good and strong for the company, you are going to reward them."
Paid sick leave is a fairly standard benefit for high-paid, salaried workers -- about 82 percent of management and professional workers in the private sector are paid when they're sick, according to the Labor Department. It's far more rare for low-paid workers: Just 40 percent of private-sector service workers receive paid sick leave. That's likely a high estimate, considering so many hourly workers are part-time. Those workers are even less likely to get paid leave.
The lack of paid sick leave means many hourly workers are forced to go to work when they're ill, which can both worsen their condition and create a health hazard for customers. Many workers can lose their jobs without the flexibility of paid sick leave.
More than 90 percent of workers in the top 25 percent get paid vacations, but for those at the bottom, it's nothing like that. Here's a graph of the data by The Huffington Post's Alissa Scheller:
Chipotle is known for being aggressively committed to serving non-GMO food and ethically raised meat, even suspending sales of carnitas when it couldn't find pork that was raised to its standards. It also has a decent reputation as an employer. The company famously hires its managers from within and says that 95 percent of managers have been promoted internally, according to Nation's Restaurant News.
As the unemployment rate has fallen -- it's now at 5.5 percent -- and more companies have come under fire for paying hourly workers low wages, big employers have been upping their pay and benefits game to attract workers and keep their reputations intact.
President Barack Obama called for federally mandated sick leave in his State of the Union address at the beginning of the year, but Congress hasn't acted.
There's more going on at the local level. Six cities have passed paid leave laws since his speech. As of May, three states and several cities, including including Massachusetts, Connecticut, Seattle and San Francisco, have mandated paid sick leave. Earlier this year Walmart, Target and McDonald's all announced pay raises for hourly workers. Walmart recently raised its minimum wage to $10 an hour, above the national minimum wage of $7.25 an hour.
Chipotle joins an increasing number of employers -- including Starbucks, McDonald's and Chrysler -- in offering tuition reimbursement to low-paid workers.
The latest move also comes as Chipotle is facing nine lawsuits in six states that allege the company is not paying hourly workers for all the time they work. Company spokesman Chris Arnold said the claims had no merit, according to Colorado Springs, Colorado, publication The Gazette.
Related
Popular in the Community