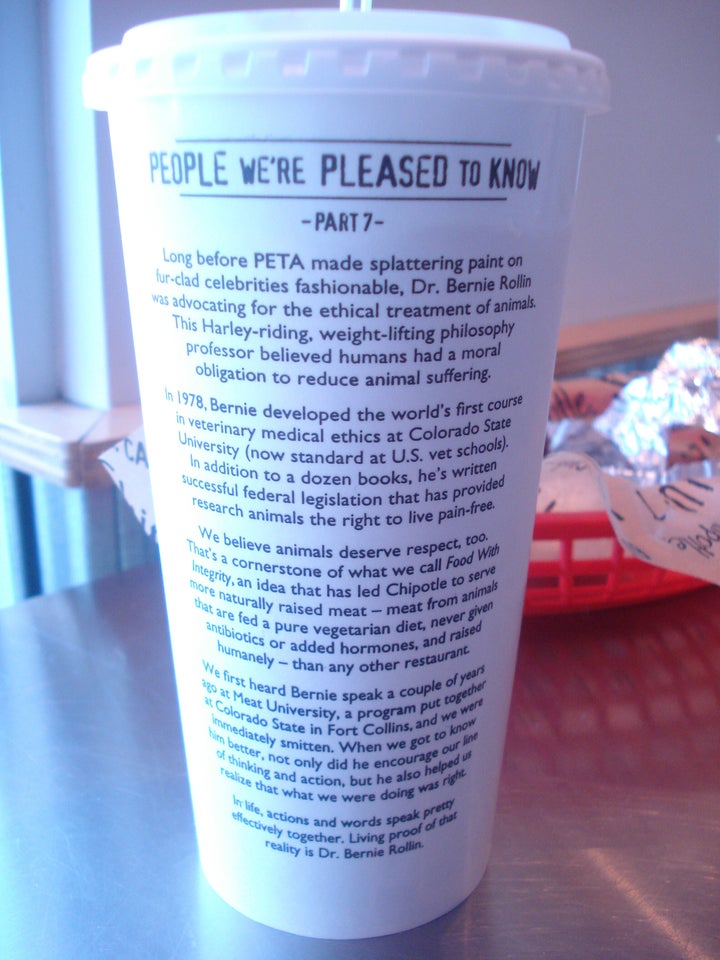 What does beloved burrito chain Chipotle have to do with modern-day agricultural slavery? Despite their image as a purveyor of "food with integrity," turns out, surprisingly, it's more than you might think.

Last month in Florida, a now familiar ritual unfolded in federal court. For the eighth time since 1997, Department of Justice officials unsealed an indictment for forced labor in Florida's agricultural fields.

This time, three labor bosses stand accused of recruiting dozens of Haitian workers -- here legally on "guestworker" visas -- with false promises, denying them access to their passports after arrival in Florida and forcing them to work and live in wretched conditions for little pay. A female worker claimed that she was raped by her supervisor. Those who complained were threatened with deportation.

The previous seven cases have involved more than one thousand farmworkers and resulted in the conviction of thirteen supervisors. The enslaved workers harvested tomatoes, oranges, potatoes, cabbage, peas, beans and other crops for the state's multibillion dollar fruit and winter vegetable industry.

The Coalition of Immokalee Workers (CIW), a Florida-based farmworker organization, is leading the movement to end modern-day agricultural slavery. They train local, state and federal law enforcement to investigate, uncover and prosecute existing slavery operations, in addition to working to eliminate the root causes of the problem: farmworkers' structural powerlessness and grinding poverty.

For years, this approach has received praise from the world's leading human rights and anti-slavery groups. In June, upon the release of its tenth annual Trafficking in Persons Report, the U.S. State Department also weighed in on the group. In a standing room-only ceremony in Washington, D.C., Secretary Clinton recognized the CIW for its persistence and innovations in the fight against human trafficking. It marked the first time a U.S.-based organization received this distinction.

As Secretary Clinton explained, ending slavery "is everyone's responsibility. Businesses that knowingly profit or exhibit reckless disregard about their supply chains [...] all of us have to speak out and act forcefully." The CIW welcomed the Secretary's emphasis on corporate accountability. Since 2005, the organization has pioneered agreements with eight leading food retailers -- from Whole Foods to McDonald's -- to improve farm labor conditions in corporate supply chains.

By harnessing the purchasing power of large retail brands, these agreements provide market incentives for Florida tomato growers who respect their workers' human rights and establish market consequences for those who do not. At both the farm and retail levels, the model ensures transparency, verification and -- crucially -- farmworker participation.

Which brings us to Chipotle.

The burrito chain's impressive growth has earned it the respect of both fast-food industry heavyweights and stock market analysts. Chipotle also received plaudits for its self-described mission of "Food With Integrity." This commitment to sourcing sustainably-raised ingredients is essential to Chipotle's carefully groomed brand. It not only taps into an increasingly influential niche consumer market, but it also yields low-cost, high-profile publicity, including last year's tie-in to the DVD release of the acclaimed documentary Food, Inc. and a starring role for CEO Steve Ells on the upcoming NBC reality series America's Next Great Restaurant.

Yet, where Chipotle's thriving enterprise intersects with the lives of Florida farmworkers, the company's hubris belies its claim of integrity.

For four years, the company has refused to commit its market influence and symbolic weight to the emerging solution to the abuse and degradation in Florida's agricultural fields. Chipotle has repeatedly spurned the invitation by farmworkers to forge an equal partnership and has instead opted for a go-it-alone approach that eschews farmworker participation and transparent oversight.

Moreover, Chipotle's tomato policy offers no long-term commitment to higher ethical standards. It reads as a public relations response to a human rights crisis.

The decision to flout the emerging industry consensus is particularly puzzling given the unimpeachable track record of its would-be partner, the Coalition of Immokalee Workers. The rare efficacy and vision of the organization has been vouched for by farmworkers, growers, retailers and, now, the highest levels of the U.S. government.

In this light, Chipotle's stance exhibits the exact "reckless disregard" that Secretary Clinton criticized in the fight against slavery. And that is a very risky proposition for a company whose fortunes are tied to selling consumers "ethically produced" burritos.

Sean Sellers is a Kellogg Food and Society Fellow at the Institute for Agriculture and Trade Policy and a board member of Just Harvest USA.
Related