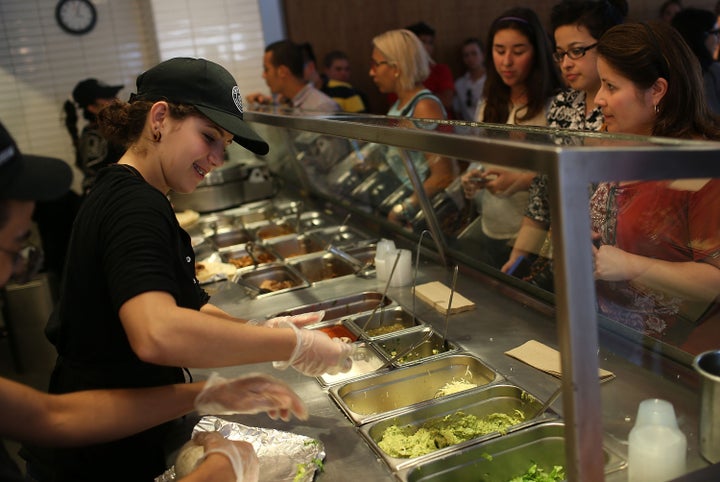 More than a year has passed since Chipotle Mexican Grill was hit with a series of food safety scares, but the fast-casual chain has yet to bounce back from its problems.
In 2015, Chipotle faced a series of outbreaks of foodborne illnesses, including an E. coli outbreak that spread across nine states, a salmonella outbreak in Minnesota and two separate instances of norovirus. The crisis scared customers away and prompted big changes in the company's approach to food safety in its restaurants.
But many customers haven't returned. In response to still-disappointing sales in the company's most recent quarter, Chipotle executives claimed in a conference call with investors last month that its struggles have more to do with customer-service issues — long lines, messy dining rooms, ingredient shortages — than with lingering concerns over the safety of its food, according to a Washington Post report.
The poll, conducted from Dec. 21-22, found that just 36 percent of respondents said they were confident that the food served at Chipotle is safe to eat, while 24 percent of respondents said they were not confident in the food's safety. Another 40 percent said they were unsure.
The lack of confidence in the safety of Chipotle's food outpaced the 14 percent of respondents who said they were not confident that the food served in most restaurants is safe to eat.
When respondents were specifically asked if they believed Chipotle was either safer or less safe to eat at than most other restaurants, 21 percent of respondents said they believed eating at Chipotle was less safe.
That number remained consistent even when the sample was narrowed to include just respondents who say they are customers of the chain, 20 percent of whom also agreed that the food at Chipotle is less safe than food at other restaurants.
These findings suggest that a significant number of Chipotle customers still have concerns connected to the company's food safety scares.
In a statement provided to HuffPost, Chipotle chief marketing and development officer Mark Crumpacker disputed that assessment, stating that the company's extensive internal research has shown that brand trust and admiration have essentially recovered to pre-crisis levels.
The lagging sales, Crumpacker reiterated, are due to customers' less frequent visits — not an outright avoidance. The company believes subpar customer experiences at some of the chain's locations is to blame.
"The bottom line here is that there are many intertwined and complex reasons why we have not fully recovered our sales," Crumpacker added, "but the main reason is that our customers are not yet as frequent as they once were, not because they are concerned about food safety."
For his part, food safety expert and frequent Chipotle critic Doug Powell said he believes the company is "grappling" as it places blame for its slow recovery away from its food safety struggles.
"I'm not sure they're focusing on the basics," Powell, a former Kansas State University food safety professor and the publisher and editor of Barfblog, told HuffPost. "Whether it's food safety or employee retention or whatever it is."
Though the cause of Chipotle's slow rebound might be debatable, the chain's feeble sales numbers are not.
The restaurant's sales have continued their sag over the past four quarters and shares of the stock tumbled 6 percent last month when Chipotle CEO and founder Steve Ells, who was named sole CEO of the restaurant in December, admitted he was "nervous" about whether the chain will achieve a previously forecast uptick in sales in 2017.
Shares of the stock have since rebounded, but the chain's outlook still remains uncertain. The company is set to announce its fourth quarter and full year 2016 sales numbers on Feb. 2.
The HuffPost/YouGov poll consisted of 1,000 completed interviews conducted Dec. 21-22 among U.S. adults, using a sample selected from YouGov's opt-in online panel to match the demographics and other characteristics of the adult U.S. population.
The Huffington Post has teamed up with YouGov to conduct daily opinion polls.You can learn more about this project and take part in YouGov's nationally representative opinion polling. Data from all HuffPost/YouGov polls can be found here. More details on the polls' methodology are available here.
Most surveys report a margin of error that represents some, but not all, potential survey errors. YouGov's reports include a model-based margin of error, which rests on a specific set of statistical assumptions about the selected sample, rather than the standard methodology for random probability sampling. If these assumptions are wrong, the model-based margin of error may also be inaccurate. Click here for a more detailed explanation of the model-based margin of error.
Joseph Erbentraut covers promising innovations and challenges in the areas of food and water. In addition, Erbentraut explores the evolving ways Americans are identifying and defining themselves. Follow Erbentraut on Twitter at @robojojo. Tips? Email joseph.erbentraut@huffingtonpost.com.
Calling all HuffPost superfans!
Sign up for membership to become a founding member and help shape HuffPost's next chapter
BEFORE YOU GO
PHOTO GALLERY
World's Weirdest Restaurants