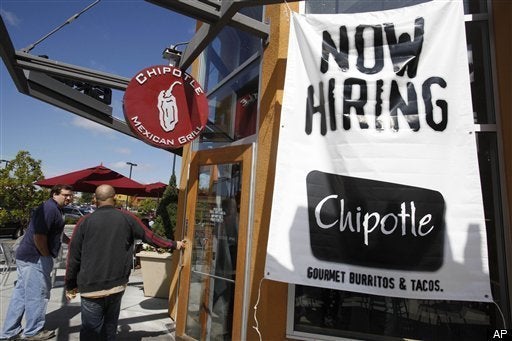 An immigration probe has forced Mexican chain Chipotle to fire hundreds of employees in Minnesota, over recent weeks, the Wall Street Journal reports.
Chipotle Mexican Grill Inc., which owns and operates nearly 1,100 restaurants around the country and employs 25,000 people, was told several months ago that it would face an audit of its I-9 forms, which verify workers can work in the U.S. legally, a Chipotle spokesman told the WSJ.
As part of an audit of around 50 restaurants in Minnesota, Immigration and Customs Enforcement found "suspect documents," forcing Chipotle to dismiss employees in 50 Minnesota restaurants. ICE will also audit 60 restaurants in Virginia and Washington, D.C., according to the WSJ.
A Chipotle spokesman told the WSJ that the chain required two different documents to verify the identity of every worker at the chain, but illegal immigrants commonly use false documents, Reuters explains.
"I believe that when you go to apply there, they know beforehand that you don't have papers," Tanya, a 35-year-old mother of four who was working at the chain illegally told Reuters.
"And after the six years I worked there, or the 10 years of some of my colleagues, they get rid of us without warning."
The action puts a dent in Chipotle's plans for rapid expansion: "This creates significant disruption to companies and in the lives of employees," Chipotle spokesperson Chris Arnold told the Wall Street Journal. Reuters reported the publicly-traded company planned to open 145 restaurants this year, and has seen stock gain more than 500 percent in the past two years.
The Obama Administration is targeting employers with raids of company documents, the WSJ reports, with 2,740 companies audited in the fiscal year that ended September 30th, resulting in a record $7 million in fines for businesses who employed illegal workers.
Legal and illegal workers make up a quarter of all workers in the food services and restaurant industries according to Current Population Survey figures reported by Reuters. Numbers revealed immigrants represented around 24 percent of workers in the sector between March 2009 and March 2010.
Support HuffPost
The Stakes Have Never Been Higher
Related
Popular in the Community