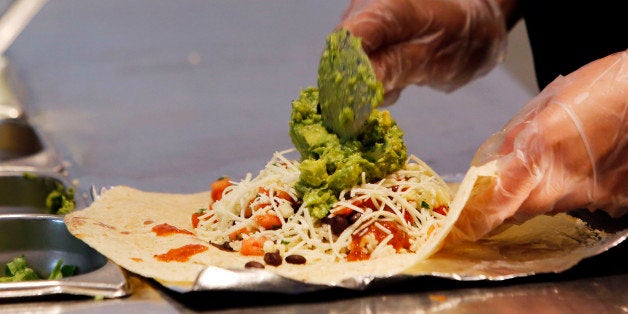 Have you recently eaten a Chipotle burrito in front of the TV while binge-watching one of your shows on Netflix? Maybe? Probably? If so, then you, my sloppy TV friend, just might have the secret answer to the mystery of the future of America's economy.
Here is what I mean: Both Chipotle and Netflix announced their quarterly profits on Monday. Both reported that they had annihilated all of the competition, with quarterly profit gains of eleventy gazillion percent or some such ridiculous figure.
And here is the twist that opens the key to the cupboard with the secret knowledge of the future: Both of these companies managed to add customers despite having recently jacked up prices. Chipotle and Netflix both asked us to pay more for burritos/videos, and, instead of fleeing, we gladly gave them extra money for more of their sweet, sweet burritos/videos.
If we get a few more companies reporting this sort of behavior, then it could be a sign that companies have developed what is known in fancy economics textbooks as "pricing power." And pricing power can lead to inflation.
You've probably always thought of inflation as a bad thing, but in some cases inflation can be a good thing. Let's say, oh I don't know, your economy has been a Lovecraftian nightmare hell for workers for the past five years, with nobody ever getting raises, aside from evil, hairless-cat-stroking CEOs. Does that sound like an economy you might know personally?
If companies can raise prices and get away with it, then maybe they'll feel better about raising wages. And/or if wages start rising, then that gives people more money, which they can then spend on stuff, which could also cause prices to go higher.
So how high are we on the wage-price-spiral staircase to higher inflation and/or wages? Not very high. Here is a chart of the Fed's favorite inflation measure:
Do you see the runaway inflation? Me neither, unless you look at the chart backwards.
It could just be that, instead of a sign that wages and prices are on a fast train to Inflation Town USA, Chipotle and Netflix being able to raise prices is just a sign that we really, really, really love us some Chipotle and Netflix. McDonald's, in comparison, also raised prices and had a terrible quarter.

REAL LIFE. REAL NEWS. REAL VOICES.
Help us tell more of the stories that matter from voices that too often remain unheard.