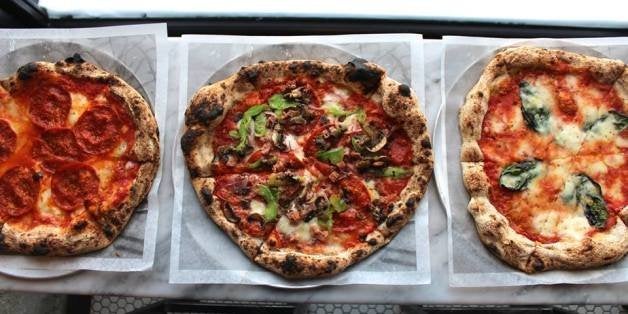 Chipotle is expanding its new pizzeria chain eastward, a sign that the fast-food giant has national ambitions for pizza.
The company said Thursday that it plans to open a Pizzeria Locale in Kansas City, Missouri, later this year. This will be Chipotle's first pizza eatery outside Colorado, where it already operates two Pizzeria Locales.
"If this was just a side project, they'd do a couple more of these in Colorado," Aaron Allen, founder of restaurant consultancy Aaron Allen & Associates, told The Huffington Post. "We expect to see a whole lot more opening in a short period of time."
The announcement of the Kansas City parlor comes just months after Chipotle opened its second Pizzeria Locale in its home base of Denver. Chris Arnold, a spokesman for Chipotle, told HuffPost it was "too soon to know" when the new restaurant would begin serving customers. He said there are no currently plans to expand to other cities.
Chipotle makes its pizzas pretty much the same way it makes burritos. Customers select fresh ingredients and toppings from a buffet, and line chefs slide the doughy pizzas into a specially designed oven built to cook them in just two minutes. Diners then seat themselves.
Fast-casual restaurants such as Chipotle and Panera have trounced traditional fast-food giants in recent years, attracting customers willing to pay a little more for simple, streamlined menus, customizable meals and higher-quality ingredients. Restaurants mimicking the format have proliferated over the last few years, applying it to cuisines ranging from Pakistani to sushi.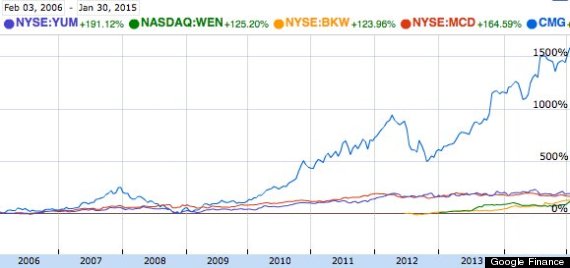 Chipotle's stock (blue) has skyrocketed as fast-food rivals such as Yum! Brands (indigo), Wendy's (green), Burger King (yellow) and McDonald's (red) stagnate.
Even Chipotle -- the juggernaut of the fast-casual category -- has opened its own copycats. Besides Pizzeria Locale, the company operates 10 Southeast Asian-style eateries, called ShopHouse, in the Los Angeles and Washington, D.C., areas.
"Both Pizzeria Locale and ShopHouse are on faster growth trajectories right now than Chipotle was in the beginning," Arnold told the HuffPost.
U.S. pizza sales topped $37 billion in 2013, according to an annual report by PMQ Pizza Magazine. And 34 percent of diners polled in 2012 by the research firm Technomic said they would pay more for gourmet ingredients, up from 26 percent in 2010.
"Pizza is far more popular than even Mexican," Allen said. "This can be an absolute goldmine."
Fast-food behemoths have taken note of Chipotle's success. McDonald's, whose chief executive announced this week he will step down amid anemic sales, is slimming down its menu in hopes of making it more simple. Yum! Brands -- the parent company of Taco Bell, KFC and Pizza Hut -- opened Banh Shop, a Vietnamese street-food chain in Dallas in September. To more directly take on Chipotle, the company also launched U.S. Taco Co., an upscale taqueria, in Huntington Beach, California, in August.
REAL LIFE. REAL NEWS. REAL VOICES.
Help us tell more of the stories that matter from voices that too often remain unheard.
BEFORE YOU GO
PHOTO GALLERY
6 Things You Didn't Know about Chipotle