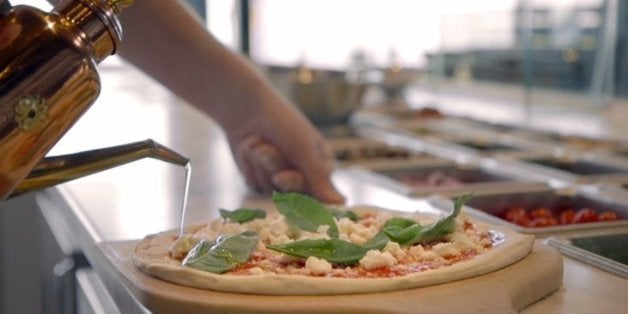 Chipotle wants a bigger slice of the pizza market.
The burrito chain last December opened Pizzeria Locale, a gourmet pizzeria in Denver that specializes in individually crafted personal pies. On Sunday at 11 a.m., it plans to open a second location, also in the Mile-High City.
"I would say we're doing really, really well," Steve Ells, one of Chipotle's two chief executives, said in a segment on Bloomberg TV. "Pizzeria Locale is growing faster than Chipotle did in the early days."
The pizza restaurant has modeled itself after Chipotle: Customers select fresh ingredients and toppings from a buffet, and line chefs slide the doughy pie into an oven built to cook them in just two minutes. Then diners seat themselves.
The future of the eatery may depend on that oven, which was specially designed for the restaurant. Customers expect fast-casual restaurants to serve food in seven minutes or less, according to Aaron Allen, the founder of the restaurant consultancy Aaron Allen & Associates.
"Once it hits seven minutes and one second, it's like that MTV show 'Boiling Points' -- it starts to get uncomfortable," Allen told The Huffington Post.
But he said speed may also be a hurdle for the pizzeria.
"It can't seem nuked," he said. "If you can get a pizza in under two minutes, it could feel it's microwaved, even if you see it cooking in the oven."
Fast-casual restaurants have seen tremendous growth in recent years as consumers hungry for quickly prepared meals are increasingly willing to pay more for better quality food than that served at most fast-food chains. Simple, streamlined menus like those at Chipotle and Pizzeria Locale attract customers who are overwhelmed by the options at McDonald's or a casual dining chain like Olive Garden.
Chipotle's soaring stock price in recent years has spurred competitors like Yum! Brands, the parent company of Taco Bell, Pizza Hut and KFC, to open concept restaurants with prices and menus meant to rival the 21-year-old burrito chain. Last month, Yum! launched its first Banh Shop, a Vietnamese street-food chain, in Dallas. In a more direct challenge to Chipotle, the company also opened U.S. Taco Co., an upscale taqueria, in Huntington Beach, California, earlier this year.

The stock prices of Chipotle (blue) and Panera (magenta) have grown much faster than those of fast-food rivals McDonald's (green), Yum! (yellow), Wendy's (red) and Burger King (indigo).
As at Chipotle -- where, according to data compiled by Bloomberg, food costs are nearly 35 percent higher than at typical fast-food restaurants -- Pizzeria Locale said it invests in high-quality ingredients. Wheat used in the pizza crust is milled on site. Humidity levels in the room where dough is stored is said to be engineered to approximate that of the air in Naples, Italy. During a recent segment on Bloomberg TV, founder Lachlan Mackinnon-Patterson showed off the pizzeria's customized meat slicers, which can shave off paper-thin strips of marbly-pink prosciutto.
Other cuisines that Chipotle has approached with its fast-casual format include Shophouse, its Southeast Asian concept that launched in 2011, serving rice bowls with vegetables, meat and curry sauces.
The chain now has three locations in the Los Angeles area and five in Maryland and Washington, D.C., with two more slated to open nearby later this year.
Mackinnon-Patterson operates a full-service Pizzeria Locale in Boulder, too, but Chipotle only has a stake in the two fast-casual eateries in Denver. Chris Arnold, a spokesman for Chipotle, told HuffPost the company is weighing its options for Pizzeria Locales in other cities.
"We think it would do well in other cities and are considering a couple of them," he said via email on Saturday. "But we don't have firm plans for restaurants outside of Denver at this time."
Ells seems optimistic that pizza could prove to be Chipotle's next goldmine.
"I've heard a lot of people -- some of our investors and others -- say that they think pizza could be bigger than Chipotle itself," Ells told Bloomberg TV. "If that happens, that's great."
REAL LIFE. REAL NEWS. REAL VOICES.
Help us tell more of the stories that matter from voices that too often remain unheard.