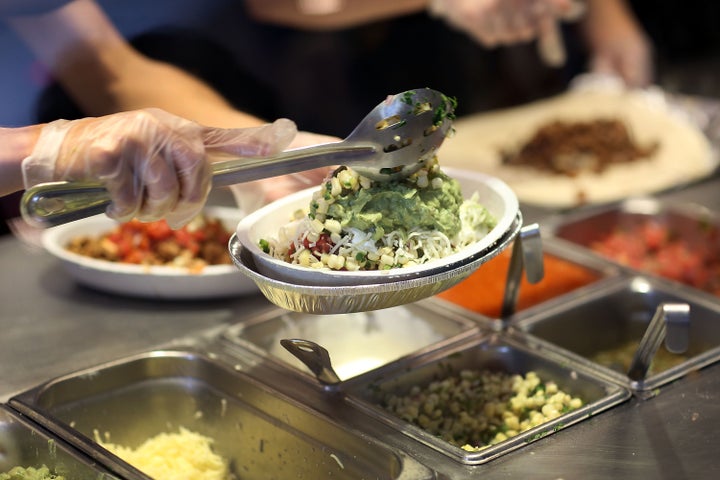 A good burrito maker is hard to find, and it's getting even tougher as the economy improves.
"It will be intense," Chris Arnold, a Chipotle spokesman told The Huffington Post. The company is prescheduling interviews at NationalCareerDay.com. Arnold said he expects interviews will be relatively short. Interested candidates should demonstrate some of the 13 characteristics Chipotle wants in a worker. An interest in guacamole probably isn't going to hurt but isn't necessary.
"You need to be polite, hospitable, smart, ambitious, curious, happy, respectful, honest, presentable, conscientious, motivated, infectiously enthusiastic and high energy," said Arnold. "We can teach you the skills to work in our restaurants, but you really can't teach these characteristics. You either have them or you don't."
The push comes at a pivotal time for the industry, as more workers agitate for higher pay and some cities have raised the minimum wage. Meanwhile, the unemployment rate is falling and, barring the recent freakout over the stock market, the economy is doing better. More people are eating out -- especially at fast-casual places like Chipotle, which is still seeing revenue and sales increase. The chain's revenue was $2.3 billion in the first six months of the year.
"Finding good labor is one of the most critical issues the fast-casual industry is facing right now," Darren Tristano, a vice president at food-service consulting firm Technomic, told The Huffington Post.
Over the past year, to stay competitive, Chipotle started offering paid sick leave and vacation to its line workers, highly unusual benefits for hourly workers. Meanwhile, McDonald's and Cheesecake Factory recently raised pay.
"There's a war on talent" for fast-food workers, Wendy's CEO Emil Brolic recently told investors.
Tristano said that a nationwide hiring event like this was fairly unusual -- though McDonald's did conduct one back in 2011. Typically, restaurants go with more regional events. "Chipotle does everything bigger," he said.
Chipotle's Arnold said that the recent more competitive market wasn't a big issue, noting that the chain has always paid more than the minimum wage. Starting pay is above the industry norm at $10 an hour, according to the company. Although self-reported data at jobs site Glassdoor has it a little bit lower.
Arnold said the reason Chipotle's doing the nationwide push in September is simply because the company usually sees a drop-off in the number of job applicants during that month. And it can't really afford any lulls. The chain is undergoing a big expansion and plans to open between 195 - 205 new stores in the next year. It typically hires about 60,000 crew members a year. Oh, and turnover is 100 percent, meaning 60,000 crew members also leave each year. This rate, Arnold said, was actually on the low-end for the industry, which is plagued by low pay and dismal benefits and a more transient workforce.
Chipotle also offers twice-annual merit pay raises, Arnold said. And, in what seemed like a dig at McDonald's, he pointed out that you'd never find a worker at Chipotle who had been earning the same amount of money over a long period. A few years ago, McDonald's came under fire for paying a 20-year veteran of the company minimum wage.
Chipotle also likes to boast that it hires 95 percent of its managers from within. That's a much higher rate than most places. At McDonald's about half of managers at company-owned stores are promoted internally, according to the company's website. Arnold said 10,500 Chipotle managers were promoted from crew level over the past year.