Your favorite Chipotle meal is about to get more expensive, but the chain's executives are confident that your burrito addiction will keep you coming back for more.
The company announced on its first-quarter earnings call Thursday that prices for all its menu items will go up for the first time in three years. The price increases will go into effect over the next three to six months.
The price hikes aim to address pretty much the only problem that roiled Chipotle during what was an otherwise pretty good quarter: Food inflation. The prices of beef, cheese and avocados have all reached elevated levels in recent months and are expected to stay high. As a result, Chipotle executives felt it was time to pass the cost onto customers.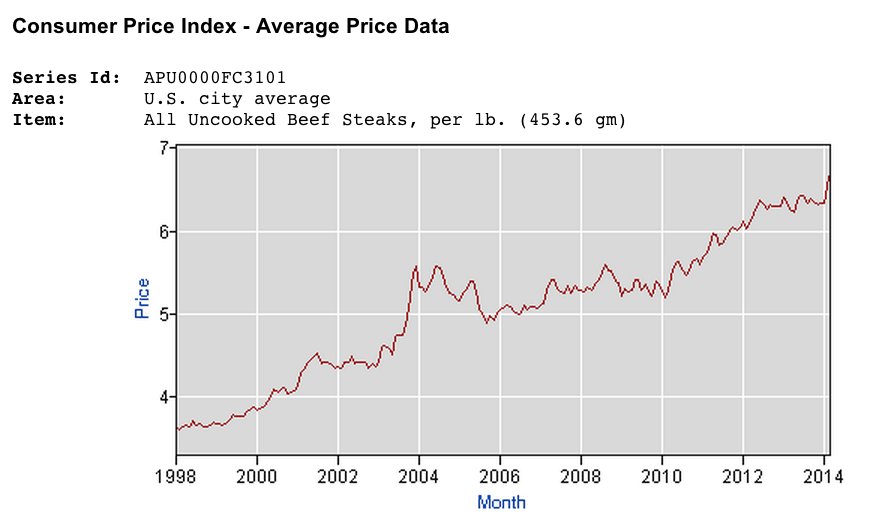 Beef prices have shot up, according to data from the Bureau of Labor Statistics.
The company's Chief Financial Officer Jack Hartung told investors on the call that he's confident "customers will continue to see Chipotle as a great value and continue to be willing to spend a little bit more money -- and it really is just a little bit more money."
And if history is any indication, he's probably correct. This past quarter, customers went to Chipotle even as they cut back on other fast food spending. While chains like McDonald's saw drops in sales due to winter weather, Chipotle's through-put -- a measure of how many customers come through the store -- increased during peak lunch and dinner periods last quarter. The chain's profit also increased 8.5 percent and revenue jumped 24.4 percent.
That's probably in part because Chipotle has already tapped into some of the things consumers are increasingly looking for when in comes to food. The Mexican chain offers choices, but still gets diners in and out the door fast by sticking to a pretty basic menu.
Chipotle also appeals to the growing class of conscious eaters. Sofritas, the restaurant's tofu option will hit all of its markets by the end of the year, executives said on the call. The company also makes a point of emphasizing the quality and sourcing of its ingredients as well efforts to pay its staff more than typical fast food restaurants (the chain started voluntarily paying its entry level workers $9 an hour in California ahead of a minimum wage hike, executives claim).
All of this gives Chipotle "permission" to raise prices without the risk of losing its loyal customers, Chipotle co-CEO Steve Ells said on the call. And he says there's even room to hike prices more down the line.
"We believe we've got a lot of pricing power," Ells said. "We're not going to spend all the pricing power we've built up over time, we still have some in the bank."
Related
Popular in the Community