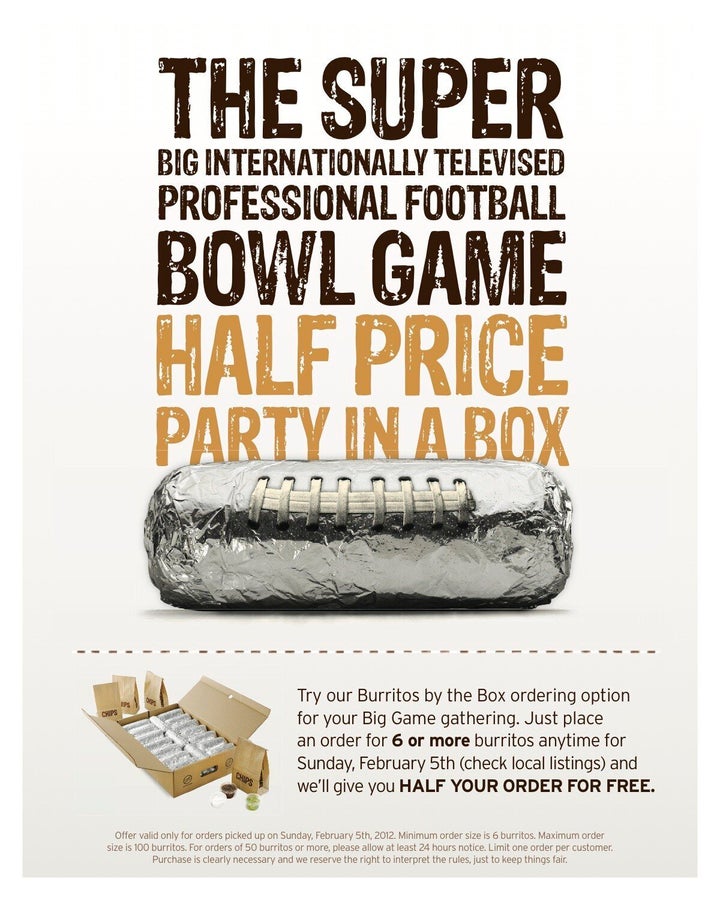 For the non-football fans among us, February 5th, the day of this year's Super Bowl, will offer two pleasures above all: commercials and food, the second- and third-most American things in the world. (Football is first.) For that reason, this year's creative, large Super Bowl promotion from Chipotle is big news. It could change the face of Super Bowl food advertising as we know it.
First off, it's actually a pretty good deal. All U.S. outposts of the chain are offering half off burrito boxes, which boil down to sets of six or more burritos. Obviously, you won't be able to take advantage of the deal if you're watching the game alone. (At least we hope you can't take advantage of it: many Chipotle burritos top out around 1000 calories.) But if you're with a group, you could end up feeding everyone well for about $4 each.
But the facet of the promo that's getting the most ink is its commercial-side, not its food-side. Print ads for the deal come close to flouting the NFL's long-running restriction on the unauthorized use of the copyrighted term "Super Bowl." They do so by writing out "The Super Big Internationally Televised Professional Football Bowl Game" -- and printing the words "The," "Super," "Bowl" and "Game" in XL typeface.
Here's an image of the ad:

"Quite simply, it's not a licensed NFL Super Bowl promotion," Chipotle spokesperson Chris Arnold told the Huffington Post. "So we wanted to build a promotion that would make sense and that our customers would find interesting in light of this cultural phenomenon that is happening on February 5th. But because it isn't an NFL-sponsored event, we can't use the term 'Super Bowl.'"
Related
Popular in the Community