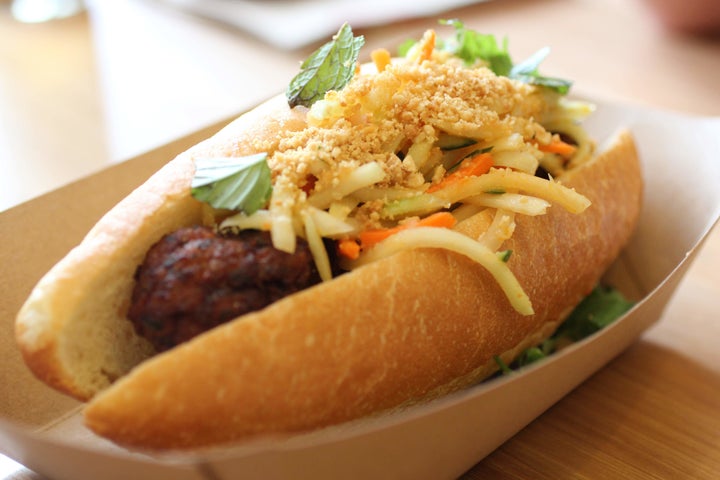 WASHINGTON -- Chipotle's new Asian concept restaurant, ShopHouse, opened Thursday morning in Dupont Circle to little fanfare. Unlike other anticipated openings in the area, the wait for a meal was relatively short as curious patrons wandered in off Connecticut Avenue. In contrast, nearby burger spot Shake Shack's much-ballyhooed May opening came with hour-and-a-half-long lines and weeks of media buildup.
Details surrounding ShopHouse have been kept close to the vest since the project's development started about a year ago. When doors finally opened, the interior was reminiscent of Chipotle's other locations -- sparse, industrial and with a focus on green design. Much of the dining area has been constructed with recycled materials, including dark maple treated to look like teak, and lighting that's nearly all high-efficiency.
As for its neutral color scheme, ShopHouse's director of concept development, Tim Wildin, told The Huffington Post that he and Chipotle founder Steve Ells "really wanted the color of the place to come from the food." And the food here is, indeed, colorful. The menu, inspired by the street food of faraway cities like Singapore, Bangkok and Hanoi, features items in bowl or sandwich form. Banh mi sandwiches are topped with bright green cilantro, and the grilled chicken satay, served atop bowls of rice or noodles, is brilliantly yellow.
Wildin revealed that the concept for ShopHouse began at his suggestion. Wildin, who is half-Thai and was born in Thailand, pitched the idea to Ells while doing marketing work at Chipotle's New York City office. Ells was intrigued, and the rest is history. With the help of Chipotle's esteemed culinary manager, Joel Holland, and noted chefs Kyle Connaughton (formerly of the Michelin-starred Fat Duck experimental kitchen outside London) and Nate Appleman (named a Rising Star Chef by the James Beard Foundation), the team researched and designed the menu.
ShopHouse intends to adhere to Chipotle's message of sustainability, which Wilden said means giving the farmers from whom they buy incentives to continue producing high-quality, organic meat. To this end, ShopHouse has designed some menu items to incorporate traditionally lower-end cuts, which would otherwise be sold at a lower price to other companies. The pork and chicken meatball banh mi, for example, is made with pork shoulder and legs, a less-expensive cut than those often used in high-end restaurants.
"Lower-end is a socioeconomic thing, it's not a culinary thing," Wildin said. Less-expensive cuts aren't as fancy, but they often taste just as good.
As for why ShopHouse chose to debut in the District of Columbia and not in New York City, where all five of its developers are based, Wildin explained that D.C. is a better "proving ground."
"There are just hundreds of restaurants in New York City that aren't great, but last," he said, noting that New York City's high population density might sustain an eatery even when the concept isn't exceptional. On the other hand, Wildin said, a restaurant's performance in D.C., a city with a burgeoning food scene but fewer people, might be a better indication of a concept's potential success elsewhere.
Still, Wildin was adamant that Chipotle currently has no plans to open additional ShopHouse locations. "For now, we're really looking at this as an experiment."
PHOTOS: Chipotle's ShopHouse Opens
Related
Popular in the Community