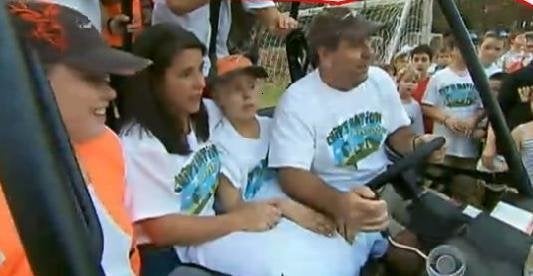 The pictures on 14-year-old Chip Madren's website tell the story of a carefree boy who loves fishing, water sports and being with his family. But all that changed last August.
It was then that Madren and his family found out he had aggressive stage-four brain cancer and had to have two surgeries right away. His parents, Lea and Ken, tell CBS News they were beside themselves.
"It's all you can do to stand," Ken said. "We fell down in the street." "Screaming, yelling," Lea added.
That's when Chip's Nation was born. It's a group of friends, acquaintances and even strangers who shop, cook and do all the household tasks every single day. They also organize fundraisers and maintain a "care calendar" for the family.
Chip's parents say the outpouring of support has been so helpful in allowing them to focus on what's important: Chip's recovery.
The dedicated members of Chip's Nation have every single meal and chore covered through the end of May, CBS reports.
Support Chip's family and his "nation" of volunteers by clicking below.
Related
Popular in the Community