In 1956, Johnny Cash released his classic song "Folsom Prison Blues" in which he stated, "I shot a man in Reno just to watch him die." For those of you familiar with this song, ask yourself, "Have I ever felt like killing someone after listening to this?" The obvious answer, of course, is no. Yet, there seems to be a double standard when it comes to hip hop and its new found sub-genre, drill music.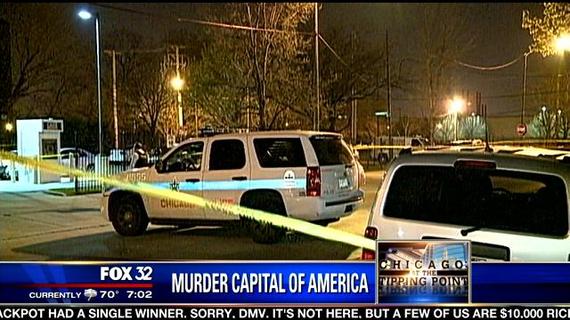 Drill music was founded in the early 2000s by rapper, Pacman, from Chicago's Woodlawn neighborhood of Dro City. For the most part, it could be considered gangsta rap 2.0 due to its strong subject matter on gangs, guns and drugs. In recent years, the highly aggressive lyrics in drill music have been the cause of great debate over whether or not they're influencing the violence plaguing Chicago. It's gotten to the point where some of the sub-genres biggest stars like Lil Durk, have been banned from preforming in the city. Some music fans -- even hip hop fans -- dismiss drill music as not worth listening to. However, with a little understanding of its origins, it soon becomes obvious that drill music is not influencing the violence in Chicago. It's actually helping to reduce it.
I like to consider myself a very aware and socially conscious person as far as my thoughts and views on life and society are concerned. Most people who know me would likely say the same. The views that I hold are pretty progressive and they reflect in my day-to-day being. From the type of movies that I watch to the type of music that I listen to, everything I do more or less falls in line with my beliefs. But there is a yin and a yang to us all and I'm no exception, especially when it comes to music. Personally, I love hip hop. Most days if you catch me with my headphones on I'll be listening to rappers like Lupe Fiasco, whose lyrics generally carry a message of positivity, motivation and societal awareness. For example...
One in the air for the people that ain't here
Two in the air for the father that's there
Three in the air for the kids in the ghetto
Four for the kids who don't wanna be there
None for the ni**as trying to hold them back
Five in the air for the teacher not scared to tell those kids that's living in the ghetto, that the ni**as holdin' back, that the World is theirs!
Yeah, yeah the World is yours, I was once that little boy
Terrified of the World
Now I'm on a World tour
-Lupe Fiasco "The Show Goes On"
But from time to time depending on my mood or what's happening in the day, you'll catch me listening to the violent, gun-toting lyrics of drill music that go a little something like this...
I'm big boss Fredo, what's up with all of these f**k ni**as
Trap house full of crack, them pillow cases stuffed, ni**a
I don't f**k with f**k ni**as, f**k with me, you get trunked, ni**a
-Fredo Santana "Wassup"
Given my ideals and laid-back demeanor, most people I know are surprised when they catch me listing to drill music. Not too long ago, I found myself defending my position on drill music when I was approached with the question of, "Why do you listen to that garbage?"
First off, it's not garbage. Unfortunately, this is the conclusion most people come to when confronted with something they can't understand or relate to. Being that I grew up in Chicago, I understand the plight of a young man surviving the inner city all to well. When listening to drill music, I hear stories of struggle and courage. I hear the voices of men doing whatever they have to in order to put food on the table for their families. Within the music, I personally see my friends and family who have fallen victim to the harsh streets of Chicago. What may sound like songs of random violence to you are true stories to me.
If you were to take a look at a timeline of events in the Chicago, you'd see that drill music came to fruition as the city began its aggressive redevelopment of public housing. It was an initiative called The Plan for Transformation. In a nutshell, the "plan" was to completely demolish all of the project housings in Chicago and replace them with remodeled updated apartments. However, in doing so, tens of thousands of Chicago's poor residents were displaced and forced to move into other nearby, crowded and impoverished neighborhoods. When this happened, rival gangs became closer to one another. Sub-gangs also began forming within existing gangs, creating infighting. For years, this problem continued to go unrecognized and unchecked.
In 2012, Chicago took the national stage due to its unprecedented level of gun violence. By the end of that year, Chicago officially became murder capital of the United States. According to FBI statistics, Chicago recorded 500 homicides in 2012, beating out cities like Los Angeles with 299 homicides and New York City with 419 homicides. Even more alarming were the headlines on sites like Fox News, reporting that more people were killed in Chicago then coalition forces in Afghanistan! Amidst the violence, Chicago would end up adopting the nickname "Chiraq," popularized in the hip hop community. Ironically, this was also the same year that drill music took the national stage as well. It reached its first taste of commercial success with Chief Keef 's smash hit "Don't Like," produced by Young Chop. With drill music's explosion of popularity, it quickly became the scapegoat for the violence happening in Chicago. And to be quite honest, the attack on drill music was to be expected as these claims are nothing new to hip hop as a whole.
Hip hop and its supposed influence on inner city violence is an age-old discussion that dates as far back as to the days of NWA. Yet, it's a flawed point of view that couldn't be further from the truth. Hip Hop in and of itself is a byproduct of poverty-stricken inner city neighborhoods. Gangs, drugs and violence were already prevalent in these neighborhoods long before hip hop existed. Drill artist, Katie Got Bandz, expressed these same sentiments when questioned by Ebony magazine on drill music's influence on Chicago...
Before drill music people already had their beef and wars going on. It's just everybody is rapping now, so people think if they make a dis' record, they'll get noticed fast and they're putting it on beats instead of leaving it in the streets. Rapping don't have nothing to do with what's going on in Chicago. This has been going on in Chicago before Chicago got noticed.
-Katie Got Bandz
I live in Los Angeles now, but I'm proud of being able to say that I'm from Chicago. What does sadden me is how the violence is currently taking away its beauty. Being the optimist that I am, I feel that drill music can restore some of that beauty through its success in the mainstream. This year, the hip hop magazine XXL released its coveted Freshmen Class edition in which four Chicago hip hop artists graced the cover -- Lil Durk, Chance the Rapper, Lil Bibby and Vic Mensa. The success of these four artists speaks volumes to the youth of Chicago. Not too long ago, these same rappers were walking the city's streets surviving day-to-day. It's this relatability factor that motivates Chicago's youth to put down the gun and pick up the mic.
Last week, CBS Chicago reported that so far this year the number of murders being recorded is at its lowest in nearly 50 years. It's no coincidence to me that since the popularity of drill music has taken off, homicides have gone down. This isn't to say that rapping is the only way to stop the violence in Chicago, but it can help. It's in chasing a dream that you ultimately find your life's purpose. And a sense of purpose is what's lacking amongst the youth in Chicago at the moment. If drill music is what's helping provide that, then I will support it all the way.
Support HuffPost
Every Voice Matters
Popular in the Community