Chita Rivera is on fire. In August I was one of hundreds cheering as a slinky Rivera, black flapper -- style dress fluttering, made her grand entrance from the back of the audience into Cherry Grove, Fire Island's Ice Palace. The spotlight bathed her in pink glow as she laughed and made her way to the stage. Rivera's two shows had sold out quickly and adoring fans packed a disco floor crammed with makeshift seats. They were there to see a Broadway legend in person. Chita didn't disappoint. Kicking a curvaceous leg( and belting out favorites songs from hits like "West Side Story" to "Chicago" and "Kiss of the Spider Woman") Chita was electrifying -- and to all appearances, ageless. For more than an hour, she sang, twirled and shimmied with more energy than a 20-year old. She recounted stories from her 61 years of performing. "We love you," screamed audience members. "And I love you," she screamed right back. At 80 years young,("I just want everyone to forget the year," she quipped recently) Chita is just hitting her stride. On October 7 , Rivera will be the star of a Broadway tribute in her honor: "Chita: A Legendary Celebration." It will be produced by and benefit Broadway Cares/Equity Fights AIDS. The event will be directed by Graciela Daniele and written by Terrence McNally. She'll be joined on stage by, among others, nine-time Tony Award winning actor and director Tommy Tune as well as showman Ben Vereen who nabbed a Tony for the musical "Pippin."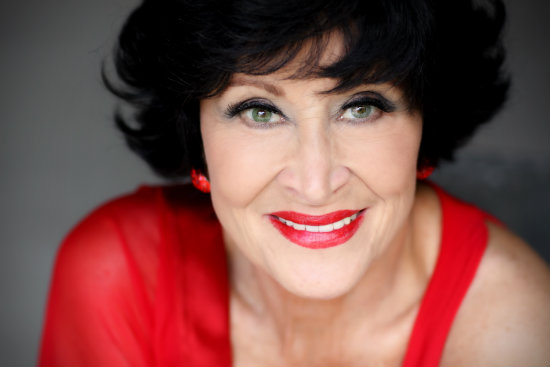 Photo by Laura Marie Duncan
"I'm so honored because I so believe in Broadway Cares," she told me in an interview recently. She had just finished rehearsals for the show. "It's very humbling and I'm lucky every day of my life to be here, to be able to do what I love to do, to be appreciated and to still be connected to the theater." She will be performing songs from many of her Broadway hits. She didn't want a traditional tribute where she'd sit in the audience and watch others honor her achievements. " I just wanted to do it myself because I wanted to pay tribute to Broadway Cares," she says. Broadway Cares/Equity Fights AIDS is one of the nation's leading non-profit AIDS fund-raising organizations. Rivera explained she'll be singing many of the songs that made her famous. "I got great material," she says. "How are you not going to do "All That Jazz," how are you not going to do something from "West Side Story," or "Kiss of The Spider Woman?" " You're silly not to do that," she says in her signature throaty growl.
Rivera's involvement with giving to HIV/AIDS causes is deeply personal. In 1991 stage actor Larry Kert died of complications resulting from HIV/AIDS. Kert played the character of "Tony" in the original production of "West Side Story." Rivera starred as "Anita." Rivera will perform a special song at the tribute called "Circle of Friends" dedicated to Kert. "When Larry died, it just killed me," she told me. "And then I heard this song and it was absolutely perfect and then it became a song for all of my friends (who passed away from HIV/AIDS) and their friends," she says softly. "For me that's what I want to say and I'm going to say it." Broadway Cares/Equity Fights AIDS executive director Tom Viola says he's honored that his organization can pay tribute to the legendary star. "Chita has stood with Broadway Cares from our earliest days, never turning away from the challenges and always multiplying the joys we share," Viola says.
For most audiences Chita Rivera is perhaps most identified as that Puerto Rican spit-fire "Anita" in "West Side Story." When she spun in a lavender dress and sang the words "I Like To Be In America" in the 1957 landmark musical, Chita became an instant star. At the Ice Palace concert, the audience began cheering as a the band played the familiar melody. Rivera flared her nostrils and instantly transformed. She WAS Anita. "A boy like that, who'd kill your brother," she sang forcefully. "Forget that boy and find another." The Fire Island fans broke out in thunderous applause. Rivera told me that of all the characters she's played, "Anita" is one of the closest to her heart. She said she was attracted "to that kind of motherly friend and compassionate person." Chita has won two Tony Awards as Best Leading Actress in a Musical ("The Rink" and "The Kiss of The Spider Woman"). She's received seven additional Tony nominations.One of them was for her her star turn as a French chanteuse in the revival of "Nine" with Antonio Banderas. Just a few months ago she starred in the first Broadway revival of "The Mystery of Edwin Drood" as the comical opium den hostess Princess Puffer. Chita also starred in the Broadway and touring production of "The Dancer's Life," a musical celebrating her long career. It was written by Terrance McNally and directed by Graciela Daniele who also wrote and directed the upcoming tribute.
I asked her for the secret to her incredible Broadway success spanning six decades. "Prayer, Chuck, prayer," she said laughing. "I always make a joke out of it. I don't know (but) God has decided I should do this and he's allowed me to stay well enough to stick in there." She remembers those who encouraged her and those she's met who have influenced her. "It's my father and my mother, it's certainly my training, my first teacher, the people at American Ballet(American Ballet Theater School) it's all of that,"" she says. "I love to communicate this way.I love the theater, I've met many amazing people that stimulate me (and) my friendships have stimulated my life to be a better one."she says. "It's a huge package," she adds.
And now at 80, Broadway buzz is building for Chita to star in the Kander and Ebb musical "The Visit" as it prepares for a possible run on The Great White Way. "The Visit" is the story of a wealthy woman who returns to a village she fled years earlier in disgrace. It is based on a 1956 play and a 1964 movie with Ingrid Bergman and Anthony Quinn. Rivera starred in the show when it opened at The Goodman Theater in Chicago in October of 2001. "We're going to do it with the hopes of bringing it to Broadway," she told me. Chita says she's optimistic the dark tale of greed and revenge can make it to Broadway in 2014 after a possible tryout in Williamstown, Massachusetts, "I want to get one more stab at it," she says. "It's quite dark but it got some really unique and interesting things about it."
Chita has paved the way for today's Hispanic musical theater actors and actresses. A "triple threat," Rivera has acted, sung and danced her way through starring roles in "Bye Bye Birdie," "The Rink" and "Chicago." As the acidic Velma Kelly in that musical , Rivera created the role for which Catherine Zeta-Jones won an Oscar for in the movie version of the musical."I called her up and congratulated her," she tells the Ice Palace audience in her August concert. But the minute the band broke into one of "Chicago's" signature songs("All That Jazz") there was little doubt who owned "Velma." As Chita dipped and turned to the classic Bob Fosse choreography, the audience went wild. In turn, Chita stretched out her arms as if to embrace the crowd. That theater magic(an undeniable mixture of skilled singing,acting, impeccable dancing and old-fashioned star quality) has led to numerous honors One of Rivera's proudest achievements was being awarded the Presidential Medal of Freedom in 2009. Rivera was the first Hispanic chosen to receive the Kennedy Center Honor. More recently, she was named Grand Marshal of this year's annual National Puerto Rican Day Parade.
Rivera says she speaks to young people who want to be stars like her and tells them it's all about the discipline. "You have a respect for yourself when you do it right. You can almost be on automatic because of the training. You have to get that training." She recalls a devastating car accident in 1986 that shattered her leg requiring two operations and 12 tiny screws to keep the bones in her leg in place. She never allowed herself for an instant to believe that her life as a dancer might be over. " I could hear myself say okay I have to do something about that, and I knew what I had to do," Chita says. Months of rigorous physical therapy and rest allowed her to bounce back and dance on Broadway once more. "That comes from training," she says. "It didn't become emotional, it became work and you get that only from training."
Hardly a lofty, distant Broadway star, Rivera is known in the theater community for having the "common touch" and for her many acts of personal kindness. And she says she befriends people with the same kind of "spiritual connection." "I love kindness in people, people with a sense of humor," she says. "I love people who care about other people and you can see that right away," she adds. "I don't like darkness." On a personal note, Rivera befriended me fourteen years ago after I had written a musical called "Tropicana." The play received staged readings and workshops for which Rivera consulted as a kind of artistic advisor. Although "Tropicana" didn't receive the financial backing to reach Broadway, she remained a friend. When I suffered a near-fatal heart attack last year and underwent a quadruple bypass heart surgery, she rushed to the hospital. She brought me a devotional "scapular" necklace from Our Lady of Mount Carmel. "Wear this always," she instructed me. "It will protect you." I wear it to this day.
As she prepares for her October 7 "celebration" at the August Wilson Theater, she'd like audiences to leave the tribute feeling the same kind of spiritual connection. "I want them to leave being inspired and energized and know that I love what I do and I share what I do," says Rivera. " The theater is a form of communication. I want us to stay in touch." With a tour of the show to follow and a possible Broadway run of "The Visit," it's likely audiences will be staying in touch with Chita Rivera for some time to come.
Tickets for "Chita: A Legendary Celebration" start at $75 and are still on sale at broadwaycares.org/chita.
REAL LIFE. REAL NEWS. REAL VOICES.
Help us tell more of the stories that matter from voices that too often remain unheard.