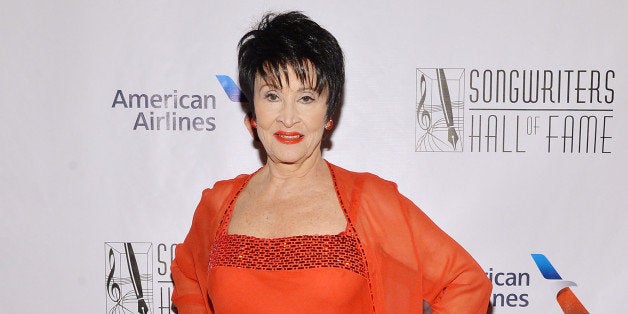 Broadway Icon Stars In New Production of Kander & Ebb and Terrence McNally Musical Opening in the Berkshires
Be it a cliché, the adage "if at first you don't succeed, try, try again" may be the best way to describe the latest production of "The Visit" opening this week at the Williamstown Theatre Festival. Unlike "Cabaret," "Chicago," or "Kiss of the Spider Woman" this is one Kander and Ebb musical that has yet to hit it big. Instead, it has been a work in progress for more than a decade, with some of Broadway's biggest talents helping advance it along the way.
Written with frequent collaborator and celebrated playwright, Terrence McNally, the production features two-time Tony Award winner, Chita Rivera, who will star now for a fourth time (fifth, if you count a special benefit concert), having joined the show originally back in 2001. I had a chance to catch up with Rivera who had just left a long day of rehearsals and described the production as, "extremely exciting." Having been through various iterations, she continued, "It's a completely different style and interpretation. We're just having a wonderful time exploring it."
Under the helm of director John Doyle, famous for his paired-down productions like "Sweeney Todd" and "Passion," it's a "Visit" unlike one Rivera has experienced before. Now tightened into a single act, versus two, and with the addition of a deeper back story, Rivera spoke highly of Doyle, her choreographer Graciela Daniele, as well as fellow cast mates who include seasoned actors like Roger Rees, Jason Danieley and Judy Kuhn. "John Doyle is the greatest professor. We sit and talk, and explore and do. Graciela works magnificently with him and you couldn't ask for a more wonderful actor than Roger Rees. He's just phenomenal."
"The Visit", which is based on a satirical play by Friedrich Dürrenmatt, tells the story of Claire Zachanassian, the "richest woman in the world". She returns to her hard-stricken hometown with a proposition that offers its residents an escape from poverty in return for the murder of her former lover, played by Rees, who along with the town had ostracized her many years before.
Rivera describes that, "John Doyle is teaching us how to really tell this dark, wonderful and romantic story. A lot of people think it's all about revenge, but that's not true at all." Rivera explained, "Every person has a different reason for acting the way they have. It's a lot of politics... It's very current, deep, and interesting." Of her own role, she said, "I know Claire even more now because I've done the other productions and now I'm listening to another interpretation of it. We're just going deeper and deeper into this piece."
Despite "The Visit's" inability to gain traction in the past, Rivera remains upbeat. "Timing has an awful lot to do with everything. The first time it was 9/11, and the second it just wasn't right. Now, we'll just have to see if this is the fate that 'The Visit' wants to take... A piece expresses itself when it's ready to be done. It has a life of its own."
She also knows that every point until it reaches a mass audience as an opportunity to work on the show. "That is what theater is all about. That is what art is all about. You do it from your heart... and then you change things." Rivera said. "Most great shows have evolved. You mature all the time and that's what usually happens when you go out on the road. That's what we used to do years ago during the Golden Age... There would be [out of town] tryouts. Nowadays people don't have that luxury and it's a very necessary part of the procedure."
One of Broadway's biggest stars, it's incredible to hear Rivera speak of her continued dedication to advancing her craft and a piece like "The Visit," despite its slow progress. It speaks volumes of her belief in the show and its creative team, herself been nominated for nine Tony Awards and having created such iconic roles as Anita in "West Side Story," Rosie in "Bye, Bye, Birdie," Velma Kelly in "Chicago" and Aurora in "Kiss of the Spiderwoman" (also a Kander/Ebb/McNally collaboration). "Going and working in that room everyday is really what you sign up to do when you say 'I want to be in the theatre.' It's art at work, it's exciting in that way."
She went on, "The theater is a place where you want to be moved. You want to have an experience and our job is to tell you a story, and interpret them in certain ways to make them interesting for the audience."
Rivera's long-term association with Kander and Ebb, as well as Terrence McNally, is one that dates back well before "The Visit." She's starred on Broadway in many shows written by these collaborators ("Kiss of the Spiderwoman," "The Rink") and Kander and Ebb alone ("Chicago"), giving Rivera cherished vehicles that have helped define her career. Of Kander and Ebb she said, "They know me better than I know myself. They make me trust myself and they give me a voice. So does Terrence (McNally) and Graciela (Daniele), too... I don't know where I would be without Kander and Ebb right now, because I've had so much experience with them and these amazing pieces... I trust them implicitly. That's hard to find."
"When you walk into a room and you're allowed to sing beautiful lyrics written by a genius, and sing beautiful songs written by a genius, and say such smart words and tell a story that is fascinating -- and in our case quirky and dark and interesting," she quips, "It certainly takes you out of your living room and away from your TV."
She continued, switching to a serious tone, "The theater is an amazing place. I just feel blessed. My whole life, from the moment I did 'Call Me Madam' with Jerome Robbins, starring the late Elaine Stritch, to now, I've been a lucky woman and I'm ever so grateful for it. "
"The Visit," starring Chita Rivera, runs through August 17 at Williamstown Theatre Festival Main Stage. For more information and to purchase tickets visit www.wtfestival.org.
Calling all HuffPost superfans!
Sign up for membership to become a founding member and help shape HuffPost's next chapter