Using visual cues from the paintings of Caravaggio, Indian filmmaker Bedabrata Pain has produced a triumphant film, Chittagong, that screened in New York last week. It is based upon a little-known episode leading to Indian Independence: a group of schoolboys who, with the help of their teacher, temporarily toppled the British a decade before the Union Jack was removed permanently. Although independence was gained in 1947 through Mahatma Gandhi's non-violence (Satyagraha), growing up hearing stories of the American Revolution I could certainly understand the desire to raise arms against colonial rule. The film tells this story brilliantly. Riveting and spectacular, Chittagong is the Gandhi for our age.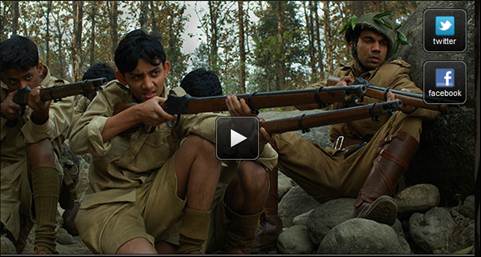 A trailer for the film is available online. Image: www.chittagongthefilm.com.
Chittagong is only the first film of producer, director and main writer Bedabrata Pain. The film opened the 12th annual New York Indian Film Festival (NYIFF) sponsored by the Indo-American Arts Council (IAAC). Bedabrata stated in the Q&A following the screening at Manhattan's Paris Theater last week:
This story had to be told: Kids standing up to the British Empire and its army. Although the story had to be told, I was left with how best to tell it. We needed character development -- the kids.

The main protagonist was a 14-year-old named Jhunku. We interviewed him on what turned out to be his death bed in a nursing home in Calcutta. He passed away two weeks after we filmed him. He was so pleased his story had finally been recorded.

Jhunku was the least likely candidate to lead a revolt: his father was an attorney for the Crown and he was bound for Oxford under the tutelage of the local British commander.
I spoke with Bedabrata after his film's opening, as well as throughout the festival, and found him to be as pleasant as he is talented.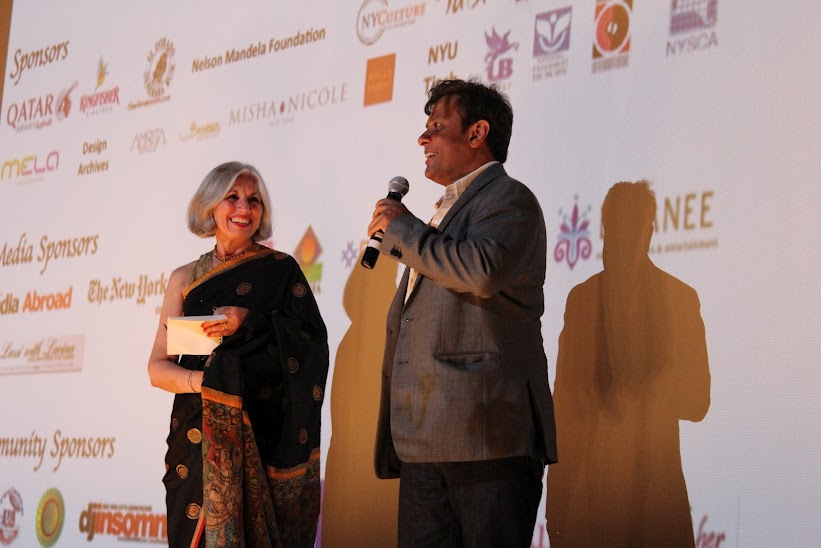 Chittagong's producer, director and main writer Bedabrata Pain with Aroon Shivdasani, director of Indo-American Arts Council. Photo courtesy of Archana Desai.
After the festival, I spoke with the New York Indian Film Festival's director Aseem Chhabra at the Light of India Awards at the Taj Pierre Hotel. Aseem explained to me:
The film deals with the facet of Indian Independence -- an unforgettable story -- that had never been told to a broad audience before. In telling it, Bedabrata created an epic. I liked the fact that it was such a bold plan: children almost toppled British rule. It was very fantastic, and the film captured it so well.
This beautiful film was shot mostly during morning hours. The resulting lighting, coupled with the director's use of shallow, depth-of-field perspective creates a stunning, historical tableau. Composed over just five days, the musical soundtrack for the film is sad and romantic and adds to the film's layers.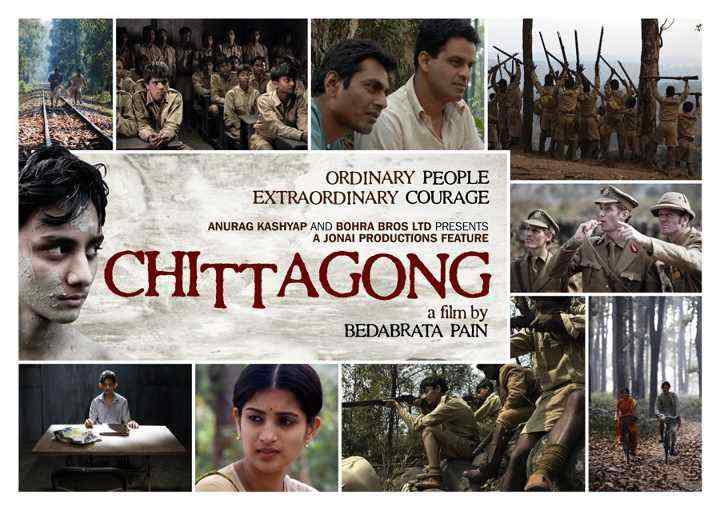 Focus on the Chittagong Uprising of 1930. Graphic: New York Indian Film Festival.
I chatted at length with the filmmaker Dev Bengal about Chittagong. He told me:
It's like watching a painting in motion. Bedo has the eye of a Renaissance artist. You'd never imagine this is his first film. Wow, what a debut. He directs like a master. Add to that, the courage and madness in taking on a political story of resistance and making it ring true to us today. Bedo's film stayed with me days after I had seen it.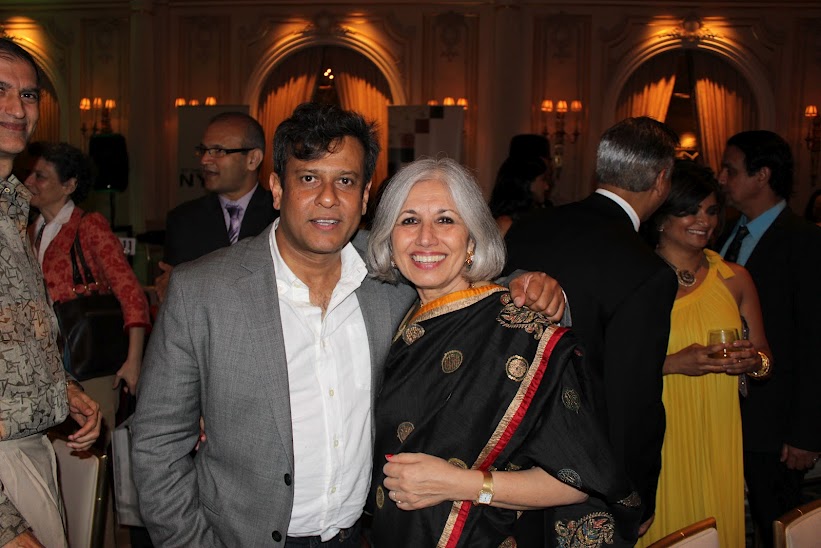 Bedabrata Pain with Aroon Shivdasani whose Indo-American Arts Council runs the New York Indian Film Festival. Photo courtesy of Archana Desai.
After the festival I followed up with filmmaker Bedabrata Pain. We discussed how not only was Chittagong historically significant, but the message that ordinary people can generate social change resonates in this moment of Arab Spring and Occupy Wall Street. He told me:
Chittagong is a film about celebration of human spirit -- a spirit that refuses to give in the face of injustice and adversity, and triumphs at the end. Today, when there's a striving for change all over the world -- from Greece to Wall Street, from Africa to Asia -- I hope my film reminds everybody that David can win the battle against Goliath.
The reason for the uprising's initial success was due to its leader Masterda Surya Sen's brilliant and audacious strategy to capture the two main armories and then destroy the telegraph and telephone office and railroad line. They also planned to capture the British Raj officials in the European Club and raid the local armories for weapons, however these two plans went awry. Retreating to the countryside, it was only a matter of days for several thousand troops to surround them. By the end, over 80 British troops and 12 of the revolutionaries lay dead. The number of dead may have been as high as 150 as their bodies were actually thrown in the Bay of Bengal to prevent an accurate count. Surya Sen was eventually betrayed, arrested, and hung -- but for a good three years he eluded capture, protected by Muslim peasants, even though he was of Hindu religion. But there temporary victory lay the groundwork for India's independence.
As Bedabrata Pain told me, "Most of the revolutionaries survived and went on to lead mass uprisings -- something that is integral to the narrative of Chittagong. These uprisings played no small a role in the struggle for India's independence."
The film Chittagong is a brilliant, poignant action-drama, made more so by the fact that it is true. I thank Bedabrata Pain for bringing such an import, little-known story to global attention. If this is only his first film, we can only imagine what his next films will be like. I await them eagerly.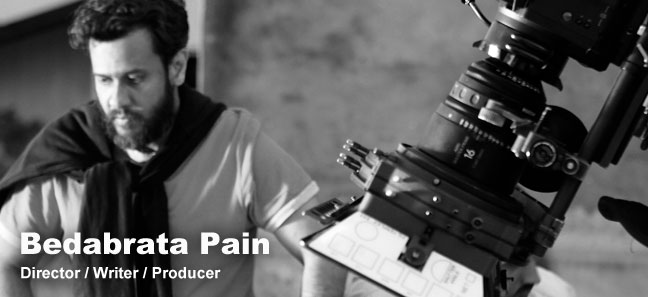 Graphic courtesy of the New York Indian Film Festival.
Indo-American Arts Council (IAAC)
The oldest and largest Indian arts organization outside India, it was founded by Aroon Shivdasani in New York City.
New York Indian Film Festival (NYIFF)
A project of the Indo-American Arts Council, NYIFF is the oldest and largest Indian film festival outside India. 2012 is its twelfth year.
The James Jay Dudley Luce Foundation (www.lucefoundation.org) is the umbrella organization under which Orphans International Worldwide (OIWW) is organized. If supporting young global leadership is important to you, subscribe to J. Luce Foundation updates here.
Popular in the Community