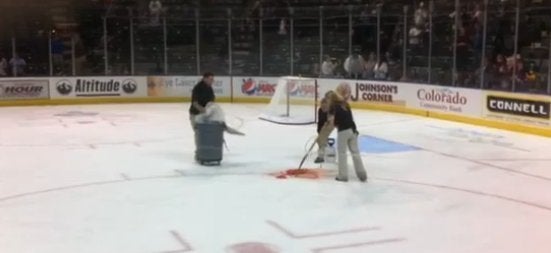 A huge brawl broke out on Saturday in the third period of the Central Hockey League preseason game between the Odessa Jackalopes and Colorado Eagles in Loveland, Colo.
Within the first two minutes of the final period, six fights occurred until Colorado's Brad MacMillan reportedly nailed Odessa's Dave Van Drunen in the face immediately after a faceoff. The hit broke Van Drunen's jaw and nose.
Both benches were said to have cleared in a matter of minutes and the fight resulted in the officials calling the game, ruling it a forfeit by the Jackalopes, who were winning 3-1 at the time.
According to ReporterHerald.com, five Colorado players, including MacMillan, received fighting or instigating penalties. Odessa players weren't penalized because head coach Paul Gillis removed his players from the ice.
Van Drunen, who was taken to a hospital after the game, returned to the team on Monday with a surgically repaired jaw, nose and face.
Jackalopes owner Rick Gasser pressed for assault charges to be filed against MacMillan and asked for him to be arrested three times during the game, according to the Odessa American. Although Gasser's requests were rejected, he said he will still "ask the league for a lifetime ban for MacMillan."
Scroll down to check out the aftermath of the fight.
Related
Popular in the Community