Chloe Chaidez and Sizzy Rocket just wrapped up their wildly successful 'Steal the Night' tour. Audiences all across the country were mesmerized with dreamlike vocals and an electric energy on stage that packed a punch. I recently had the opportunity to chat with the two artists about a wide variety of subjects including cycling, the MTA, liberation and KITTEN's pledge campaign for an upcoming second album (which can be found here).
Thanks for the interview guys! What are some interesting memories you two have while growing up? When did you decide to get involved in the music business? Was there anybody in particular that you looked up to that made you decide you had to become performers?
Chloe Chaidez: As funny and dated as this may sound, I remember as a kid growing up watching music videos on VH1. I especially liked whenever they did a "70's" or "80's" marathon. When I was around 13 I started going to show's at an all ages venue in downtown LA called The Smell. When I was 15 I played my first show with KITTEN at the same venue. As far as specific artists or bands that inspired my decision to pursue music...I think as a teenager discovering the Yeah Yeah Yeah's was big for me. Karen O was such a force. I had never heard or seen anything like it. There's much composure and strength in what she does, I've always found that so inspiring. Cat Power was another big one for me.
Sizzy Rocket: I got my start doing shows in Vegas at the mall when I was 7 years old, so live performance is really my first love. I don't ever really remember making the decision to be a performer, it just found me that way. I was part of this performance troupe of kids that would learn a full show on Saturday of cover songs with choreography, then go and do it on Sunday every weekend. After that I started writing music and that's how my project started even though I wouldn't become Sizzy until much later.
How would you describe your styles of music to people listening to you for the first time?
Sizzy Rocket: I usually just say sexually charged pop because I really have no idea.
Chloe Chaidez: My band and I laugh about this question all the time because the answer really depends on who you're talking to. People always seem to find their favorite bands in our music. A certain type of guy, say a music aficionado in their 30's, will tell me that we remind him of The Cure, New Order, Roxy Music even My Bloody Valentine...Somebody that is a bit younger might say The Yeah Yeah's or even M83 and there's a group of people that really respond the pop references and bring up Madonna. It just depends on who you're asking.
Chloe, one thing I noticed while seeing you perform was that you were not afraid to go out there and have a great time which is something I respect in an artist. What advice would you give to people who have a hard time expressing themselves?
Chloe Chaidez: Thank you! Those 90 minutes on stage are so therapeutic! Just putting my worries and the bullshit of the day aside and living present in that moment. I can't speak to every day life but in regards to performing, I guess my advice for anyone having a hard time tapping into a place of expression would be to remember that everyone in the room is there for you. Within that is so much room for freedom and expression. Even if they don't know who you are, the people came for a show. In fact, they paid money and it's what they're expecting! I think most inhibitions in that department come from a fear that maybe you'll be judged. Once I realized that the audience is rooting for me and not there to judge me I was able to really just be uninhibited and in the moment. It's truly liberating!
Speaking of liberating...Sizzy, your music video "Thrills" is awesome! What was it like to shoot it? I love Las Vegas and it looks like a portion of it was filmed out there. What are some of your most wild sin city stories that you care to share with the world?
Sizzy Rocket: I loved shooting this video, we did it over New Year's Eve at my childhood home in Vegas. The fireworks at the end are the midnight fireworks show on the strip that they do every year, and we had to time it down to the last second because we only had one take to get it right. Working with Dorian (the director) is always exciting because he understands my cheeky quirky vision and knows how to bring it to life. A lot of moments with him just "happen" because he lets them. Genius. He also directed the video for "Bestie" and my album infomercial...But I never really went out in Vegas when I was living there. I was kind of a good girl before I moved to New York and found alcohol and drugs, my first loves. I'm not really informed on that darker side of Vegas so if you look closely the "Thrills" video is more about these darker themes (caffeine, nicotine, sex and pills) through the lens of innocence.
You mentioned "Bestie." Your song might resonate with some people out there. How did it come about?
Sizzy Rocket: I wrote it the morning after I had a wild drug fueled love affair with my best friend and it's a completely true story. That's usually how I like to keep my records...100% true. Listen to the lyrics and that's exactly what happened.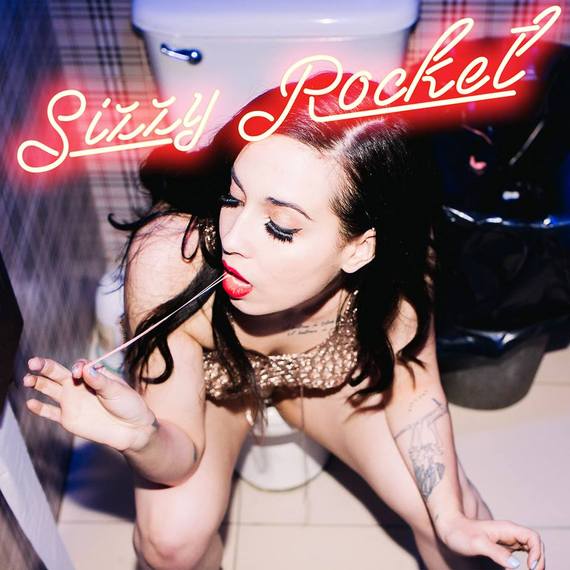 Eat your heart out Taylor Swift. That's how it is done! I have to keep it real and also say I loved the music video for the song. It shows off some serious moves on your part Sizzy. It makes me want to sign up for an aerobics class. What are some of your favorite ways to work out?
Sizzy Rocket: I'm obsessed with cycling. OBSESSED with cycling. There's one in New York called CYC that I would go to everyday if not twice a day. I'm really fucking good at it too its my best hobby. I'm really not good at anything that doesn't have to do with music but I'm really really good at cycling. I'm always forcing my friends to go with me!
I wish I had a friend like that. Let's switch gears for a minute and talk about your music and videos Chloe. What was it like shooting the "Like A Stranger" video? I love the black and white theme. It looks very cool. I noticed it in the "Fall On Me" video as well.
Chloe Chaidez: Thank you! Both videos were a lot fun to make. I am huge fan of Helmut Newton as well as Madonna's work during her "Justify My Love" era. Janet Jackson's video for "Rhythm Nation" was also a big inspiration for that video as well. I guess you could say I'm just a sucker for black and white. I love the starkness and simplicity...
I'm with you. What is the concept behind the song "Cut It Out"?
Chloe Chaidez: Oh man, I don't think there is one! I wrote the song with my brother when I was 16, and I guess you could say it's kind of about a bass player that I was a little in love with at that time but at the same time also thought was kind of a loser. The verses are definitely about that. He actually went on to become very successful with his own project, so it shows what I know.
What is it like being on tour with each other? Your styles make for an amazing concert experience. What kind of fun did you two have while being on the road together?
Sizzy Rocket: We had so much fun on the road together. It was my first tour and Chloe was so good to me, she let me share her van with her and hotel rooms and green rooms and mascara. I don't know if I would have survived with 12 boys on that tour without her!
Chloe Chaidez: Aww. Being on tour with Sizzy was an absolute pleasure. We got along famously and became very good friends from this tour. In fact, we just went out last night! Her show is amazing and high energy and I think our musical styles, although very different, share enough similarities to make for a cohesive show. Contrary to what one might assume, neither of us are the biggest party animals. I think we properly went out one night. It was a gay club in Detroit and we danced for about 45 minutes before we got a call from the band saying they couldn't get into their rooms without me being there. Sizzy and I ended up at Dunkin Donut's at 3am. I think we both kind of realized that was all the party we needed.
Both of you recently played the studio at the legendary Webster Hall in New York City. Can you describe that experience and what it meant to you as musicians?
Chloe Chaidez: It was great! I believe that was our second proper headlining show in the city and it was nice to finally bring the full KITTEN show to NYC. I've been to a lot of great shows at Webster Hall. It was an honor to be a part of that.
Sizzy Rocket: Playing that room meant a lot to me since I spent 6 years in New York pounding the pavement, playing shows in shitty bars to no one for years. Seeing that room packed with kids losing their shit wearing my t-shirts was unreal. It felt like I was dreaming.
While on the topic of NYC: It looks like you showed the MTA some love in your "Need Somebody" music video Sizzy. Every New Yorker has a crazy MTA story. What is yours?
Sizzy Rocket: There are definitely some crazy beautiful characters that ride the subway it's probably what I miss most about New York. Everybody in LA is stuck in their cars so you don't get to see each other but in New York you're forced into a strangers intimate moments. I've cried on so many trains, gotten in screaming fights on trains, shot two music videos, I mean the list goes on. It's magical.
Besides getting to see the country on the 'Steal the Night' tour, what are a couple of your favorite things about summer?
Chloe Chaidez: Hmm... I was thinking about this the other day. I love outdoor concerts and walking around at night in 80 degree weather. I like to go swimming, which I actually did a whole lot of yesterday in Palm Springs. I think that summer has a spirit of joy that's maybe hard to articulate but we all feel it in the air.
Sizzy Rocket: I'm more of a winter girl. I love the cold, I love staying inside and writing or reading or watching movies or listening to records. Summer is too nostalgic for me.
You both make very bold fashion statements. I don't think you can ever blend in with a crowd which is a great thing. How do you put your outfits together? Does it change on a day-to-day basis?
Chloe Chaidez: Wow that's very sweet! The world's greatest Goodwill is not too far from my house and recently I've been finding most of my outfits there. It's in sort of the corporate part of Glendale which means that it's hasn't been picked over by dudes in bands looking for a Beach Boys shirt. I know this sounds pretentious because I hate hearing other people say it but...I mostly thrift.
Sizzy Rocket: It really depends on my mood or what I'm inspired by but for the tour I tried to wear something different every night so that the kids who were there could identify their show by my outfit. And it just makes it more exciting that way too like - is she gonna wear jeans and a T-shirt or a fucking latex bodysuit!? Who knows!
A latex bodysuit. I'm in awe. I'm also in awe of the phases you have gone through with your hair color. It looks different in every music video! Why do you decide to change it up?
Sizzy Rocket: It's usually completely spontaneous, like my tattoos. Recently I went in to get my pink freshened up and just decided to do yellow. I don't know why, maybe there's some deep subconscious reason. But I like the neon.
That works for me. Sizzy, can you explain your cult to music fans out there? They seem like a dedicated group of people.
Sizzy Rocket: The cult is a small group of kids, mostly girls, that I talk to online almost everyday. We make zines and encourage each other to be creative and talk about music and feminism and rebellion and boys. I have no idea how they found my music but immediately there was some sort of loyal, unconditional worship happening which is why I named it the cult. Somehow I'm able to incite this cult-ish mania out of them, maybe it's because I'm sincere and forgiving and they know I'm never judging them. But they talk to me about the wildest things, like birth control and politics and sexuality, and it's because they feel like they can. I'm sort of a pseudo "cult leader" in that way because they trust my opinion - and I feel comfortable being in that position. I want to protect them. It is a strange relationship and hard to explain but that's what makes it special.
What are some of your goals as you two continue on with your careers? Who would you like to collaborate with in the future?
Sizzy Rocket: I just wanna make dope shit and continue empowering my girls. That's really it. My dream collaborations would be Tyler the Creator, Peaches or James Murphy.
Chloe Chaidez: My main goal is simply to continue to challenge myself musically and produce the best work that I possibly can. Hopefully, if I do that then there will always be somebody who wants to listen. I would love to collaborate with Bryan Ferry or even Annie Lenox. Either one of those artists would be a dream.
Speaking of goals, I hear you want to work on a second album Chloe. Can you tell me more about your pledge campaign?
Chloe Chaidez: Yes! Basically after leaving my label and having an amazing year functioning as an independent artist, I realized how much more I prefer this way of working to the corporate structure of a big record company. I get to have a direct relationship with KITTEN's fans and share music with them whenever I feel like it. That said, we'd like to be able to promote this next record properly and tour across North America as well as outside of the US which means that we'll need a little bit of extra support. KITTEN fans have really stepped up more than we could have hoped for. It's humbling.
Sizzy talked about her cult earlier. Chloe...Why are your fans important to you?
Chloe Chaidez: Because it's their passion and dedication that's going to sustain this band in the long run. Press and radio play are fleeting, especially in today's musical climate. A band is hot for a minute and then gone before you can even remember their name but a solid fan base can keep an artist on the road and doing what they love forever. There have been more than a few uphill battles doing this KITTEN thing but the people that listen to our music and come to the shows make it worth while. Sounds corny but it's true. Maintaining that unique connection and making sure that the bond with the KITTEN family is strong is my primary focus right now. I will always love my fans.
That's why the fans love you right back. Before I let you two go, how can people check out your work? Are there any upcoming projects that you would like to plug?
Sizzy Rocket: Just follow me on any of my socials and you'll know everything there is to know.
Chloe Chaidez: You can go to our website at www.kittentheband.com for all of your KITTEN needs. As I've also mentioned before we just launched a Pledge for Music campaign for our second record! We're offering a ton of really great experiences that I think are unique to us. I'm really looking forward to this new album. Every day we seem to be writing a new song that just blows me away. Check it out at http://www.pledgemusic.com/projects/kitten! Oh, and we'll be hitting the road in October for a few West Coast dates so stay tuned...
Calling all HuffPost superfans!
Sign up for membership to become a founding member and help shape HuffPost's next chapter