A gold medalist and now everyone's golden girl to boot, Korean-American Olympic snowboarder Chloe Kim has, all at once, become a lot of different things to a lot of different people.
She and her family are already fodder in the fight for immigration reform on the Senate floor. She's scored sponsorships for items ranging from cars to Korean skin care products. She was born in the year 2000, and members of Gen Z ― whoever they are ― are lucky as hell to have her as a spokeswoman. Kim's also a social media star, with tweets that can summon ice cream from celebrity chef David Chang. And, of course, she's a representative California kid from the South Bay who loves churros and says her life is "sick" and "dope."
But for Asian-Americans, she's altogether something else. Kim's star turn in the Olympics has been a unique exercise in watching someone wrestle in real time — and on international television — with the competing demands of Asian-American identity.
With her blond streaks and love of tteokbokki, she's resolved the messy confusion of being a hyphenate in part by choosing not to resolve it all.
"She's resolved the messy confusion of being a hyphenate in part by choosing not to resolve it all."
Kim has said she likes eating bulgogi along with Chipotle. She listens to both K-pop and Cardi B. She speaks Korean but sounds like any given American teen when she describes her love of going to the mall.
"I have this different opportunity because I'm Korean-American, but I'm riding for the States," she told ESPN. "At first I was confused on how that would be accepted. But now I'm starting to understand that I can represent both countries."
Time and again, the media asks Kim whether she feels more Korean or American. The question does make sense, since it's part of her family's story. Her dad, Kim Jong-jin, immigrated to California from South Korea in 1982 with $800 and a pack of cigarettes. Plus, Kim competed in South Korea, where her grandmother lives and brings newspaper clippings about the gold medalist to her tea parties. But most people on the global public stage aren't asked questions about choosing identities.
She's been honest with the media about figuring out how to reconcile her backstory with who she feels she is. And perhaps her identity is best conveyed in the struggle to define herself based on internal and external qualities. She explained to The Washington Post:
"But obviously I have a Korean face, and I feel like that's just — you know, I can't walk around people like I'm, like, straight-up American. It's like, I'm Korean American. My parents are from Korea. I don't know. It's weird. I just grew up in the States, so I feel like I identify more with the American culture."
"But obviously I have a Korean face, and I feel like that's just — you know, I can't walk around people like I'm, like, straight-up American."
We've watched moments between Kim and her dad that only second-gen kids can relate to ― like when her dad invoked the Korean zodiac and said she fulfilled her destiny of becoming a "dragon." After which, Kim simply told NBC, "If I'm a dragon, I'm down."
And Kim has openly talked about being a victim of perpetual foreigner-ism, grasping at a young age what the media means when they ask her where she's from.
She told the Post: "I always get the question, like, 'Where are you from?' L.A. 'No, where are you really from?' I was born in Long Beach. 'No, no, like, where are you really, really from?' " she said. ". . . I always get that question. It's never, like, my first answer would be, 'I'm from Korea,' or, like, 'I'm Korean.' It's always, like, 'I'm American.' "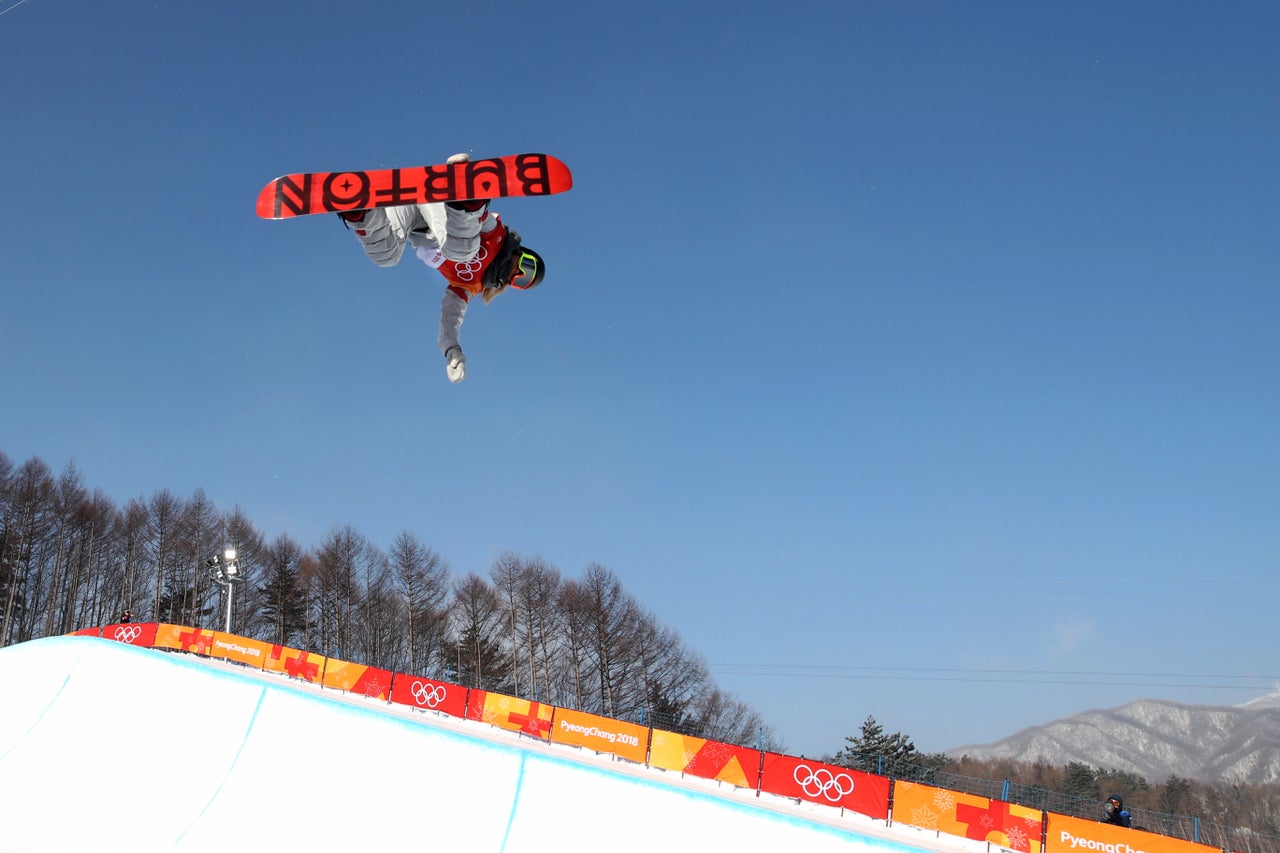 Being A 'Banana'
Kim told Bleacher Report that she's felt like a "Twinkie" or a "banana" ― a term used to describe someone who is white on the inside and "yellow" on the outside, or, more derisively, an Asian person who acts "too white."
That idea resonated with another Asian-American Olympian, Kristi Yamaguchi, who is Japanese-American. She told Bleacher Report: "I totally get where Chloe is coming from when she said, 'I see myself as a Twinkie.' It's not because she doesn't see herself as Asian. I think it's not necessarily seeing yourself as white. It's just identifying as American."
The term Twinkie is usually seen as pejorative, encompassing ideas of Asian self-loathing, of distancing oneself from one's roots. On the other end of the Asian-American identity sliding scale, there's the figure of the "FOB," or fresh off the boat ― also seen as a negative term. To be an Asian-American is to be in a perpetual negotiation with these two extremes.
This is even trickier when your country tries to make the choice for you. As Ellen D. Wu, a history professor at Indiana University Bloomington and author of The Color of Success: Asian Americans and the Origins of the Model Minority, writes, Asian-American assimilation was a necessity born out of segregation. Racist episodes such as the U.S. Chinese Exclusion Act and the incarceration of Japanese-Americans eventually led to ethnic enclaves like Chinatowns, Japantowns, Koreatowns and Little Saigons, she points out.
"Beginning in the late 19th century and really through the 1940s and '50s, there was what we can call a regime of Asian exclusion: a web of laws and social practices and ideas designed to shut out Asians completely from American life," Wu told HuffPost. The need to assimilate was a way to be seen as American and to be accepted, she said.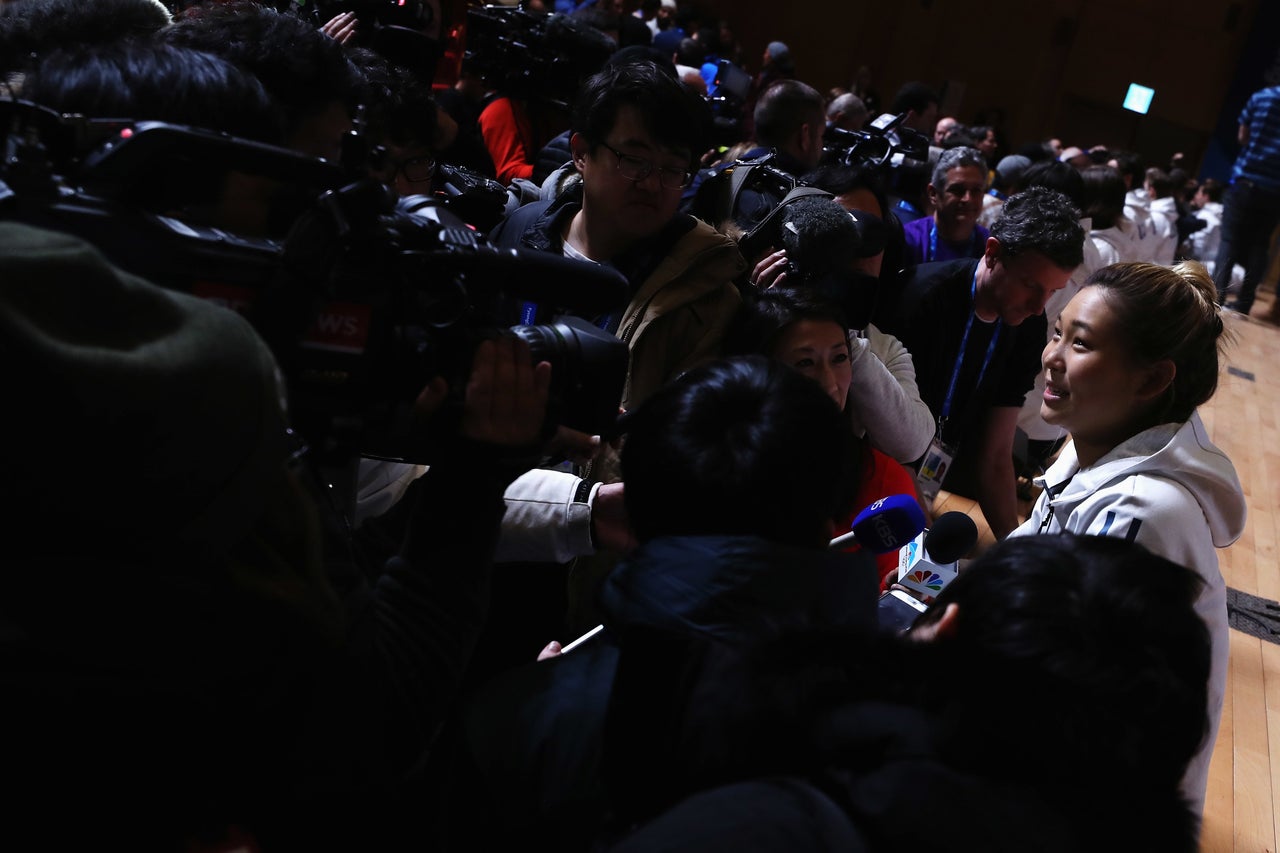 Billed Big in South Korea
Kim, meanwhile, seems to be aware of the profundity of her dad's motivation and instincts to turn low-wage jobs into his "American dream," which he proudly declared to the media was his daughter. She appears to appreciate some of the expectations that might be imposed on someone from a family that had to start from scratch, telling The Washington Post about how her relatives back in Korea view her decision to pursue her goals.
"I think at first it was a little hard for them to support it," she said. "because, you know, I feel like a Korean's ideal thing is their kid being, like, a lawyer, a doctor."
"She is something not often seen: an all-American hero who is unmistakably Korean."
"Chloe Kim" was the top search term on Naver, South Korea's largest portal, according to BBC. And Seoul Broadcasting System aired a mini documentary on Kim and referred to her by her Korean name, ABC pointed out.
There was also a huge press pool waiting for her at the airport in Korea, which doesn't happen for her in the U.S., Kim has noted.
Despite the cultural duality that pulls her in multiple directions, Kim seems to be someone defining her identity and her Asian-Americanness on her own terms. After all, she told ESPN, "I'm proud of my Korean heritage, but I want people to know I'm American. It's not important to be the Korean Taylor Swift."
Kim's honesty about her own confusion ― even admitting something that invites derision ― is admirable. She is something not often seen: an all-American hero who is unmistakably Korean.
Popular in the Community