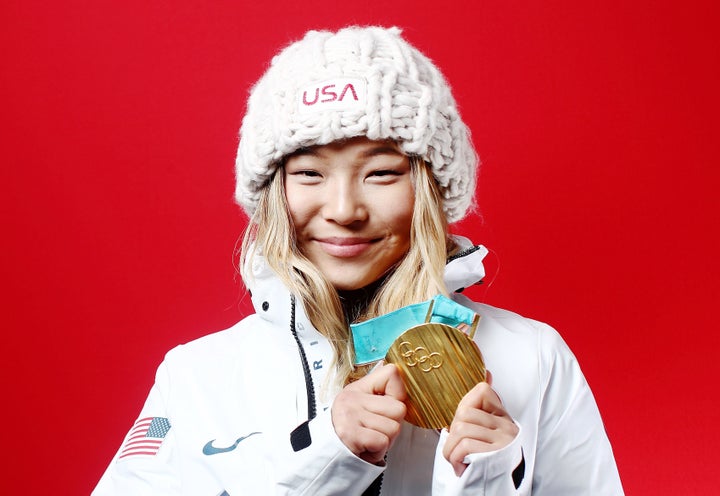 Snowboarding star Chloe Kim was born to Korean immigrant parents in the United States in 2000. Her father, Jong-jin Kim, had left South Korea in 1982 to study at the University of California.
When she was just 6 years old, Chloe won a junior snowboarding competition. Seeing his daughter's great potential, her father quit his job to support her career. His reason was impressive. As Chloe told the Los Angeles Times, he announced to her mother, "I'm done working, I'm going to make my daughter an Olympian."
"I'm not saying he forced me to snowboard, I genuinely love snowboarding, so it was nice he was that determined to bring me to the Olympics," Chloe said in an interview with Reuters.
It was her father's unconditional support combined with Chloe's natural gift and hard work that ultimately led her to earn the title of the youngest Olympic gold medalist in women's halfpipe snowboarding.
Chloe's story sounds very familiar to us in South Korea.
It's well known that world-class golfer Se-ri Pak's golf teacher was her father. He saw her potential when she first visited a golf course in the sixth grade, and he started training her intensively. The lessons went on even in pouring rain; she once practiced putting over 300 times in the rain.
"I practiced very hard because I knew that I couldn't be the best in the world if I took time off like others do," Pak said in an interview with South Korea's MBC. But her father was also always there.
The story is similar for Yuna Kim, the 2010 Olympic gold medalist in figure skating. "After discovering Yuna's talent, I devoted my whole life to her skating career. Not only investing the majority of our time together, but also reorienting our lives around skating," Kim's mother, Mi-hee Park, said in an interview with Yeo-sung-dong-ah magazine. Park gave up her own life to support her daughter at Taereung Korea National Training Center and Gwacheon ice skating rink.
The father of Park Ji-sung, the former footballer at Manchester United, also quit his job to focus on supporting his son's career. When there were rumors about Park's relationships with actresses, his father said, "I can't agree on accepting an actress as my daughter-in-law," reflecting just how deeply he was involved in his son's entire life.
Had she grown up in South Korea, would Chloe Kim and her family have had a story like these star athletes? Or would she have been a victim of Korea's addiction to private, after-hours tutoring academies? People on Twitter seemed to have some opinions. A BBC article headlined "Would Chloe Kim have made it as a South Korean?" listed sample comments from the country's largest portal website.
"If she grew up in South Korea, she would be stuck on the bus going to hagwon [private educational institutes] all day," one user suggested, while another said, "If she grew up in South Korea, she would be serving at a ski resort restaurant." The BBC article added that some Koreans were skeptical about fellow Koreans' interest in Chloe now that she's famous.


Any parent would want to support and develop special talents in their children, but this desire is especially strong among Korean parents. It is a very "Korean" way of raising children to register them at a number of private, after-hours tutoring academies in order to eventually send them to the top colleges, or for the parents to quit their jobs to focus on their children's athletic careers. If her snowboarding talent were not discovered at such a young age, a born-in-South-Korea Chloe would have been forced to study hard. Korean children are expected to be subordinate to their parents to compensate for the sacrifices that their parents have made for them.
The BBC article points out a few reasons why Chloe's being raised in the United States was not entirely irrelevant to her becoming a star snowboarder. South Korea is not the best place to pursue many sports. The estimated 2017 budget for the Korean Sport & Olympic Committee included 113 billion South Korean won (the local currency) allocated for grassroots sports, which is less than half the budget for elite sports (245 billion won), even though the committee's total budget last year was increased by 53 percent compared to that of 2016.
If Chloe had not been born in the United States, where various sports activities are readily available, she might have had less chance of being exposed to snowboarding at such a young age. (Yuna Kim is an exceptional case in that she managed to become a figure skating star in South Korea, a desert of figure skating opportunities.)
In South Korea, if athletes prove their talent in one sport, they get a chance to pursue training at Taereung Korea National Training Center with other national team athletes and athletic hopefuls. Until a few years ago, athletes had to apologize for not winning a gold medal in international competitions. The pressure to be ranked within the top 10 in international competitions often led to violence within the national team. It is hard to think a person like Chloe would have maintained her interest in snowboarding in such an environment.
Another aspect of Korean society noted in the BBC article is the sense of hopelessness among South Korea's young adults. If you don't have a special talent or if your parents are not able to support you while you develop your talent, you are "stuck on the bus going to hagwon all day" or "serving at a ski resort restaurant." Even if you graduate from college, it is never easy to get a job. Whether or not they could be Olympians, young adults in South Korea want more opportunity in their own country.
Related
Popular in the Community