 Whether it's playing a sister wife on "Big Love" or taking on the comedy world in "Louie," Chloe Sevigny takes on controversial roles both in film and on TV.
In what's possibly her most disturbing role yet, Sevigny currently appears on Ryan Murphy's "American Horror Story: Asylum" as a nymphomaniac named Shelley. After a scene that involved a potential rape and an intense fight with the psychotic Dr. Arden (James Cromwell) on this week's episode, Sevigny took the time to talk to HuffPost via phone to discuss "Asylum," her character's future and more.
So let's talk about last night's episode of "American Horror Story." Dr. Arden cut off your character Shelley's legs, and it looks like she turned into some kind of mutant. Will she be roaming around outside Briarcliff now?
Not so much roaming, especially in her condition. But she definitely becomes something else. Something not herself.
Will she continue to interact with the people in the asylum?
Not so much. I think she might ask for a little help ... but she's more isolated from here on out.
How long does it take to film something like that fight scene between you and Dr. Arden?
Rehearsing that may have taken longer than actually shooting it. Blocking it all was a lot of work. I think it took about five hours to shoot. We rehearsed for a while, and there was a lot of conversation -- a lot of back and forth. We talked a lot with the stunt coordinator while James was swinging that huge thing at me. There was a lot of jumping back, because it seemed like he was coming far too close. There was a lot of getting it right with the camera angles and all that too.
You know, James Cromwell was pretty big back in the day when he was that nice farmer in "Babe." Did you watch that movie?
No, I've never seen it.
I was going to ask you if you have a hard time taking him seriously because of that.
No, but I kept thinking about "Six Feet Under" and his character [George] on that show. He's so different from that character! He was so soft, and his character on "American Horror Story" is the opposite of that.
Shelley is a very complicated character. How are you able to get to the level that you do?
Well, for last night's scene, I was inspired by James. I had to match his intensity. I would just kind of blend into the background if I didn't go head to head with him, so I had to ramp it up for that. But I watched "The Corridor." There's a maniac that inspired the Shelley character, and one of my lines in the first episode is pulled from that movie. So I watched that scene a few times.
Have you been keeping up with "American Horror Story"?
I haven't, no. I'll probably watch it all in one fell swoop. I want to find out what happens. I haven't seen the script after Episode 6, so I'll be curious to find out how all of these characters end up.
Which aspect of the show has been scariest to you? There are so many different storylines going on.
What happens to Sarah Paulson's character [later on] is what's scariest to me. Just being in a situation you can't get out of. Not only in the asylum, but she ends up somewhere else. But I guess what happens to my character is far worse. God, I don't know if I should have said that. I'm gonna get in trouble!
What about the religious aspect of it? Do you feel like any religious group will push back on this?
I think we're going to offend every religious sect.
I'm surprised there hasn't been an outcry yet. The exorcisms, the nuns, the prostitution ...
Maybe it's just outrageous enough that they can't say anything. Maybe they think not saying anything is more powerful. But I'm surprised too, I thought there would be more outrage.
How about "Those Who Kill," your upcoming A&E series? You're playing detective.
Yeah. I'm going to investigate serial killers.
Are you watching any shows to get inspiration for that?
Not yet. I'm actually going in for a meeting in like half an hour. They'll probably give me a list of things I should watch, or maybe read.
"American Horror Story" airs on Wednesdays at 10 p.m. ET on FX.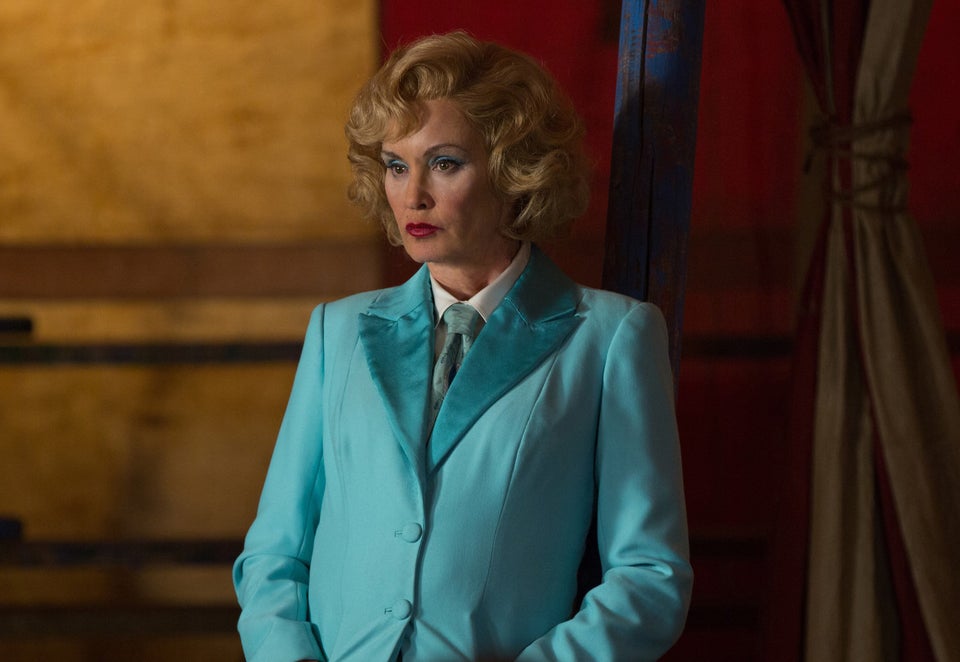 "American Horror Story"
Popular in the Community