In February of 2013, singer Chloe Temtchine was completing her album, No Pressure -- produced by Grammy nominee, Greg Camp -- and preparing the international promotional tour. Then one day she was rushed to the emergency room with congestive heart failure that left her unable to breathe, and barely alive. She was later diagnosed with PVOD, a rare and often fatal pulmonary disease.
The 30-year-old New Yorker was given a slim chance of recovery. But this past Thursday night at Chelsea Piers, Chloe Temtchine was back onstage, a portable oxygen tent by her side and a thin breathing tube in her nose. She amazed hundreds of people with her vibrant voice and soulful songs, performing three numbers that led to a standing ovation.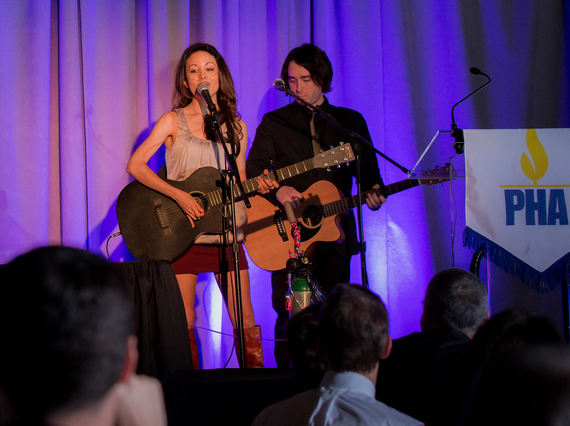 Chloe Temtchine, with guitarist Michael Scott Reid, and the oxygen tank she affectionately nicknamed "Steve Martin."

The occasion was the Pulmonary Hypertension Association's first annual NYC "O2 breathe" Gala. The PHA was not only honoring the legacy of Dr. Robin Barst (a medical research pioneer who died in April) and raising funds in her memory, but showcasing the miraculous recovery of at least two young women. (The other was dancer Jennifer Lombardi.)
While Temtchine's voice sounded "breathier" than a few years ago, she is clearly still a superb song stylist. (As the recipient of the 2011 Avon National and International Songwriting Competition, her song, "Step Up," has been used in Avon's commercial, which is airing globally.)

During an interview after the performance, she recalled composing all three songs when she got out of the Critical Care Unit eight months ago: "There was a part of me that wanted to rush to write songs because I didn't know how much time I had left," she admitted.
One of them was "The Meaning of Time", which she performed at the Gala. When asked how it felt to sing in front of an audience again, Temtchine said, "... like I was truly at the right place at the right time. I was so damn happy to just be alive. Performing was a gift."
Temtchine was diagnosed with Pulmonary Veno-Occlusive Disease, which accounts for a small number of cases of pulmonary hypertension. PVOD is so rare that the largest clinical study in the world consists of eleven cases; nine died before the yearlong study was concluded.
Prior to her diagnosis, Temtchine performed on Late Night with David Letterman, singing back-up for recording artist NE-YO; was the voice behind last year's commercial celebrating the 100th anniversary of American Express, and she was featured on NY-1 News, with "Where in The Truck is Chloe." (Her website is here.)
But earlier this year, performing again was not likely. When asked if she believed she could return to singing, she said, "A part of me did, and a part of me didn't. As I began to discover the severity of my condition, and was constantly reminded by doctors of how aggressive and unpredictable this life-threatening disease is, music took a back seat to just being alive. I focused so much on not dying that I was forgetting to focus on living."
"One night," she recalled, "prompted by my husband [Marvin Acuna] we created a vision board, a visual map of my future, and that allowed me to see it and believe it. Once that shift occurred, music roared back to life. I spent the last several months rehearsing with my band, building a show that I could be proud of. And then I prayed."
A video shown before her performance revealed Temtchine in strenuous physical therapy during her recuperative phase. The footage suggests there was always some idea of documenting her struggle and making a film of it.
"The last thing on my mind was filming," she said. "In fact, since I was on steroids (which at high doses changed my face completely) and oxygen, I spent a lot of time hiding from the camera. Then I began to forget it was there." Indeed, a documentary film about Temtchine's journey of transcending illness is already in progress.
She is planning her "No Pressure Tour," whose name is literal and figurative: "PH is abnormally high blood pressure in the arteries of the lungs," she explained. "It makes the right side of the heart work harder than it should. This tour is all about reducing the pressure in every aspect of life."

Her first stop is Washington, D.C, where she will perform at a Congressional Luncheon, part of the PHA's National Advocacy Day on November 12. What does it mean to sing for members of Congress? "It means everything to me to be able to perform, period," she replied. "I am truly honored that I've been invited to sing before Congress. As a passionate advocate of The Pulmonary Hypertension Research and Diagnosis Act of 2013, I hope I can inspire Congress to help find a cure for PH."
Annette Insdorf is the author of numerous books on film, and Moderator of the "Reel Pieces" series at Manhattan's 92nd Street Y.
Calling all HuffPost superfans!
Sign up for membership to become a founding member and help shape HuffPost's next chapter