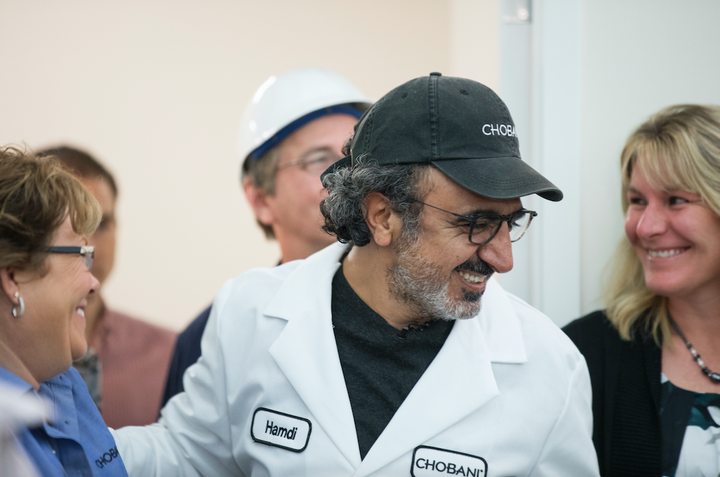 Starting next year, workers at yogurt maker Chobani will be eligible for six weeks of paid parental leave when they have a child ― and it won't matter whether they are mothers or fathers, or whether they work in corporate headquarters or a blue-collar plant.
Chobani founder and CEO Hamdi Ulukaya wrote in a blog post on LinkedIn Wednesday that the new policy grew out of personal experience. He recently became a new father, and wanted to find a way to help his employees when they have a baby or adopt or foster a child. Workers will collect 100 percent of their pay during the leave period.
"It was important to me that everyone at the company have this time ― especially the people in our plants," Ulukaya wrote. "From the top down, we'll encourage our folks to use this time knowing their careers at this company won't be affected by it."
Fortunately, it's becoming more fashionable for U.S. companies to announce they're instituting a more progressive parental leave policy for employees (and, of course, to invite a round of praise for their decision). The U.S., unlike just about all other advanced economies, does not legally guarantee paid time off for workers after having a child. Here, it's up to companies whether they'll provide it.
Not many do. Only around 12 percent of private-sector workers in the U.S. report that they get paid family leave through their jobs, according to Labor Department data. And not surprisingly, those who do tend to be wealthier than those who do not. As a result, lower-wage workers are often forced back onto the job after having a child much faster than white-collar professionals.
That's why Chobani's move is more notable than another Silicon Valley tech company deciding to ramp up its leave benefits. Chobani has two factories and 2,000 employees, many of them employed in food-processing positions. About a third of the company's workforce is refugees, according to NPR.
The new policy, Ulukaya said, will not discriminate between job roles, and will include hourly as well as salaried employees, so long as they are employed full time. 
Chobani's new policy is progressive in another way: It won't differentiate between male or female employees, or gay or straight couples, when they have children. Paternity leave can be skimpy, even at companies that are generous with maternity leave, giving men little time before they have to return to work. And that can end up disadvantaging women both at home and in the workplace, by foisting more child-rearing duties onto them and keeping them out of the workforce longer. The same problem applies to gay workers who may not have borne a child, but are new parents nonetheless.
Chobani's paid leave news Wednesday follows a run of positive press for the New York-based yogurt maker. In April, it announced that full-time employees would receive shares worth up to 10 percent of the company if and when it goes public. The New York Times estimated that the average employee's haul could be $150,000, and longtime veterans could possibly top $1 million. 
Calling all HuffPost superfans!
Sign up for membership to become a founding member and help shape HuffPost's next chapter
BEFORE YOU GO