Each and every year, as we inch towards that most passionate of holidays, Valentine's Day, we begin the search for the most special gift or treat to offer our dearly beloved; we begin shifting through recipe after recipe looking for the most extravagant, drop-dead gorgeous, romantic meal -- okay, who are we kidding here? -- dessert that we can possibly find. Amid the roses and jewels, the glittery cards and heart-shaped everything all tied up in plump red ribbons, we must select and test sweet after sweet until we come up with the crème de la crème, one worthy of our love, the perfect expression of our sentiments. Strangely enough, it more often than not has something chocolate about it; chocolate does indeed seem to be utterly romantic, a tad aphrodisiac and ideally sensual. A dessert dripping with chocolate is at once innocently nostalgic and sinfully decadent.
In the past, chocolate has been paired with cherries for a dense Chocolate Cherry Pound Cake, which was topped with Mascarpone Whipped Cream; I have made a flourless chocolate truffle cake and a chocolate-kissed, luxurious, velvety Tiramisu. This year, I have taken a favorite cake recipe handed down from father to daughter and my best simple chocolate buttercream and I twisted and turned and added espresso, the ideal marriage, to both the cake batter and the frosting. I whisked in a container of fresh mascarpone to the buttercream for a richer, smoother, creamier frosting and voilà I created the ultimate Valentine's Day cake for the one I love.
Dense, ultra moist, devilishly chocolaty layers with a diabolically inspired kiss of espresso, a cake at once flirtatious with its voluptuous swirls of mocha cream and serious in its sinful decadence. And what a cake! A flash to whip up and bring together, and oh so easy going down. Kid friendly indeed, a cake to bring out our youthful frivolity, yet a dessert oh so incredibly adult.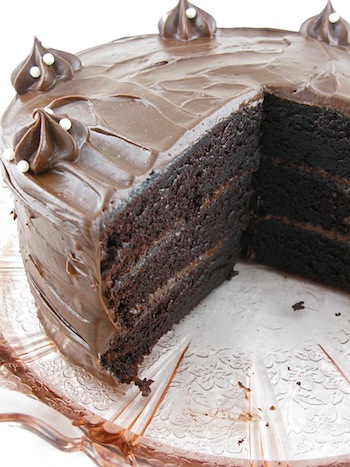 CHOCOLATE ESPRESSO LAYER CAKE
Makes a 8 ½ or 9-inch two layer cake or a 7-inch three layer cake.

1 ¾ cup flour
2 cups sugar
¾ cup unsweetened cocoa powder
1 ½ tsp baking powder
1 ½ tsp baking soda
1 tsp salt
2 large eggs
1 cup whole milk
½ cup vegetable oil
2 tsps vanilla extract
1 cup prepared coffee *

* If you prefer, the coffee can be replaced with water or a mixture of water and fruit juice.

Preheat oven to 350°F (180°C). Oil and flour two 8 ½ or 9-inch round cake pans or three 7-inch cake pans generously. (I oiled the pans, lined with parchment and then lightly oiled the paper and dusted with flour.)

Combine all of the dry ingredients in a large mixing bowl. Whisk or whiz them with the electric mixer on low speed for 30 seconds until everything is well combined. Add the eggs, milk, oil and vanilla. Beat on low until well blended then increase the mixer speed to medium and beat for about two minutes. Bring the 1 cup of coffee just to the boil and stir in carefully by hand until very well blended. Carefully divide the batter between the two or three prepared cake pans - it will be liquid. (If you want to make the smaller three-layer cake and only have two cake pans: oil, line and flour the two pans and divide 2/3 of the batter between the two; the pans should be filled about 1/3 to ½ full. Bake the first two layers.

When they are done, remove from the oven, allow to cool for several minutes, slide a sharp knife around the edges to loosen and invert (then upright) on cooling racks to completely cool. Clean, oil, line and dust with flour one of the pans and pour the remaining third of the batter into this pan and bake as directed.)

Bake in the preheated oven for 35-40 minutes or until the center is set (30-35 minutes for the smaller layers). Remove from oven and allow to cool for 10-15 minutes on cooling racks before loosening the edges with a sharp knife turning them out onto the racks to cool completely. Frost when completely cool.

MOCHA MASCARPONE FROSTING

11 - 12 oz (325 - 350 grams) powdered/confectioner's sugar
8 Tbs (120 grams) unsalted butter, softened to room temperature
1.8 oz (50 grams) unsweetened cocoa powder
4 Tbs very hot prepared coffee
3.5 - 5.3 oz (100 - 150 g) fresh mascarpone cheese

Using an electric hand mixer, cream the butter and the powdered sugar together. Add the cocoa powder and the hot coffee and beat, scraping down the sides as necessary, until well blended and fluffy. Beat in as much mascarpone as desired until smooth and whipped.

Chill in the refrigerator until firm enough so that, when spread and the layers are stacked, the frosting does not slide.

Frost the tops of the layers then stack, placing the bottom layer on a cake or serving plate. I slip strips of waxed paper or parchment under the edges of the cake before frosting the sides in order to keep the plate clean and frosting-free. Smooth the frosting on the sides of the cake. Pipe rosettes of frosting and decorate as desired. Gently slide the strips of parchment out from under the cake and retouch as needed. Chill in the refrigerator until the frosting has firmed. Because the frosting contains mascarpone, it is best to store uneaten cake in the refrigerator.
Jamie Schler lives, eats and writes in France. To read more of her work visit Life's a Feast.

Popular in the Community