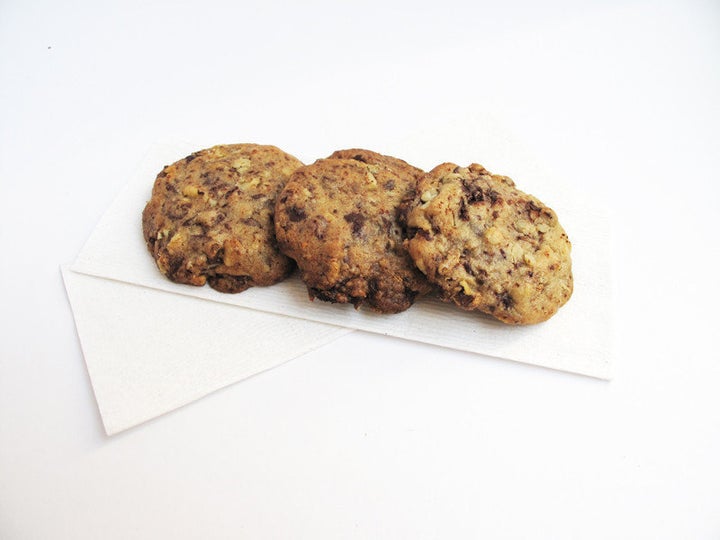 After searching high and low for the best chocolate chip cookie (or more accurately, periodically checking our email inbox), we've come across some amazing recipes.
From the top-three voted recipes -- Jodi Sokup's Chocolate Noir Au Sel De Mer Et Beurre Noisette, Lori Gordon's Ultimate Chocolate Chip Cookies, and Sean Lackey's Whiskey Chocolate Chip Cookies -- we had a bake-off to uncover the ultimate, the BEST, chocolate chip cookie recipe. (Click here to see a slideshow of all the recipes). And while all three were delicious in their own way, we still had to choose a winner. And so, the winner of the best chocolate chip cookie recipe (and All-Clad stainless steel 3-piece mixing bowl set) is ... (drumroll)
Lori Gordon's Ultimate Chocolate Chip Cookies
Her recipe is as follows.
Ingredients:
2 cups firmly packed light brown sugar
1 cup unsalted butter (softened at room temperature)
1 tablespoon vanilla
2 large eggs
2 1/2 cups flour (unsifted)
1 teaspoon salt
1 teaspoon baking powder
4 cups chopped walnuts (optional)
3 cups good quality semisweet or other dark chocolate bars (chopped into chunks)
Directions:
Beat sugar, butter and vanilla in a large bowl until light and fluffy. (You can use an electric mixer but you don't need to.) Beat in eggs until well blended. Add flour, salt and baking powder. Beat just until mixed. Stir in walnuts and chocolate chunks. Wrap the dough in plastic wrap and refrigerate at least 24 hours. This enhances the flavor significantly. (You can also freeze the dough for up to a couple of weeks, either in a large ball or after scooping out the individual cookies. That way you can bake them later or bake up a few at a time if you choose.)
Preheat oven to 375 degrees. Drop cookie dough by 1/3 to 1/2 cup balls (a cookie scoop or ice cream scoop works well) onto parchment-lined baking sheets, leaving plenty of space in between. If you like larger, flatter cookies, you can use the back of a fork (or the bottom of a glass) to flatten each cookie slightly. Bake until golden brown (about 15 minutes). (Remember, the cookies will continue to cook a bit even after you take them out of the oven.)
Cool on the baking sheet 2 minutes and then transfer to a wire rack. (I transfer the sheet of parchment paper with the cookies on it to the rack -- it keeps the cookies in perfect shape and avoids having to wash the wire rack!) Cool completely. (If you want to add an extra flourish and some additional chocolate, you can dip half of each cookie into melted chocolate and let dry on waxed paper.)
Stay tuned for our next recipe contest. This time we won't be looking for one specific recipe, but just the tastiest, most creative recipe that uses one ingredient. And with spring in the air, what could be more appropriate than rhubarb? So get to work cooking or baking with rhubarb, take photos and save the recipes. We'll be making a call for rhubarb recipe entries May 1 -- and of course, there's a prize involved!
Related