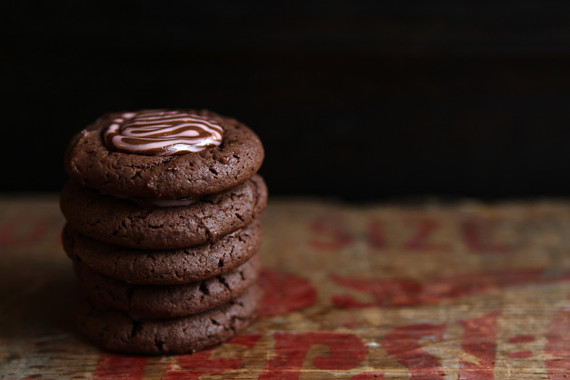 Jamie has an addiction to all things baking, as you'd guess from her blog, My Baking Addiction. She creates all things cookies just for us Food Fanatics, though.
So, it's Valentine's Day. Regardless of your personal stance on this love fest of a holiday, I think we can all agree that sweet treats are a must.
Although I'd love to say that chocolates, flowers, and cheesy conversation hearts aren't my thing... they so are. There, I admitted it! I heart Valentine's Day.
If you've strolled through Target lately, or any store for that matter, you've definitely stumbled upon the plethora of Valentine's Day candy. From heart-shaped Peeps to Raspberry Hershey's Kisses, it seems as though every single candy company is trying to pull at our heartstrings with its adorable creations.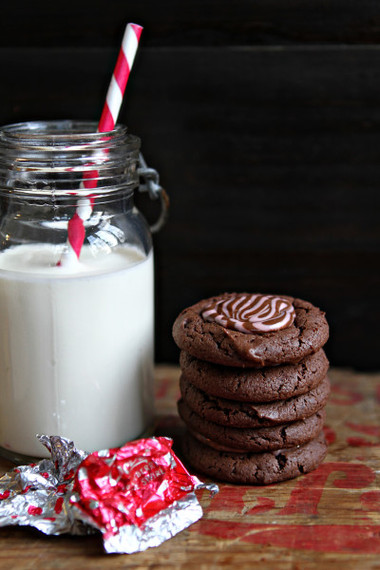 And since I'm a total sucker for anything seasonal and cheesy, I've tossed more Valentine's Day candy into my cart than I care to admit. It might be close to being classified as a "problem."
In case you're a total procrastinator like myself, I thought I'd share an incredibly easy Valentine's Day-inspired cookie recipe with you that can be made on the fly. With just a few simple ingredients you'll have delicious, chocolate cookies topped with a puddle of melted chocolate. What says, "I Love You" more than cookies and chocolate?!?
Ingredients
1 box devil's food cake mix
1/2 cup vegetable oil
2 large eggs
2 teaspoons vanilla extract
1 1/2 teaspoons instant espresso granules, dissolved in 2 teaspoons hot water (see note below)
36 dove strawberry swirl chocolates
Directions
Preheat over to 350°F. Line 2 baking sheets with parchment paper.
In a large bowl, combine the cake mix, oil, eggs, vanilla and espresso mixture. Mix with an electric mixer on medium speed until fully incorporated.
Use a small cookie scoop (2 teaspoons) to drop dough onto prepared baking sheets. Bake in preheated oven for 10-12 minutes.
Remove pan to a cooling rack and gently press a Dove Strawberry Swirl Chocolate into the center of each cookie. Allow cookies to cool for about 5 minutes before removing them from the pan. Repeat with remaining cookie dough.
Notes
Any variety of Dove Chocolate can be used in place of the Strawberry Swirl flavor.
Instant espresso granules are used to intensify the chocolate flavor. They can be found in the coffee aisle of most specialty supermarkets. If you cannot find the product or do not have it on hand, simply omit the espresso granules and water from the recipe.