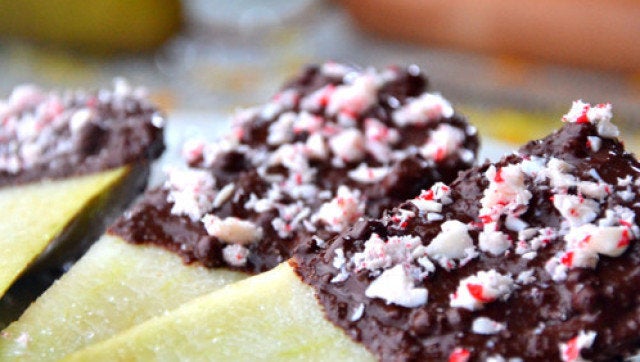 Here's a quick n' easy recipe that you can whip up in a few minutes with your leftover holiday candy canes!
Dairy-Free, Gluten-Free and Vegan
Ingredients
4 candy canes
1 cup Enjoy Life Foods Semi-Sweet Mega Chunks (dairy-free, gluten-free, soy-free, nut-free) chocolate
4 large pears
Line a baking sheet with parchment paper; set aside.
Place candy canes in a bag; seal and crush using a wooden spoon. Transfer broken candy canes to a food processor; pulse until candy canes resemble a powder.
Place chocolate chips in a medium bowl; heat in the microwave until melted, approximately two minutes.
Meanwhile, slice each pear into four slices.
Remove melted chocolate from microwave; mix well. Immediately dip pears into the melted chocolate; coat each pear slice only 1/2 way. Allow excess chocolate to drip off, then lay flat on the parchment lined baking sheet.
Sprinkle crushed candy canes onto the melted chocolate part of the pears; place in the refrigerator to cool for 15-20 minutes. Keep chilled until ready to serve.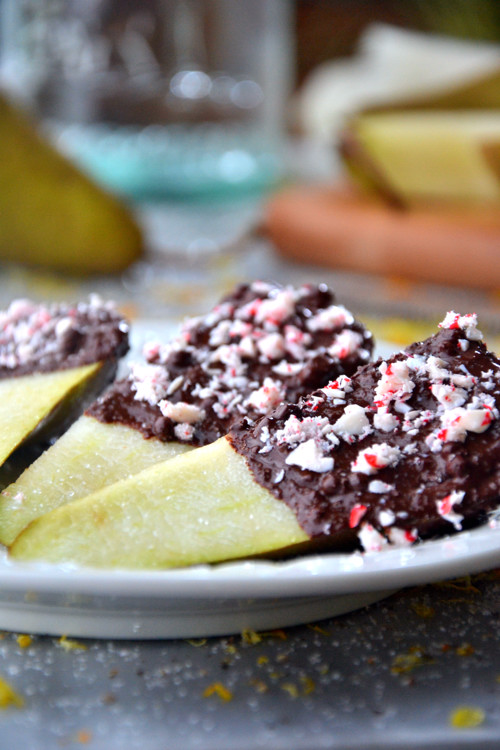 Chocolate Covered Candy Cane Dipped Pears