My last week of pregnancy was pretty grueling. First, I was one week overdue. Ordinarily this would not be bad news as I was enjoying the peace and quiet I knew would surely vanish with the birth of a newborn. The downside to being late however, was everyone and their mother was texting me to see if I had delivered yet. Every time I picked up the phone, the same question was presented, "Did you have the baby yet?" In the world of social media and texting, don't people realize announcements are practically in real time? If I had given birth, certainly the majority of our loved ones and friends would know about it. Word to the wise, if you are expecting, tell everyone you are due two weeks later than your actual due date.
On top of the constant pressure to birth a human being on a timeline, every store I entered, some well meaning clerk wanted to know my due date. Really? You are going to ask me that now? Thank G-d my hormones did not take over, otherwise I would have hopped over the cashier counter, grabbed the store microphone and loudly shouted across the store to kindly "piss-off". Excuse my language, hormones are powerful little buggers.
These decadent and delicious devil's food chocolate cupcakes were baked and made in honor of my daughter's due date, April 19th. The day came and went without a baby, as most due dates are inaccurate, but the three of us enjoyed them in our baby's honor. Lord knows I needed a shot of chocolate, a hormonal cure that works almost every time.
The difference between regular chocolate cake and Devil's food cake is, Devil's food cake is traditionally more light and fluffy, has a deep chocolate flavor and is extremely moist. In order to create this trifecta of deliciousness, coffee is often used instead of milk; baking soda is increased to elevate the pH, creating the rich chocolate color; and lastly, cocoa powder is used instead of melted chocolate. This recipe, adapted from Cook's Illustrated, includes all the above with the addition of melted chocolate, creating the most divine cupcakes you may have ever tasted.
Title: Chocolate Devil's Food Babycakes
Author: Adapted from Cook's Illustrated
Notes: This recipe can be cut in half if you prefer less temptation in your household. This recipe also calls for bittersweet chocolate, but I find a 50% ratio of bittersweet and semisweet chocolate renders a much more well rounded chocolate treat. The frosting is so easy to make and requires only chocolate and cream - a recipe to include in your repertoire indeed.
Ganache Filling
2 oz of bittersweet chocolate (finely chopped)
1/4 cup heavy cream
1 Tbsp of powdered sugar
Cupcakes
3 oz of bittersweet chocolate (finely chopped)
1/3 cup (1 oz) Dutch processed cocoa
3/4 cup of hot coffee
3/4 cup (4 1/8 oz) all purpose flour
3/4 cup (5 1/4 oz) granulated sugar
1/2 tsp salt
1/2 tsp baking soda
6 Tbsp of vegetable oil (I use grapeseed)
2 large eggs
2 tsp white vinegar
1 tsp vanilla bean paste
Frosting
1 cup of heavy cream
4 oz of semi-sweet chocolate (finely chopped)
4 oz bittersweet chocolate (finely chopped)
Place chocolate, cream and powdered sugar in medium microwave safe bowl and heat for about 30 seconds or until mixture is warm to the touch. If you don't want to use a microwave, use your stovetop instead. Whisk until smooth, transfer to another bowl and refrigerate no longer than 30 minutes.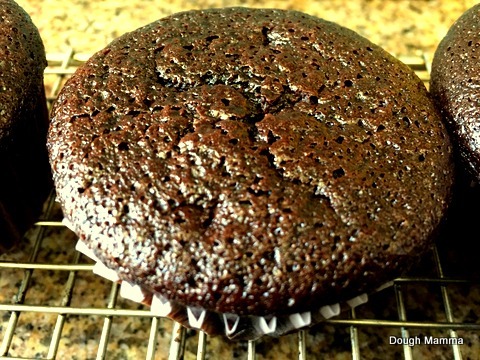 Cupcakes
Adjust oven rack to the middle position and turn on oven to 350 degrees. Line muffin pan with cupcake liners.
Place chocolate and cocoa in medium bowl. Pour hot coffee over mixture and whisk until smooth. Set in refrigerator to cool completely, about 20 minutes.
Whisk flour, sugar, salt and baking soda in a separate bowl and set aside.
Whisk oil, eggs, vinegar and vanilla into cooled chocolate-cocoa mixture until smooth consistency. Add flour mixture and whisk until smooth.
Divide batter among muffin pan cups. Place one slightly rounded teaspoon of ganache filling into each muffin pan cup.
Bake until cupcakes spring back when gently touched, about 17 minutes. Allow cupcakes to cool in pan on a wire rack for about 10 minutes. Gently remove each cupcake and place on wire rack. Allow to cool completely, about 1 hour.