 We have reached a point in history at which chefs and chocolatiers will stick almost any damn thing into or onto chocolate and stand back smilingly awaiting our applause. Not just nuts or caramel anymore but -- you know. Durian, beer and meat.
Sometimes I wonder how many of these pairings are earnest and how many are dares or jokes or sociopolitical experiments, devised by scientists or oddsmakers. Is this postmodern, eve-of-destruction decadence? Is there in tabasco-sauce truffles an element of the emperor's new clothes? Or am I just a rube?
Recently coaxed to taste chocolate ice cream doused with olive oil, I laughed. Ha ha, no way! Then I tried it at home, where no one would see me if I gagged. It was kind of silky and... okay.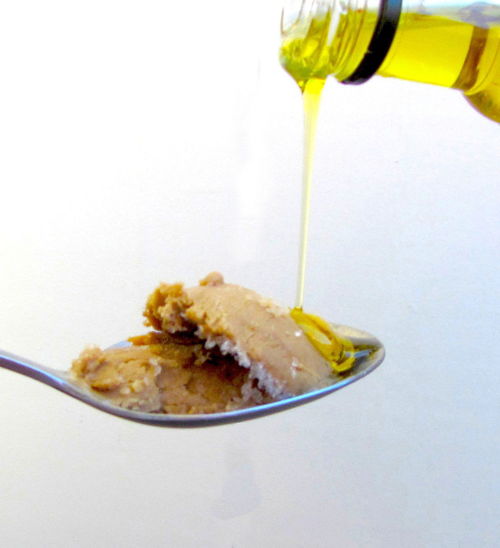 This spurred me to sneak a dark Dagoba bar into San Francisco's Pescatore, a seafood-centered restaurant-bar that celebrated its lush new look with a party last week. Longtime chef Rafael "Rafa" Mayoral's Ameri-Tuscan comfort food is among the city's best, so I thought: What better way to test the Omnicacaoviability Hypothesis (e.g., that chocolate goes with amazingly unlikely stuff, so just open your mind) than by pairing high-quality chocolate with some of his hearty creations? Who has to know? Well, you. But still.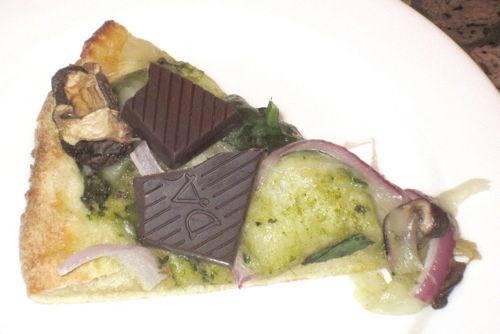 Taking the easiest option first, I put chocolate on Pescatore pizza. I mean, what hasn't been put on pizza in the last 50 years? Flavorwise, the earthiness of herbs and crust and the fruitiness of fresh mushrooms stood up well to the strong fruity earthiness of dark Dagoba. Texturewise, we win: Crisp crust, slowly velvetizing chocolate. Is melting chocolate all that different from melted cheese?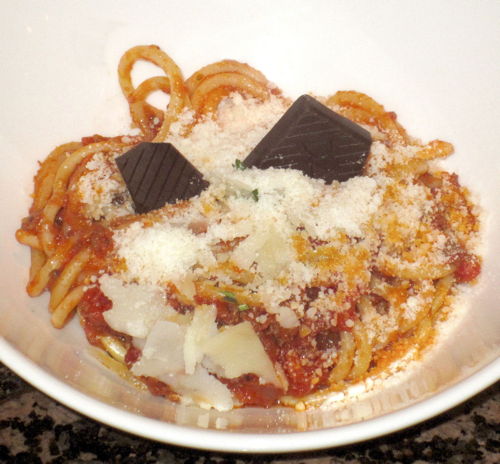 Next up was Chef Mayoral's resplendantly retro, stratospherically satisfying Spaghetti Bolognese -- à la Cioccolata. Again, a surprisingly sumptuous earthiness times two. To keep the sweet-savory contrast poetic rather than crazy-making, it helped that the chocolate I used was super-dark. An extra plus: Parmesan-cheese crumbles and (again) melting chocolate do an exciting diametric-opposite texture dance.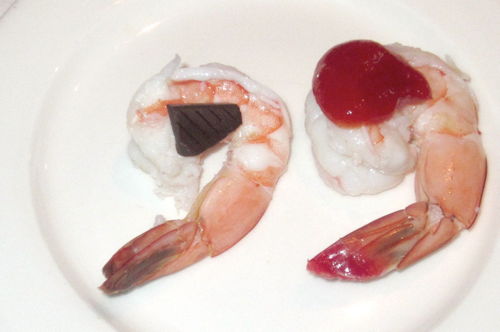 Chocolate-topped prawns pack together the plaintive, primitive purity of two primal favorites.
In 1928, when H.B. Reese premiered his Peanut Butter Cups, it was considered astounding to pair peanut butter with chocolate. Hershey's still sells the cups, occasionally zapping the flavor quotient with limited-edition versions sporting fudge, hazelnut creme, banana creme, marshmallow, white chocolate and mixed nuts. But, hey, how mainstream. The artisanal-chocolate world has so exploded in the last few years that habanero truffles are passé.
Mindy Fong, the owner of SF-based Jade Chocolates, was premiering a new product: green mango with a chili-lime spice rub atop dark chocolate tiles.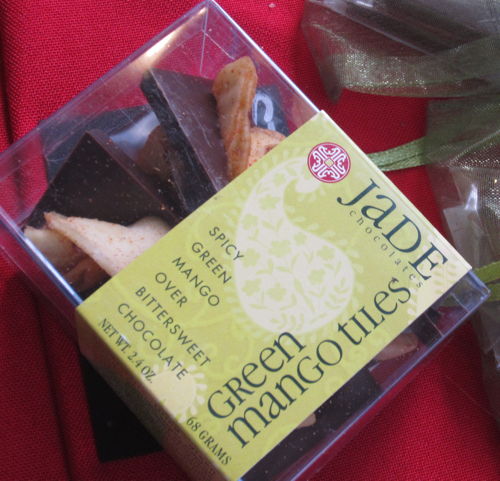 "People who like spiciness are getting very excited about this," Fong said, offering me a sample. Fruit and chocolate are natural pals. But I was excited in the wrong way. Because I don't like spiciness. Because I'm a rube.
The durian truffles offered by L.A.-based Marti shattered all expectations in a smooth, sweet, sumptuous cascade of satiny texture and intensely tropical flavor. Durian is renowned for its putrid stink -- many airlines forbid passengers from flying with this fruit -- but Marti's truffles breathed only a soft whiff of endless summer.
"Whenever I find a really fresh durian, that's when I make these," said chocolatier Tonet Tibay, who honed her skills at l'Ecole Lenotre in Paris. Having grown up in the Philippines, "I realized that a San Francisco crowd could like durian. I wanted to take the goodness of durian, its custardy creaminess, and separate it from that fermented-fish smell that is really an acquired taste, to create some heavenly thing that you have to savor."
Dried-cherry and chipotle bars made with organic cacao beans from Bali and Venezuela, smoked in-house over native applewood, were displayed at the Snake & Butterfly booth, as were organic maple-bacon chocolate caramels.
"Instead of butter, we use bacon fat," explained S&B's Mara Privitt. "So it's very bacon-forward."
It is! Both bacon and chocolate are assertive and march playfully and lastingly around the tongue. S&B also sells jalapeño dulce de leche caramels.
Habanero raised its hot head at the Sixth Course booth, where samples of white chocolate-habanero-passion fruit caramels were being offered by a chocolatier who advised me to steer clear "if you're afraid of spice," which I am. "The passion fruit cuts some of that heat, and the white chocolate cuts it too," she said, "but not all that much." I steered clear.
Are the classic chocolate pairings -- caramel, coffee, nuts -- classic for some biochemical reason, and this new stuff is somewhere on the spectrum between "acquired taste" and "I'm so fierce"? My husband loves hot stuff. His favorite food is kimchi, yet he hates chili-spiked chocolate. He says its popularity is less about any actual lovability than about a kind of competitiveness, about being able to brag that one has eaten something alarming and outré. Hence the rising popularity in restaurants these days of dare-you dishes involving bone marrow and jowls.
Sixth Course also makes dark-chocolate caramels infused with rosemary -- an herb that is popping up everywhere these days. History will show that rosemary's presence in candy and cocktails is just wrong.
Fresh outta Montana,La Chatelaine Chocolat attracted long lines for its beer truffles (as seen above), the latest addition to an adventurous line that also includes lavender, jasmine, geranium, olive oil and black peppercorn truffles. Chocolate and alcoholic beverages make perfect counterpoints: sweet/bitter, soothing/startling, creamy/sharp.
"I searched and searched for the right beer and finally chose a California oatmeal stout because it has an almost-sweet flavor," explained co-owner Shannon Hughes Grochowski. "The nibs just complete it."
As its name implies, the Tea Room specializes in GMO-free chocolate bars infused with many types of tea: mint tea, Mayan chai, chamomile tea, caramel honeybush tea, Earl Grey, raspberry rooibos, maté and more. Green teas are harder to work with than black teas, TTR's Ethan Ash told me, because green-tea flavors are more elusive and fleeting on the tongue. Black chai is the exact opposite, he said.
Ash offered some handy advice: In order to truly savor infusions, whatever they are, let the chocolate melt slowly in your mouth.
"If you just bite and swallow, you won't get it," he said.
Coco Tutti's Elyce Zahn proffered her latest venture: lovely melt-in-the-mouth peanut-butter cups. (Reese was right.) Zahn grinds the peanuts herself, and the result is magnificent.
The folks at Toffee Talk drive that chocolate-nut train to Tasty Town by using rare red walnuts: Hearty and naturally dazzlingly ruby-red, they're harvested at a family-owned orchard in tiny Gustine, CA.
While sampling these, I met fellow salon-goer Mary Vincent, an anti-greenhouse-gases pioneer whose line of sustainable, certified green Gratitude Gourmet chocolates includes vegan peanut-butter-and-jelly truffles made with 65 percent dark Fair Trade chocolate and gourmet strawberry jam.
Low culture meets high culture. Little-kid lunchbox meets Lush Life.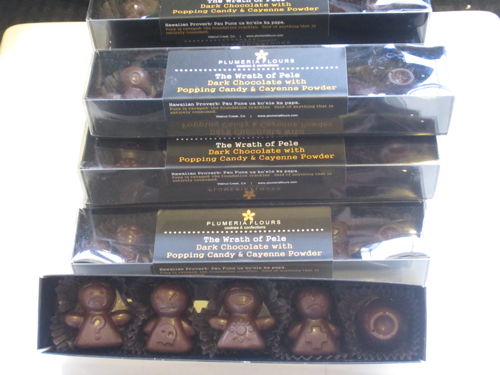 That's true too at Hawaii-based Plumeria Flours, whose Wrath of Pele chocolates are packed with Pop Rocks and cayenne. On the tongue, they tingle first. Then bang.
Further hotness seethed at Socola Chocolatier, whose collection includes truffles flavored with guava, lychee, durian, black sesame, bacon, pumpkin, PB&J, tea, Vietnamese coffee and Sriracha Flying Rooster sauce.
The latter "are hot, but not super-hot," explained co-owner Wendy Lieu. "The deal is that it's very different" from other chili-spiked chocolate products. "I wanted something that was like cayenne, but more reflective of my Vietnamese heritage. The hard part was finding the right proportion -- how much hot sauce to put in. I experimented for a while with an amount that I thought was right, but people said, 'Aaargh,' so I brought it down to a level where it's still really spicy, but you can tell what you're eating."
Sriracha sauce also includes garlic, "so the flavor is multidimensional," Lieu said.
I knew these babies would be way too hot for me, especially after a fellow salon-goer told me that one Socola Sriracha truffle had knocked out her palate for the next two hours. Which felt interesting and profound, she said, but only because she likes hot things and had been forewarned.
Ever curious, I took the Omnicacaoviability Hypothesis along to dinner last night at Lark Creek Walnut Creek, a hub of quiet elegance whose chef Scott Wall brings new glamour to American classics. As proof that I really do test my hypotheses, here's a picture of me eating LCWC's signature meatloaf topped with Dagoba 70 percent dark.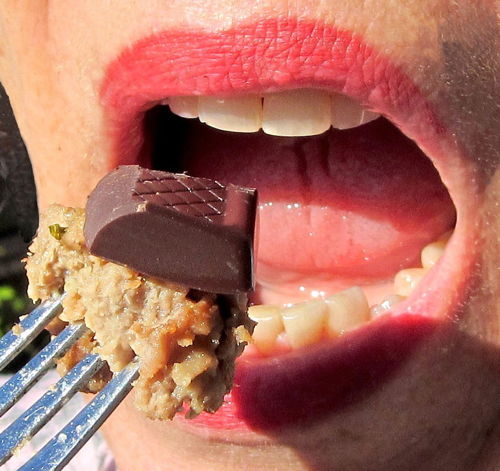 Three words: O.M.G. Is it that everything goes great with meatloaf? Or is it that something surprising, strong and vital happens when dark chocolate meets beef. It's as if both components race toward each other and then collide in a head-banging burst of rich, almost-alive and almost-sweet.
Which gives me an idea for the Next Big Thing: Nib burgers.
All photographs by Kristan Lawson. Used with permission.
Related