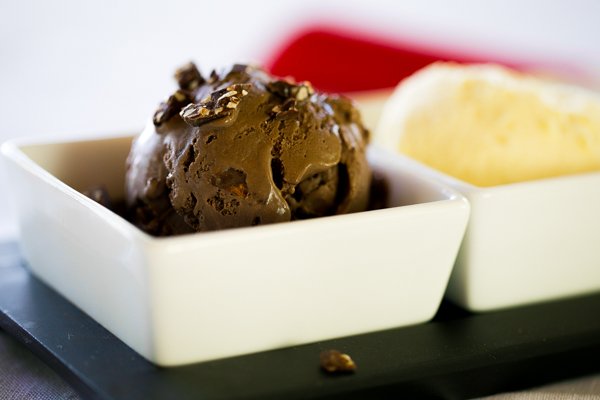 This past summer, I was overcome by the latest trend to turn just about anything into a frozen edible. From Bloody Mary popsicles at brunch to Saffron Courvoisier granita for a dinner finale, sassy sorbets were all intriguingly laced with herbs, spices or hip new libations. But when the bloom falls off the rose-flavored sherbet, I am left with a classic flavor that almost never disappoints: chocolate.
I'll admit that a plain cone of old-fashioned chocolate ice cream somehow doesn't measure up anymore. In order to make me swoon, it has to be ridiculously rich and creamy. It has to be dark and intensely flavored. And it has to scream chocolate. In short, it has to be that Italian-style frozen dessert called gelato.
There are three big differences between ice cream and gelato. First, commercial ice cream frequently uses whole eggs and additives to stabilize the mixture. Gelato just employs yolks. Second, ice cream requires a greater percentage of cream than milk -- this is partly because milk produced in the U.S. is not nearly as rich as that from Italy. Third, the amount of air that is whipped into ice cream while turning it into a frozen state is almost four times that of gelato. The industry calls it "overrun." I call it buying a box of air. Ever wonder why a carton of ice cream feels like it doesn't weigh much? Typical off-the-shelf cartons in the U.S. hold up to 80 percent overrun. A true gelato won't exceed 20 percent.
I'd be remiss if I didn't acknowledge that this particular recipe rests on the shoulders of many chefs and cookbook authors whose exhaustive work with frozen desserts guided my explorations. But during the course of 17 tests with varying degrees of success, I discovered there is nothing exceptionally difficult about making great gelato. Luckily, I also discovered three ingredients that help this recipe deliver on the silky-smooth and deep dark promise: extra virgin olive oil, double-dutch dark chocolate powder and 72 percent chocolate pieces.
Every recipe's success is based on using quality ingredients. So I rounded up the best mild-flavored Arbequina extra virgin olive oil I could find, some double-dutch dark chocolate powder (I'm partial to King Arthur Flour's blend of dutch and extra-dark black cocoa) and lots of Valrhona Araguani 72 percent chocolate fèves, or small bean-shaped disks. You can use any high-quality bittersweet chocolate bar, but the higher the percentage of cocoa butter, the better.
With these ingredients in hand, I knew my own version of chocolate heaven was within reach. Once again, I broke out my ice cream partner-in-crime, my Vitamix. The blender makes almost instant work of preparing the custard that any tabletop ice cream maker can turn into gelato in less than 30 minutes. And when it comes to chocolate gelato, I am all about instant gratification.
Intensely Rich Dark Chocolate Olive Oil Gelato
½ cup double-dutch dark cocoa powder
4 ounces 72% chocolate bits or broken bars
1 teaspoon vanilla extract
¼ teaspoon instant espresso powder
3 ounces mild-flavored extra virgin olive oil, preferably Arbequina
1. Place all ingredients but the olive oil in a high-speed blender (must be capable of generating frictional heat of about 160 F).
2. Turn blender on to its highest setting and process for 6 minutes.
3. While continuing to run on high speed, pour in the olive oil and process for 2 minutes. The mixture should reach a temperature of 185-195 F.
4. Pour mixture into bowl and refrigerate for at least 4 hours until well chilled. At this point, the custard can rest as long as overnight before processing.
5. Turn mixture into an ice cream or gelato maker and process according to manufacturer's directions.
For more flavor, many additives like chopped nuts can be incorporated during the ice cream making process. I included chopped hazelnut chocolate bars added in the last 10 minutes of processing and sprinkled more of the same on top for a garnish.
Preparation alternative: You can make the custard using traditional methods with a double boiler set over medium heat to melt the chocolate, cream and milk. Separately, beat the eggs and sugar into a ribbony texture and slowly, laboriously, stir the mixture, along with the other ingredients, into a creamy consistency. But I vote for simplicity and speed and will use my Vitamix for a flawless finish every time.
Top photo: Chocolate olive oil gelato. Credit: Caroline J. Beck
Caroline J. Beck is a freelance food and wine writer and a strategic adviser to specialty food startups.

Related