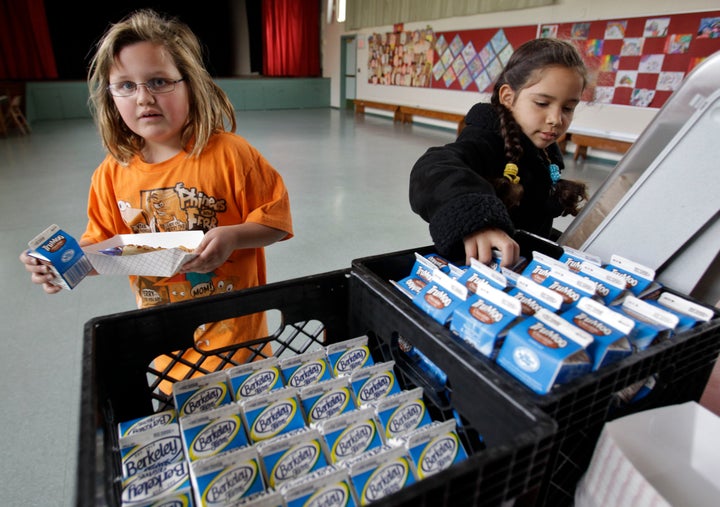 Coauthored by Kathryn Henderson, Ph.D., Director of School and Community Initiatives at the Rudd Center for Food Policy & Obesity at Yale University
As researchers and health professionals working with school districts and parents to support the development of healthful eating practices among children, we applaud nationwide efforts to improve school nutrition. These have included efforts to increase fruits, vegetables, and whole grains, and decrease fat, saturated fat, and added sugar. One source of added sugar that is a staple in school cafeterias is flavored milk. Promoting only unflavored milk is an effective way to reduce the added sugar children consume at school.
First, let's recognize the chocolate milk controversy for what it really is about: marketing. In 2010, the dairy industry's national marketing group, the Milk Processor Education Program, launched a $1 million initiative to promote chocolate milk, especially in schools (where most flavored milk is sold). The dairy industry claims that children will not drink unflavored milk -- adding sugar to it is necessary to ensure adequate calcium intake. This is the same argument presented by the companies that sell high-sugar cereals. They claim that children will not eat low-sugar cereals and risk skipping breakfast altogether. Rudd Center research, published in the journal Pediatrics in December 2010, has demonstrated this is not the case.
Flavored milk is not the nutritional equivalent of unflavored milk. It is significantly higher in calories, sugar, and sodium, and usually contains artificial colors and flavors. There are 11 grams (nearly three teaspoons) of added sugar in one cup of flavored milk. Is that a lot or a little? Well, according to the USDA, we are allowed a limited number of discretionary calories per day, and within those calories, the American Heart Association recommends that no more than half be used for added sugar. If we do the math, a girl aged 9-13 is limited to 16.5 grams of sugar per day. If she spends 11 grams on milk at lunch, she has 5.5 grams left. That isn't enough for one whole grain chocolate chip cookie (14 grams of sugar) or a bowl of sugared cereal.
Do parents have any idea how much added sugar their children are consuming in the school lunch? Our view is that all food and beverages in schools should provide maximum nutrition with minimum discretionary calories. Parents can then trust that their children have been well nourished at school and can make decisions about what added sugar or treats to offer. This approach ensures that all parents' wishes are respected: those who wish to feed their children chocolate milk may do so and those who don't wish their children to have the extra sugar don't face unwanted exposure for their children.
It is probable that, immediately following removal of flavored milk from schools, children will drink less milk. Who really is surprised that, given the option, children prefer the taste of flavored milk to unflavored milk? Research with both animals and humans show that we all like the taste of sugar. However, examining what happens in the short-term when is inadequate; the relevant question is what happens in the long-term when children are only served unflavored milk.
National data suggest that only 14 percent of preschool-aged children drink flavored milk. In our research in Connecticut nearly all child care centers participating in the CACFP (Child and Adult Care Food Program) serve only low-fat unflavored milk, and the children drink it. Further, flavored milk is not permitted in any state as part of the federal Women, Infants and Children (WIC) program. When children are accustomed to drinking unflavored milk at home and in preschool, the most logical hypothesis is that they will continue to drink unflavored milk once they enter kindergarten, in the absence of a high sugar alternative. This is an important research question, but it will take time for researchers to answer it. In the meantime, there is no good reason to continue the practice of introducing flavored milk to children when they enter kindergarten.
Many may feel that flavored milk is being singled out in the debate over food/beverages served in schools. In fact, all over the country school districts have been revising their menus -- cutting out transfat, saturated fat and sugar in all its forms. Reducing sugar in school meals will help children avoid consuming excess discretionary calories, and flavored milk is one place to start. Unflavored milk is accepted by the majority of children prior to entry into the public school system and it should remain the norm for those children.
Marlene Schwartz, Ph.D., Deputy Director of the Rudd Center for Food Policy & Obesity at Yale University
and
Kathryn Henderson, Ph.D., Director of School and Community Initiatives at the Rudd Center for Food Policy & Obesity at Yale University
Calling all HuffPost superfans!
Sign up for membership to become a founding member and help shape HuffPost's next chapter