It's funny to me how chocolate seems to be in short supply this time of year. Between the pumpkin pie and the apple pie, the spices and the nuts, the fruited loaves and the Christmas cookies, I suppose there just isn't room for it (though my Thanksgiving dessert spread, which features my sister's rendition of Maida Heatter's Chocolate Marquise with Coffee Cream, and the cake we eat on Christmas--mom's famous Rich Chocolate Celebration Cake--are happy exceptions). So rather than doing away with the deliciousness of pecan pie, pumpkin pudding, and pear tart for the sake of chocoholics we thought about how we might actually add the good stuff to our favorite seasonal desserts, creating a revolutionary new holiday-time paradigm.
I did once make a two layer chocolate and pumpkin tart which was delicious. But if you asked me off the top of my head what holiday dessert might be best suited to some chocolate-oriented tweaking, I'd answer very quickly: "gingerbread."
I think that both gingerbread and gingersnaps can profit greatly from chocolate chips, icing, or coating, especially slightly creamy milk chocolate. The first time I experienced this ravishing taste sensation was when I made Alice Medrich's fresh gingerbread with milk chocolate chunks from her book about holiday baking. After that, I was sold.
Phoebe and I were brainstorming, trying to solve the low-chocolate conundrum, and all of a sudden, she said "chocolate," and I said "gingerbread," and then she said, "chocolate mousse" and then I said "with gingersnaps," and she said, "what about with gingersnap flavored whipped cream?" So that's what I have made here: I added the classic holiday spices to the white chocolate-sweetened whipped cream and piled it on top of rich, unapologetically chocolate-y mousse. A gingersnap on the side adds a fabulous crunch, and the dish successfully escorts chocolate head-first into the holiday kitchen.
--Cara Eisenpress of Big Girls, Small Kitchen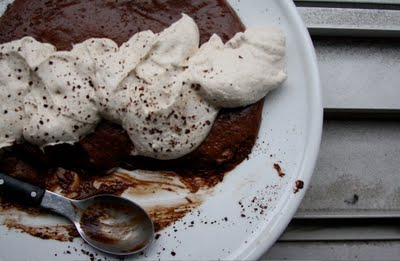 Chocolate Mousse with Gingerbread Whipped Cream
Serves 8
For the mousse:
Ingredients
3.5 ounces dark chocolate (about 65%), chopped
1/4 cup milk
2 tablespoons butter
1 teaspoon molasses
1 egg yolk
3 egg whites
pinch salt
2 tablespoons sugar
Melt the dark chocolate in a bowl in the microwave for 20-second intervals, until just melted. Stir to smooth, then set aside until it reaches room temperature. (Or you can use a double boiler.)
Combine the milk and the butter in a small bowl and microwave until the butter is melted and the milk is just below boiling--watch carefully that the milk does not boil over. Stir well, then pour over the melted chocolate and stir gently with a fork or a whisk. Add the egg yolk and molasses and stir again until smooth.
Beat the egg whites with the pinch of salt on medium speed until they form soft peaks. Slowly, sprinkle in the sugar and continue to beat until the eggs hold the trail of the beaters and the peaks are somewhat firmer.
Pour about a third of the egg whites into the chocolate and stir to combine. Add the remaining whites and fold them in very carefully, keeping the mixture as fluffed up as possible. Pour the mousse into a trifle bowl or individual glass ramekins, or form it into a round on a serving platter.
Refrigerate at least an hour until set.
For the whipped cream:

Ingredients
1 1/2 cups heavy cream
2.5 ounces good-quality white chocolate (should contain cocoa butter; Green & Black is a good option), chopped
1 teaspoon cinnamon
1/2 teaspoon nutmeg
1/4 teaspoon ground ginger
pinch salt
1/2 teaspoon vanilla extract
Combine the white chocolate and 1/4 cup of cream in a microwave-safe bowl. Microwave for 20-second intervals, until just melted. Stir with a fork to smooth. Add the spices and the vanilla, and set aside to come to room temperature, stirring it occasionally as it sits.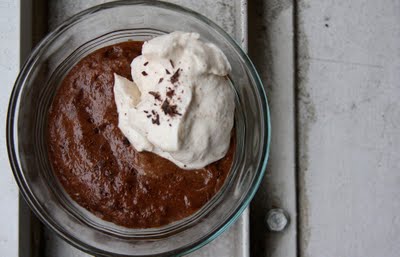 When ready to eat, pour the remaining cream into a mixing bowl. Beat until thickened and firm, then drizzle the spiced white chocolate mixture around the top of the cream. With a spatula, carefully fold it in. Heap the cream on top of the mousse, whether in individual portions or one large serving dish. Garnish with shaved chocolate and a half batch of these gingersnaps for crunch.

Calling all HuffPost superfans!
Sign up for membership to become a founding member and help shape HuffPost's next chapter