 A friend of mine, a mom, recently asked me for ideas on how to distract herself during an upcoming medical procedure. I told her to think Bucket List, and then I told her my story:
Many years ago, when routine tests confirmed I had breast cancer, it became very clear, very quickly, that I needed to come up with a process of relaxation that would help me through my medical odyssey. I read about a variety of techniques and tried them all, from counting backwards to imagining a blank screen to listening to music to making up limericks in my head. I even tried conjuring up an idealized image of a warm beach, accompanied by the sound of gentle waves against a rocky shore. And it worked for around 30 seconds before the realist in me took over and I imagined sand in my bathing suit, jellyfish at my feet, and a wicked head-to-toe sunburn.
But it wasn't until my radiation therapy was about to begin that I stumbled upon the sweetest distraction.
Lying on the oversized table, my goal was simple: to complete the five-week radiation process without dwelling on it, so I could move forward with life and stick around for my kids. The technician and I exchanged pleasantries while he adjusted my body this way and that, and he rattled off directions. I nodded in response, resisting the urge to cry and feel sorry for myself, though truth be told, I did. There were a lot of places I'd rather be than in this room, under these circumstances, I thought. I'd eaten right and exercised regularly, but I developed cancer anyway. Certainly, if I'd known this was in store for me at age 45, not only would I have allowed myself a bucket list, I would have indulged in a lot more chocolate over the years.
"Well, I'll be," I said to no one in particular, "chocolate." An edible bucket list.
"Don't move," the technician said on his way out of the room, closing the massive lead door safely behind him.
"No problem," I said, smiling, realizing I'd found my long-lost mantra.
For the next few minutes I concocted what can best be described as a commercial for chocolate in my head -- the kind that might run during the Super Bowl, that was so good, so tempting, you'd have to get up and have a piece so as not to lose your mind. I visualized a single confection, the most perfect piece, not too hard, not too soft -- a dark chocolate shell that broke quickly in my mouth, with only the tiniest audible snap -- one that released tender milk chocolate mousse until my taste buds were dancing to the mélange of bitter, sweet, and salty. And I lingered there -- right there, lost in the thought, in the texture, the aroma, the sensation.
I'm not sure exactly how much time elapsed -- my eyes were closed, after all -- only that I slowly became aware that the buzzing noise that accompanied the radiation had stopped, and the giant door that sealed me in the room was opening.
It was at that moment my Chocolate Bucket List was born. I decided to indulge my chocolate fantasies. Over the next several weeks, I made sure I had a small treat waiting for me when I got home from each session. Some days I tried something new, other days I repeated a favorite, and before I knew it, the radiation was a thing of the past.
Now, I know what you might be thinking: that it's not a good idea to use sweets as a reward. For the most part, I agree. But there are exceptions to every rule, especially rules created for a perfect world that doesn't exist. In my new post-cancer reality, I've learned many things -- chiefly, that life is short; that studies have shown chocolate, especially dark, in moderation, can help lower blood pressure and the risk of heart disease; and here's the big one -- it's not worth waiting until you're facing adversity to create a Chocolate Bucket List of your own.
From chocolate Dulce de Leche cake to chocolate soup to the perfect chocolate chip cookie, I'm on a quest to sample and savor a world of chocolate creations. It's not that I actually want the list to end -- recipes, chocolate shops, and restaurant desert menus keep making their way onto its bottomless pages -- but my goal is to enjoy them (in moderation, of course), along with my family and the rest of my life.
Here's my favorite chocolate chip cookie recipe. My sister-in-law gave it to me 20 years ago. I'm not sure where she found it, but these tender cookies are the stuff of dreams. And mantras. I've tweaked the recipe here and there, and offered some variations as well.
What's on your Chocolate Bucket List? I'd love to know.
The Sweetest Distraction Chocolate Chip Cookies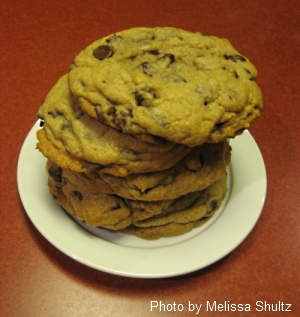 Preheat oven to 350 degrees
Makes 3-5 dozen depending on size of cookie
Beat by hand
In a very large bowl cream together:
1 lb. of butter or margarine
2 cups light brown sugar
Add:
1 1/2 cups of white sugar and cream for two minutes
Add:
2 tablespoons of vanilla
3 eggs
Beat for 2-3 minutes
In separate bowl sift together:
6 cups of flour
1 1/2 teaspoons salt
1 1/2 teaspoons baking soda
Add dry mixture gradually to creamy mixture (it gets really tough to stir). When blended mix in 24 ounces semi-sweet chocolate chips.
Using an ice-cream scoop, drop scoops of batter onto ungreased cookie sheets. Allow room between each cookie to spread.
Bake for approximately 15-18 minutes. You can make these smaller, but you will need to reduce your bake time for smaller cookies to approximately 9-11 minutes. If using two trays, rotate pans halfway through. Cookies won't look quite done but should hold their shape. Let them cool for 5 minutes before removing from cookie sheet.
Variations:
Add 1/8 tsp of cinnamon
Substitute Grand Marnier for vanilla
Add 12 ounces of chopped walnuts
PHOTO GALLERY
10 Things You Must Do Before You're Too Old
REAL LIFE. REAL NEWS. REAL VOICES.
Help us tell more of the stories that matter from voices that too often remain unheard.