I love Reese's Peanut Butter Cups, but I may just have found a way to improve on them. These no-bake sweets use the killer combination of peanut butter and chocolate and then improve on the texture, with a creamy middle and a crunchy top.
They are a snap to put together for a snack or a quick dessert. Because they are made as individual servings, you can easily cut the recipe in half to make just 2 or expand it to serve a crowd. Plus, if you prepare it in pretty ramekins, the presentation is so elegant even Martha Stewart would approve.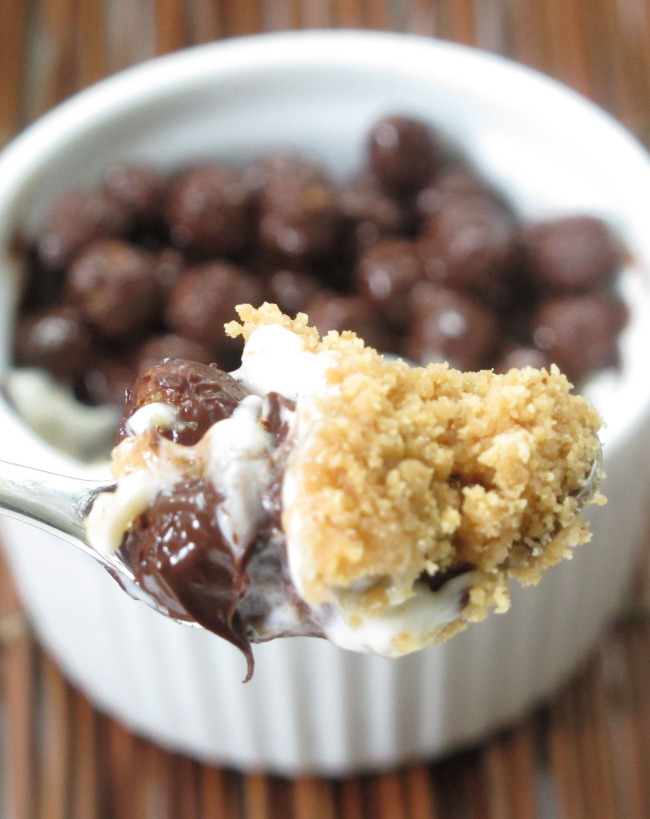 Cocoa Puffs are a crucial ingredient in this creation and I cannot just blithely list that ingredient without explanation. Like many others who avoid heavily processed foods, I don't normally eat commercially prepared and heavily sugared cereal. But the Cocoa Puffs were in my pantry and wasting food - even Cocoa Puffs - was not an option. Here's the tale of how that cereal sparked this invention.
Several months ago, I bought a lovely cookbook by pastry chef/restauranteur Michel Richard. In it, he proclaims that making chocolate mousse cups topped with Cocoa Puffs is what every chocolate-loving home cook should, and can easily, do. An otherwise sensible person like me shouldn't fall for such tactics or assurances, but I did. Although I eventually finished the recipe, he underestimated the challenge - and more importantly, he didn't seem to care that making his recipe leaves one with extra Cocoa Puffs.
This cereal is not the first ingredient I have bought specially for a single recipe, but it is definitely the one that sat for the longest without giving me any inspiration for how to use it up - until now.
I thought of microwave mini-cheesecakes and that recipe led me to go the single serving route this time too. My intention was a dessert that would require a spoon - not quite a pudding, but not as solid as a cheesecake. It is sweet, but not overbearingly so and a small ramekin-size portion is just about right for an after dinner treat or a mid-day snack.
No-Bake Chocolate Peanut Butter Cups
Servings - 4 Cost - $4 per batch ($1 per serving)
Ingredients
½ cup sugar
1 tablespoon butter, plus a bit more for buttering the ramekins
1 tablespoon of milk (skim is fine)
pinch of table salt
¼ teaspoon of vanilla
¼ cup of peanut butter
⅓ cup of sour cream
⅓ cup of Greek-style yogurt
2-3 tablespoons of light brown sugar
1½ cups of Cocoa Puffs
2½ ounces of bittersweet chocolate
Equipment
Measuring cups (for solids)
Measuring spoons
Small pot
Spatulas
Spoons (2-3)
2 small bowls
4 - small (6 ounce) ramekins
Preparation
For step-by-step instructions, including photographs, click here.