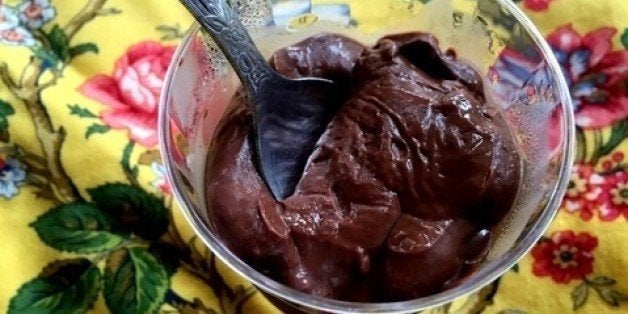 Chocolate pudding has been my mother's cure-all since I was a child. Skinned your knee, have some pudding. Menstrual cramps, try some chocolate pudding. Going through a break-up, here, have some pudding. It was the confectionery version of penicillin. Though it may not have solved all my problems, it certainly was indulgent, comforting and satisfying.
Pudding was quite popular in the 1980s. Jell-O pudding cups, snack packs, pudding pops - pudding was indeed prolific. Perhaps my mother was easily seduced by corporate media, subliminal messages influencing her problem-solving abilities. After all, she had succumbed to the Tab campaign, drinking it in abundance. Whatever the motivation, I gladly accepted each and every offer without question. Sure, I'll have some chocolate pudding, what did I have to lose?
The first time I had pudding made from scratch I was shocked. This was not the version I had come to know and love. This was far superior. Rich in flavor, thick, decadent and very filling, it became challenging to accept any other version. Making your own pudding is quite simple, takes less than 30 minutes and tastes very rewarding.
Enjoy these delicious puddings with a dollop of whip cream, sprinkles, or simply enjoy them as they are.
Title: Chocolate Pudding
Author: Adapted from Tyler Florence
Prep Time: 10 mins
Cook Time: 15 mins
Total Time: 25 mins
Serves: 6
Notes: I made a few adjustments to this recipe. For starters, I cut the sugar in half. Originally the recipe called for 1/2 cup of sugar, but I reduced it to 1/4 cup. After taste-testing, I thought one could cut out even more sugar if desired. Play around with it and decide how much sugar you really need. Secondly, I added real chocolate. Four ounces of equal parts milk chocolate and semi-sweet chocolate. If you decide to only use milk chocolate, you could probably reduce your sugar below 1/4 cup. If you use semi-sweet chocolate, you may want to only reduce your sugar by a few Tbsp (from the 1/4 cup recommendation). You can also use milk with a lower fat content, but it will not result in as thick of a pudding.
Ingredients
2 cups whole milk
1/4 cup sugar
1/3 cup of natural cocoa powder
4 tsp of cornstarch (I used tapioca starch)
3 large egg yolks
2 tsp vanilla bean paste
1/4 tsp salt
2 oz milk chocolate (finely chopped)
2 oz semi-sweet chocolate (finely chopped)
Instructions
Place 1 1/2 cups of the milk, sugar and cocoa in a non-reactive saucepan. Bring to a simmer over medium-high heat. Remove from heat.
Meanwhile, whisk the remaining 1/2 cup of milk, cornstarch, salt, egg yolks and vanilla in a bowl. Gradually whisk the hot milk into the egg mixture. Return it to the pan (along with your chocolate) and cook over medium-high heat whisking constantly. Cook until the pudding comes to a full boil.
Reduce the heat to maintain a simmer and continue whisking until thick, about 2-3 minutes more. You will be looking for a "nappe" consistency, which is the French term for coating the back of a spoon without the sauce running together.