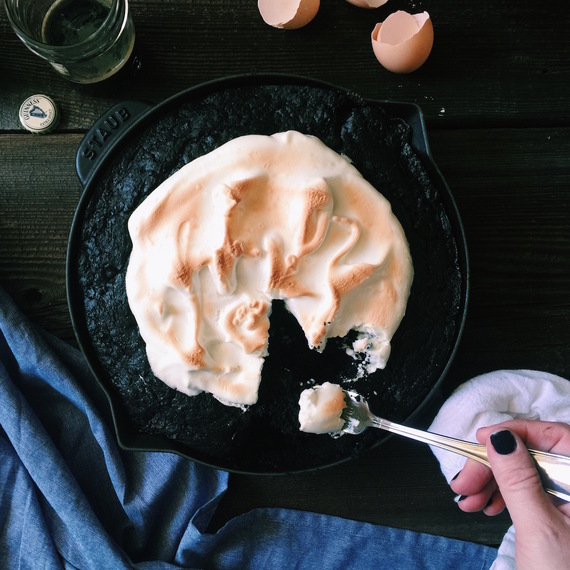 This is a beautifully damp cake. The rye-stout combo, while bold in its own right, hangs back and lets the chocolate notes take center stage. This combo does double-duty by also keeping overt sweetness at bay. The birth of this cake started with dreams of cream cheese frosting...which is pretty standard issue for a stout cake. That bubble was burst as it made the cake too cloyingly sweet. If I say something is too sweet, it's too sweet. Enter marshmallow meringue with a splash of Irish whiskey. Perfect....just perfect.
As if she wasn't winning enough, this stout cake is so easy to throw together. Wet ingredients blended, dry ingredients whisked, a brief introduction and then they're thrown into a cast iron and baked for just over 30 minutes. She puffs up quite a bit when baking and then let's out a sigh when removed from the oven. She's got character. I like it.
Quick Notes:
I used extra dark unsweetened cocoa powder, but I have also made this cake with regular unsweetened cocoa. Go with your preference or with what you have in your cupboard.
If you don't want to use a skillet, I would recommend a 9-inch cake pan or even a cupcake tin...although I haven't tested either. Make sure you adjust your bake time if you use a different baking vessel.
I don't think you would have read this far if booze wasn't your thing...but just in case, here are some suggestions... You can replace the stout with fresh-brewed coffee/espresso or more buttermilk and you can completely omit the whiskey and the meringue will still be aces.
Let the cake cool completely before you put the meringue on. This is very important or your meringue will melt before it has time to get all George Hamilton-bronzed.
This cake can stand on its own, with no meringue or topping at all. It would be delicious with a simple scoop of vanilla ice cream. You can have your dessert mixed and baked in under an hour if you do forgo the meringue. Think about it.
We loved this so much, we didn't bother to cut slices (minus the one for the photos). If you scroll to the bottom photo you'll see that we ate it like a bunch of animals. Ain't no shame in our game.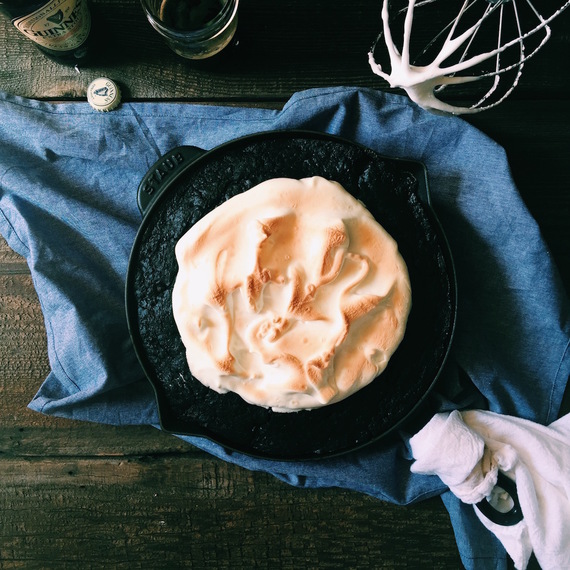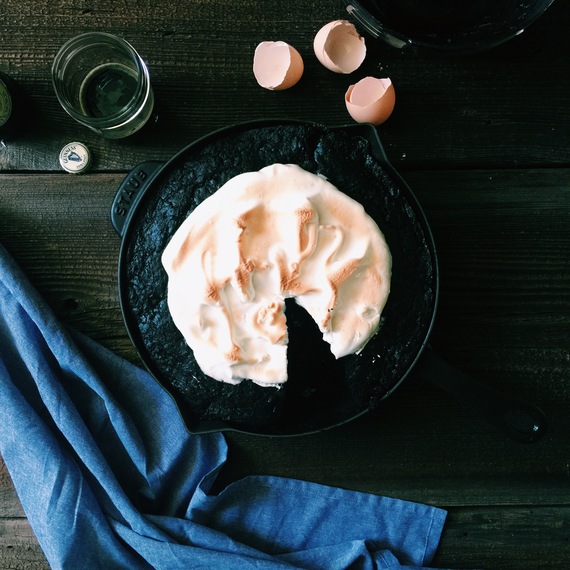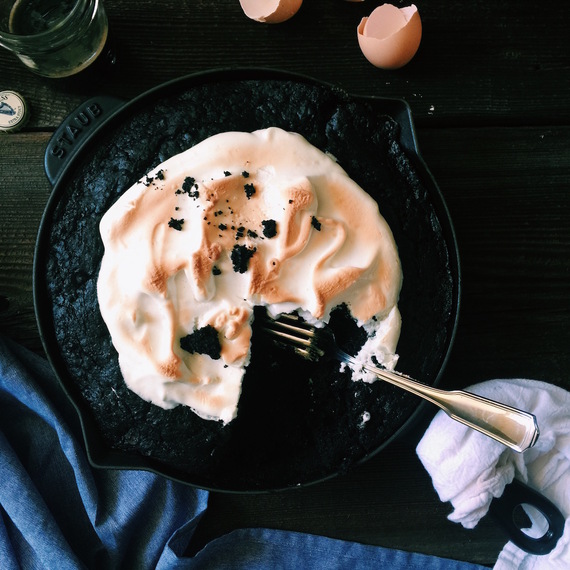 Serves 9-12
INGREDIENTS
For the Cake
1 cup all-purpose flour
1 cup unsweetened cocoa powder (see note above)
1 cup dark rye flour
1 teaspoon baking powder
1 teaspoon baking soda
1 teaspoon sea salt
1 ½ sticks (6 ounces) unsalted butter, room temperature
3/4 cup granulated sugar
1/2 cup packed light brown sugar (also tested with dark and muscovado...all worked well)
3 large eggs, room temperature
1 cup shaken buttermilk, room temperature
1 cup stout beer, room temperature
1 tablespoon real vanilla extract
1 cup chocolate chips (I used semi-sweet)
For the Marshmallow Whiskey Meringue*
3 large egg whites
¾ cup of granulated sugar
1 teaspoon whiskey (optional)
½ teaspoon real vanilla extract
¼ teaspoon cream of tartar
*Meringue topping adapted from this delicious recipe.


INSTRUCTIONS
Preheat your oven to 350 degrees F. Make sure you have a rack in the middle of the oven.
Butter a ten-inch skillet and set aside.
In a medium bowl, whisk together the flour, cocoa powder, rye flour, baking powder, baking soda and sea salt.
In an electric stand mixer fitted with the paddle attachment, add your butter, granulated sugar and brown sugar. Beat on medium until light and fluffy. Add in your eggs and mix on low until the eggs are fully incorporated. Take care to scrape the sides and the bottom of the bowl to make sure everything gets mixed in. *This could likewise be done with a bowl and spatula.
Add your buttermilk, stout and vanilla to the butter mixture and mix on low until everything is blended together. Again, make sure to scrape down the sides and the bottom of the bowl.
Transfer the flour mixture to the mixer and blend on low until just combined. Add in the 1 cup of chocolate chips and mix by hand until fully incorporated. Do not over mix.
Pour the cake batter into the buttered skillet, smoothing out the top a bit. Put into the oven for 35-40 minutes, with a rimmed baking sheet underneath to catch any overflow (I didn't have any, but it puffed right up to the top of the pan). When done, the cake will look firm but have a slight wiggle beneath the cracked surface. Perfect.
Set the skillet on a cooling rack to cool completely.
To make the topping, clean and dry your electric-stand mixer bowl completely and add the whisk attachment. Add the egg whites and beat the eggs until soft peaks form. Go on medium-high speed and you should get there in under 5 minutes.
Increase the speed and gradually and add the sugar, cream of tartar, whiskey and vanilla until stiff peaks form...I put the sugar in one tablespoon at a time. Don't over-whisk the egg whites... you want them to be shiny and hold stiff peaks. If you go too far they'll be stiff but not smooth.
Heat up your broiler. Make sure a rack is about 8 inches from the heat.
Dollop this marshmallow merengue on top of the cake, leaving a one-inch border around the outside of the cake.
Put the cake in oven and broil until the tips of the merengue are browned, about one minute.
This cake is best served the day it is made, but if wrapped tightly and stored in the refrigerator it should last another day or two.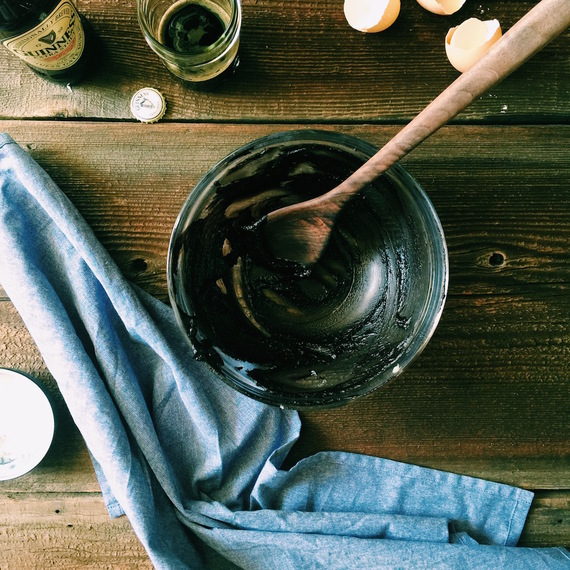 *All Photos: Rebecca Firth