The Chocolate Show returned to NYC this year with more vendors than you can count, an extravagant Chocolate Fashion Show, and dessert demonstrations from some of the best pastry chefs in America. I was super happy to see that this year a dominating theme among the chocolate makers was an emphasis on organic, fair trade chocolate and an active effort to get consumers to pay better attention to the origins of the chocolate they consume, a cause about which I've written here on HuffPost.

The Chocolate Show in NYC always kicks off with the VIP Preview and Chocolate Fashion Show, where pastry chefs create chocolate couture and models aim to make it down the runway and back without melting or breaking apart their outfits, or dropping too may bonbons or dragées on the floor. The theme of this year's fashion show was "Broadway Productions," and attendees were treated to designs emulating everything from Cirque du Soleil to The Lion King.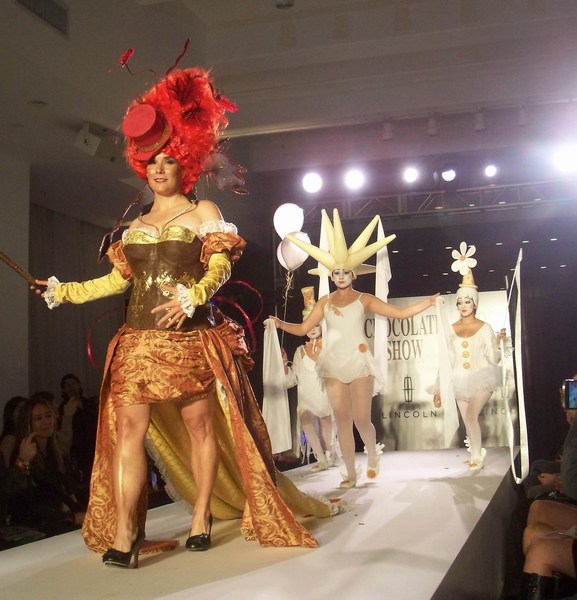 "Cirque du Chocolat" by Designer and Chocolatier Vanessa Greeley and Sugar Artists Silvina Barboza, Carolina Lara and Quinton Bailey (Regina Varolli)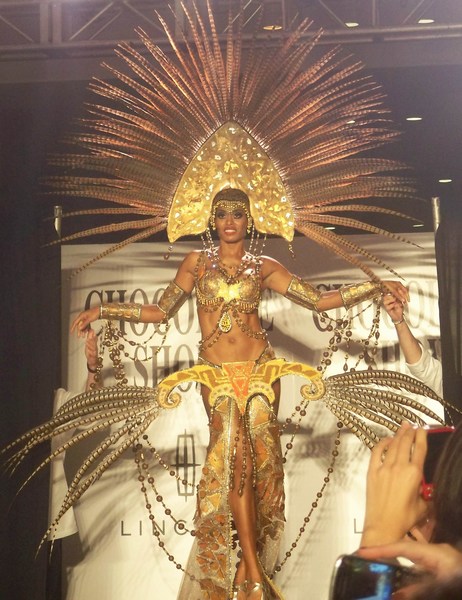 "Chocolate Folly" by Pastry Chef Steve Evetts and TONY award winning costume designer Gregg Barnes (Regina Varolli)
Part way through the fashion show, right when my friend Matthew Stevens of Dessert Professional magazine and I were joking about eating some of the fallen chocolate on the runway, a little girl sitting on the opposite side of the runway from us had the same thought, only she wasn't joking. She reached her arm out and surreptitiously grabbed a fallen dragée, thinking nobody had spotted her. Then, when she was about to pop it into her mouth, her mother looked at her in horror, grabbed the chocolate from her little hands, and tossed it back onto the runway. The expression of disappointment that came over her face was priceless.
This year's demonstrations included Johnny Iuzzini Creating A Four Star Dessert; Top Chef Just Desserts contestant Zach Young's Chocolate Peanut Butter & Jelly Cheesecake; Nick Malgieri's Swiss Chocolate Sandwich Cookies and Chocolate Meringue 'S' Cookies; and Cooking Channel's Unique Sweets Contributing Host Paulette Goto's demo on Combining Classic Cake Flavors with Modern Decorating Techniques.
Really, there were too many demos for me to name here, but of them all, my two favorites were Executive Pastry Chef of Bosie Tea Parlor in NYC, Damien Herrgott, making a Milk Chocolate and Chai Tea Tarte, and Francine Segan making two types of chocolate pasta desserts from her new book, "Dolci: Italy's Sweets."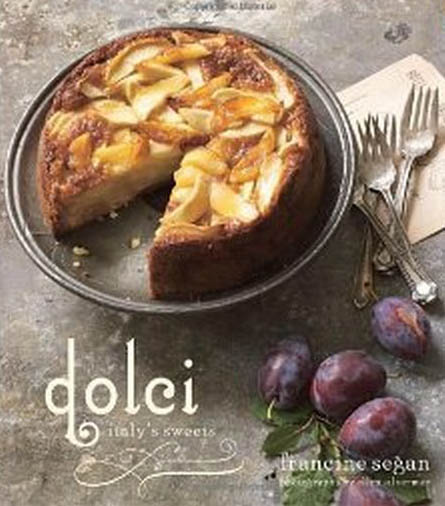 "Dolci: Italy's Sweets" by Francine Segan (Photo Courtesy Francine Segan)
Francine Segan, a food historian who has authored four cookbooks (including "The Philosopher's Cookbook" and "The Opera Lover's Cookbook"), had a warm and wonderful stage presence. All of us in the audience were quickly drawn in by her passion for and knowledge of Italian desserts, both of which shine in her latest book.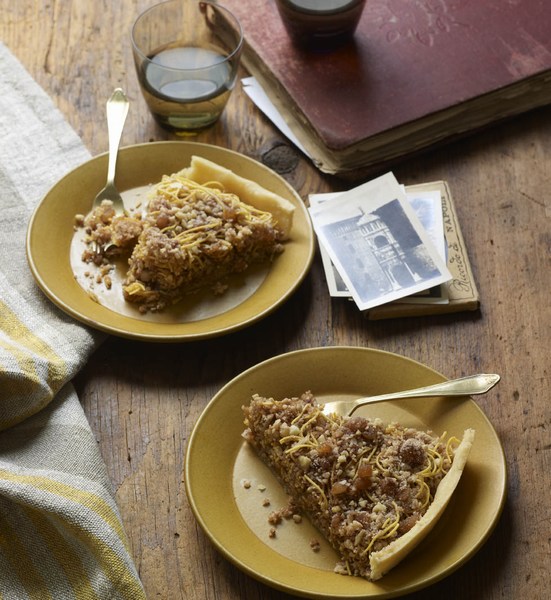 Francine Segan's "Curly Pasta Pie" (Photo Courtesy Francine Segan)
I was particularly happy to see Segan and her enthusiasm because I'm always taking flak from people about how we Italians don't have much of a dessert culture. But this usually comes from the mouths of my French friends, and really, compared to the French, who has that much of a dessert culture?
Even I often joke about how my ideal meal would be dinner in Reggio Emilia, Italy, and dessert in Paris. Which is why the demo from French pastry chef Damien Herrgott was such a treat. A consummate professional, Herrgott was very focused on his work during the demo. With precision and ample detail, he showed us how to make his delicious Milk Chocolate and Chai Tea Tarte, all while playing off the humor of emcee George Duran, who began the demo by asking Herrgott, "So tell me, why are French chefs so good at making us Americans fat?" Herrgott replied, "But I'm not fat." The return from Duran, "You're not American!"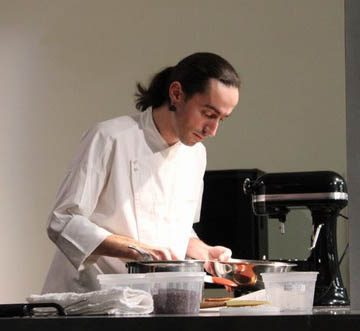 A focused Herrgott at work (Regina Varolli)
The jokes didn't end there. Herrgott's dessert, which he said was "really easy to make" contained five different elements: sugar dough, Chai ganache, milk chocolate ganache, lady fingers soaked in Chai tea, and a cocoa nibs nougatine. Duran, upon hearing this, laughed, "If you think this is easy to make, then what would you think is a difficult dessert to make?!" Herrgott replied with a smile--but in all seriousness--"I do one dessert at Bosie with thirteen elements!"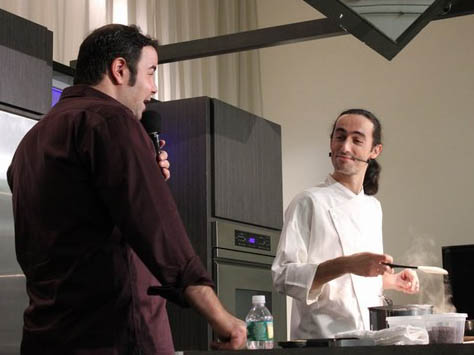 Pastry Chef Damien Herrgott and Emcee George Duran exchanging laughs (Regina Varolli)
Part way through the demo, when the scent of chocolate and Chai had filled the room, George Duran looked up at the audience and said "I've been here for this entire show, and I really think this dessert is going to be the best one!" The proof came at the end of the demo when the kitchen assistants passed out beautiful mini versions of the Milk Chocolate & Chai Tea Tarte that were quickly devoured by everyone. I concur with Duran, they were the best couple bites of chocolate I had at this year's show.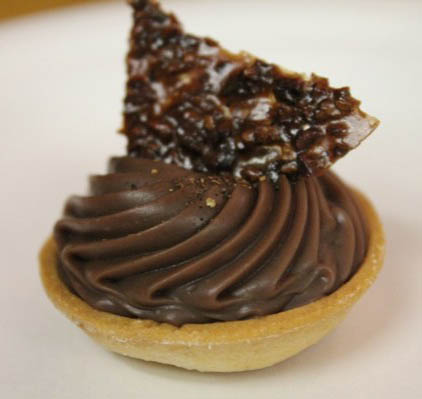 Damien Herrgott's Milk Chocolate and Chai Tea Tarte (Regina Varolli)
As always, the floor of The Chocolate Show packed in dozens of booths where chocolate makers from around the world showed off their products and handed out samples to the bustling crowd. This year one booth in particular caught my eye. It was hard not to notice Swedish chocolatier Håkan Mårtensson of FIKA in NYC because he spent the whole weekend carving blocks of chocolate into beautiful showpieces of fairytale characters and wild animals.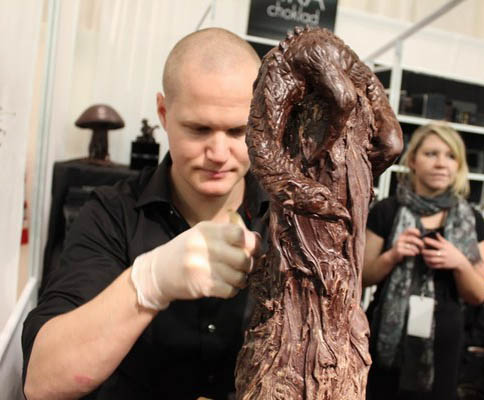 FIKA's Håkan Mårtensson dragon carving (Regina Varolli)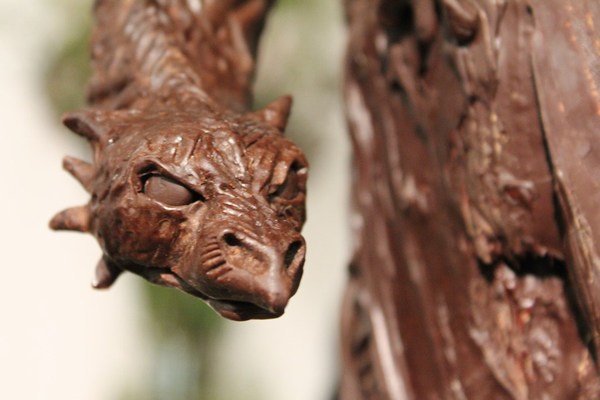 Close-up of Mårtensson's dragon (Regina Varolli)
Another booth that got my attention above others was the Cotton Tree Lodge. Located in Belize, Cotton Tree Lodge not only produces chocolate for sale on the market, they offer vacation packages and guests experience a tour at an organic cacao plantation where they learn about growing, fermentation, and processing, and hands-on workshops where they learn about roasting, winnowing, crushing and conching. Guests then take the prepared couverture and learn about tempering, molding and packaging.
Going from bean to bar, guests of Cotton Tree Lodge return home with the chocolate they made for themselves. With all of this, plus a stay in a beautiful little jungle hut, horse-riding, hiking, kayaking, and lessons on the economics and politics of the global chocolate trade, I'm already checking my calendar for next year to see if I can't make it to Belize to experience it myself!
If you still haven't made it to The Chocolate Show NYC, then you either don't love chocolate or you just live too far to make the trek. The offspring of the Salon du Chocolat in Paris, it's the only show of its kind in America. Because it's not just an industry trade show, it's geared towards the general public and includes lots of activities for kids and book signings with well-known authors. Me personally, even if I ever do move away from NYC, I'll happily hop a plane, train or Bolt Bus every fall to attend this chocolate-lovers dream event.
Chocolate Fashion Slideshow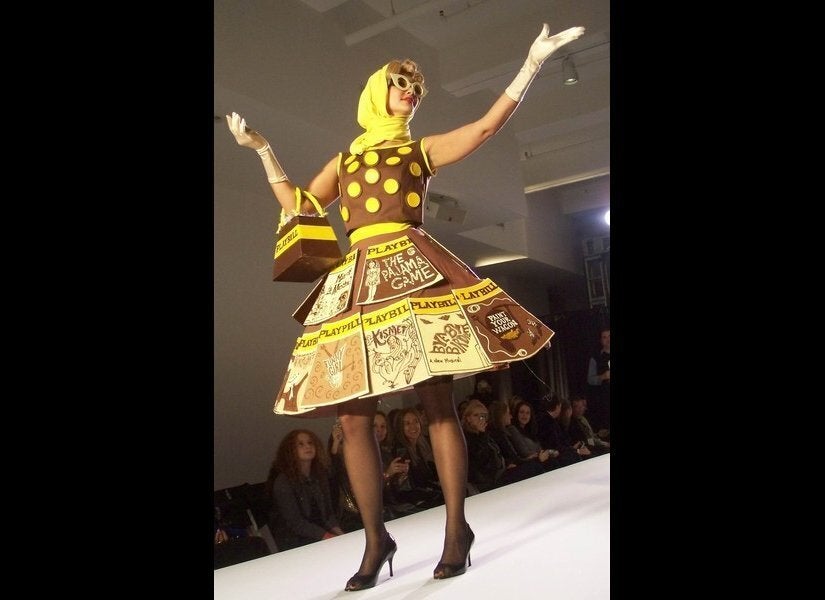 Chocolate Fashion at The Chocolate Show NYC
Related
Popular in the Community