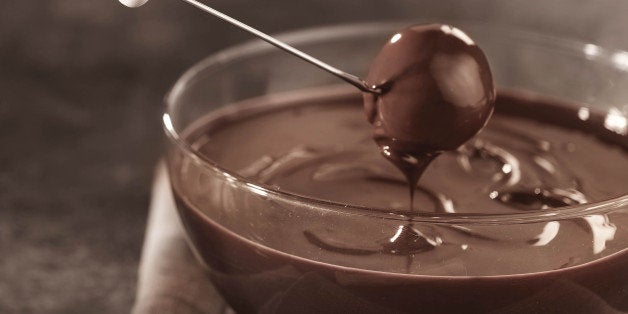 Meet the real-life Willy Wonka. His name is Wayne Puglia and he's the Senior Vice President of Global Research and Quality at Godiva. And yes, he realizes just how lucky he is.
"Let's put it this way," he tells me. "When I started working for Godiva, I lost my personal identity. It was replaced by 'someone with access to chocolate.'"
Puglia's fancy title means that he's responsible for Godiva's product development, commercialization, quality control and food safety -- essentially, he's the company's official taste tester. On a typical day, he eats about 8 ounces of "product," which can range from Godiva's signature chocolate to decadent shakes to the pastries served at the brand's global cafes.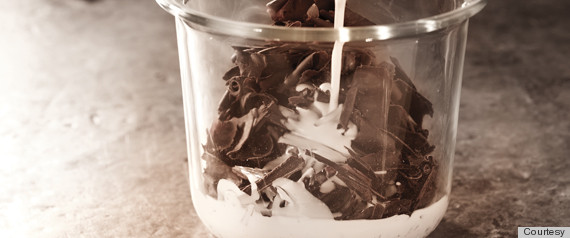 Working with a team of six chefs, who are located in either Pennsylvania, Japan, China or Brussels, and a few chef assistants, Puglia helps come up with every single confection Godiva offers, selecting ingredients you'd find at the supermarket. Although Puglia's not a chef and has received no official culinary training (he studied science in college and went on to get an MBA), he started his career in product development at Nabisco working with chewing gum and candy. Luckily, he seems rather happy to have landed in the artisanal chocolate biz at Godiva, where recipes and taste trump food science.
It rarely takes Puglia more than five minutes to end up in the test kitchen once he arrives at the corporate offices in New York City or Reading, PA. Currently, he's working on Godiva's soft-serve ice cream cones, which will be in China, Japan and Europe. Don't think he's been spending entire days with a spoon in a tub of ice cream, though -- portion control is the number one rule of food tasting, since a taste tester at Godiva may have to sample up to 12 different flavors of various products a day.
"We don't really want to finish the whole cone, as much as I would love to," he says. "That was probably the most difficult part of starting at Godiva, just maintaining a certain amount of self control."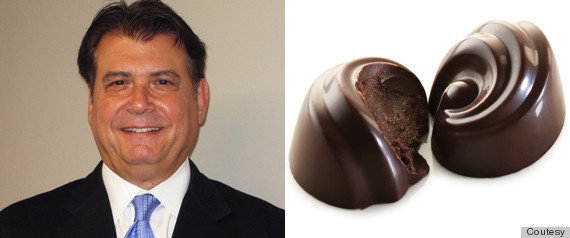 Wayne Puglia (left); Puglia's "favorite" piece of Godiva chocolate, Midnight Swirl (right)
If his team is testing alcohol, they won't swallow it, so they don't lose the ability to discern between samples. If they're testing chocolate, they'll have about a half to a quarter of a piece. "We don't just take one shot at it and say, 'Okay, this is fine,'" he says, explaining that they'll taste various chocolate blends, flavor combinations and intensity levels. They may go through 10 or 15 iterations to create one particular piece.
Once they've narrowed it down to two options, they'll go back and taste more of each during different times of the day so that they've tried each one in the morning and afternoon. They'll also informally test products by leaving some around the office and taking note of how fast employees snatch them up. And then, of course, they'll do a bit of consumer testing now and then in Godiva's stores.
"A test I like to use with consumers when I give them a sample is I just look at their eyes," he tells me. "If their eyes widen, to me, that's an involuntary reaction."
Naturally, this kind of perspective is needed for a group of people who are required to eat high quality sweets for a living. In the five years that he's been at Godiva, Puglia can't seem to remember a time he's entered the kitchen and not eaten something, whether or not he's been in the mood for chocolate. After a while, "you sort of only know what's less good," he says. With so much rich chocolate to consume, most of the chefs at Godiva eat fruit and salad for breakfast and lunch. Puglia himself seldom orders dessert outside of work -- one can only have so much sugar.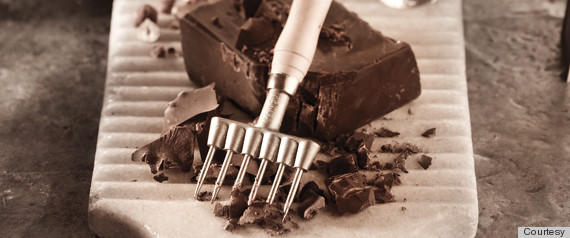 Surprisingly, Puglia, a self-proclaimed "sweet tooth," doesn't consider himself a chocoholic, and he claims to have liked chocolate "just as much as any other people did growing up." Sure, he's not a chef -- or even a supertaster -- but he has a deep understanding of both food product development and the hyper-local customs centered around chocolate (like White Day in Japan). Most importantly, the man loves his work and has enthusiasm to boot.
"But seriously, when you tell people you work for Godiva, you can just see the fascinated look on their faces," he tells me. "A lot of people, just like me, really want to work in chocolate."
If that doesn't sound like a modern-day Wonka to you, then I don't know who will.