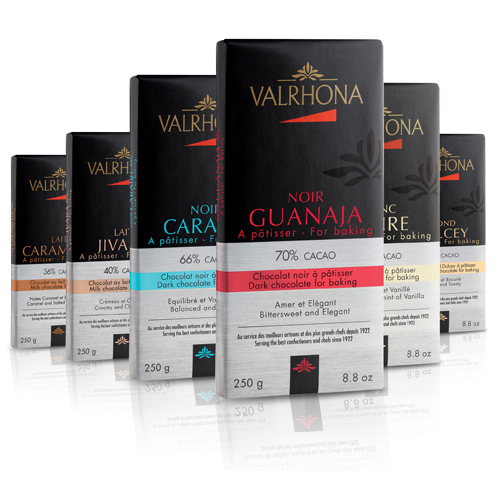 Sometime in the not-so-distant past, "to die for," became a populist, foodie locution, an in-the-know way to express extreme pleasure. Example: "That gooey chocolate cake that oozed on my skirt was to die for." In Italian one would say, the cake was "da morire." Also nice. But great food and stellar ingredients are, in my book, "to live for."
And that is exactly what I feel every evening as I break off a large piece of chocolate from one of Valrhona's new baking bars. Once available only to professional chefs, these chunky ingots of cocoa bliss are now available to home cooks.
Although one can find other baking bars in supermarkets (such as Hersheys), the specification of cocoa percentage is virtually nonexistent: Milk chocolate, semi-sweet or bittersweet are generally the only offerings. Valrhona's lineup sounds more like an artist's palette, providing a palate-pleasing array of possibilities - enough to make any chocoholic, or devoted pastry cook, deliriously happy. The names alone are enough to make your mouth water: Noir Guanaja 70%, Noir Caraibe 66%, Lait Jivara 40%, Lait Caramelia 36%, Blanc Ivoire 35%, and Blond Dulcey 32%. It is the Blond Dulcey baking bar that my sweet tooth craves after dinner. My bitter-loving husband gravitates to the Guanaja.
The percentages refer to the amount of cocoa in each bar. These bars come in sultry colors of sepia, sienna, caramel, mink brown, ivory, and russet, and each weighs a hefty 8.8 ounces.
It seems that home baking keeps trending upward and Valrhona is the first company to step into that retail space, blazing the chocolate trail for enthusiasts by giving them new varieties to explore. They call it their Grand Cru line, notably used for delineating wine. It is amazing to make chocolate chip cookies with bits of the noir caraibe and blanc ivoire. Likewise, a molten chocolate cake made with bitter-tinged Noir Guanaja takes on a deeply aromatic profile. And then there are those chunks of dulcey that I pop into my mouth every night before bed.
I happen to live in Brooklyn, New York, and am excited to learn that the first U.S. chocolate culinary school will be opening here on September 22, 2014. L'Ecole du Grand Chocolat Valrhona was founded in 1989 by Frederic Bau (Valrhona's creative director) with three locations: in Tain L'Hermitage, Paris-Versailles, and Tokyo. Generally the classes are for professional chefs, taught by professional chefs, but in early 2015, New Yorkers (and out-of-towners) will be able to take classes in chocolate and pastry making in the fashionably-designed school, located in DUMBO (down under the Manhattan bridge overpass) on Water Street.
A few favorite summer recipes using chocolate include my watermelon carpaccio sprinkled with cassis and shavings of white chocolate; my all chocolate velvet tart (recipe below), or a late-afternoon snack of dark chocolate, Parmigiano-Reggiano and sweet red grapes. Valrhona baking bars are available at select retailers and online .
Rozanne Gold's All-Chocolate Velvet Tart (adapted from Radically Simple, 2010)
This extremely elegant dessert can be assembled in less than 20 minutes. Let it sit in the fridge until just firm, and serve with crème fraiche and summer berries.
5 ounces chocolate graham crackers
5 tablespoons unsalted butter, room temperature
1 cup heavy cream
12 ounces dark chocolate (Valrhona Noir Caraibe, 66%), chopped
2 tablespoons unsweetened cocoa powder
1 tablespoon crème de cassis or 1 teaspoon grated orange zest
1 cup crème fraiche
Preheat the oven to 350 degrees F. Lightly butter a 9-inch removable-bottom tart pan. Combine the graham crackers and 4 tablespoons of the butter in a food processor. Pulverize until finely ground. Pack the crumbs into the pan to form an even bottom crust. Bake 10 minutes. Bring the cream just to a boil in a large saucepan. Reduce the heat and simmer 5 minutes. Add the chocolate and stir constantly over low heat until melted. Stir in the cocoa, cassis or orange zest, and 1 tablespoon butter. Pour into the crumb crust; refrigerate 45 minutes or until just firm. Serve with crème fraiche. Serves 10
Rozanne Gold is a four-time James Beard award-winning chef and author of Eat Fresh Food: Awesome Recipes for Teen Chefs, Healthy 1-2-3, and Radically Simple: Brilliant Flavors with Breathtaking Ease.
Related