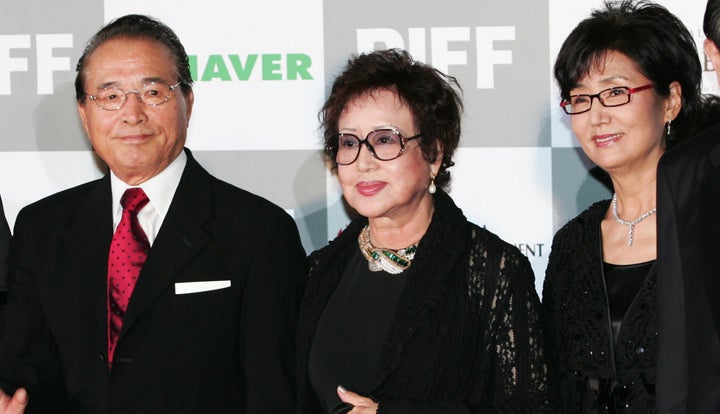 Legendary South Korean actress Choi Eun-hee died on Monday during a hospital visit for kidney dialysis, according to Yonhap News Agency. Choi was 92 years old.
The actress, who cemented her icon status in a series of roles in the 1960s and '70s, also gained international attention after it was revealed she'd been kidnapped by North Korea and forced to make movies for the country in 1978.
Choi, along with her ex-husband Shin Sang-ok, who'd also been abducted, would spend eight years imprisoned by then-heir apparent of the North Korean leadership, Kim Jong Il.
The actress was born in the South Korean town of Gwangju on Nov. 20, 1926. She ran away from home as a teenager and married an abusive husband, according to author Paul Fischer, who wrote a book about the kidnapping. Before becoming an acclaimed actress, Choi had been enlisted by both North and South Korea during the Korean War and had survived rape. She divorced her first husband before meeting Shin.
With Shin as the director, Choi was featured in about 130 movies and won several awards for her performances. The pair's artistic relationship was severed after Choi discovered Shin had a secret second family, leading the couple to divorce in 1976. Two years later, the film star was lured to Hong Kong with a promise of a starring role. However, the meeting took a terrifying turn.
"There was a speedboat with three or four strong men," Choi said in the documentary "The Lovers and the Despot." "All of a sudden a guy grabbed me by the arms. Before I knew it, I was onboard. All the blood drained from my head to my toes."
Choi's ex-husband Shin would be captured as well, and he was imprisoned by North Korea for several years. The two were eventually reunited and remarried in 1983.
Kim Jong Il, who'd orchestrated the abductions, had been a huge admirer of Western cinema and put pressure on the prolific couple to change his country's film industry.
"Why do all of our films have the same ideological plots?" the late dictator can be heard saying in a tape secretly recorded by Choi, lamenting the North Korean film industry. "There's nothing new about them. Why are there so many crying scenes? All of our films have crying scenes. This isn't a funeral, is it?"
The actress noted in the documentary that she went on to make North Korea's first love story. The reunited couple made nearly 20 films for the country, and Choi won best actress at the 1985 Moscow Film Festival during her imprisonment. Kim was pleased with the pair's work and allowed the two to travel overseas to a number of film festivals. During one such event in Vienna, the pair escaped.
The two lived in the U.S. for 10 years following their defection and returned to South Korea for their remaining years. Shin died in 2006, and Choi's health began declining soon after, Yonhap noted.
Though Choi says she "understood [Kim's] desire to develop the North Korean movie industry, she never forgot the trauma of the kidnapping.
"I still have nightmares about being chased by North Korean agents," she said in 2015, according to Korea Joongang Daily. "It feels like somebody is always chasing me. People who haven't experienced this will never know the feeling."
While she lived through a tumultuous career, Choi maintained that acting was a profession of immense pride and was meant for a "great person."
"That is because an actor needs to be able to sympathize with the feelings of others in order to act well," she said, according to Korea Joongang Daily. "I believe a kind heart, looks, speech, skills and the ability to write are the five qualifications of a good actor."
Popular in the Community