NEW YORK -- It's been almost two weeks since Eric Garner died on Staten Island after being put into a chokehold by NYPD officer Daniel Pantaleo. Since Garner's death, photo and video evidence has emerged showing New York City police officers using apparent chokeholds to apprehend two other suspects, both of whom were black, and both of whom allegedly resisted arrest over petty crimes.
On Saturday, onlookers took photos of a cop putting 27-year-old Rosan Miller, who is seven months pregnant, into an alleged chokehold after police accused her of illegally grilling on the sidewalk outside her Brooklyn apartment.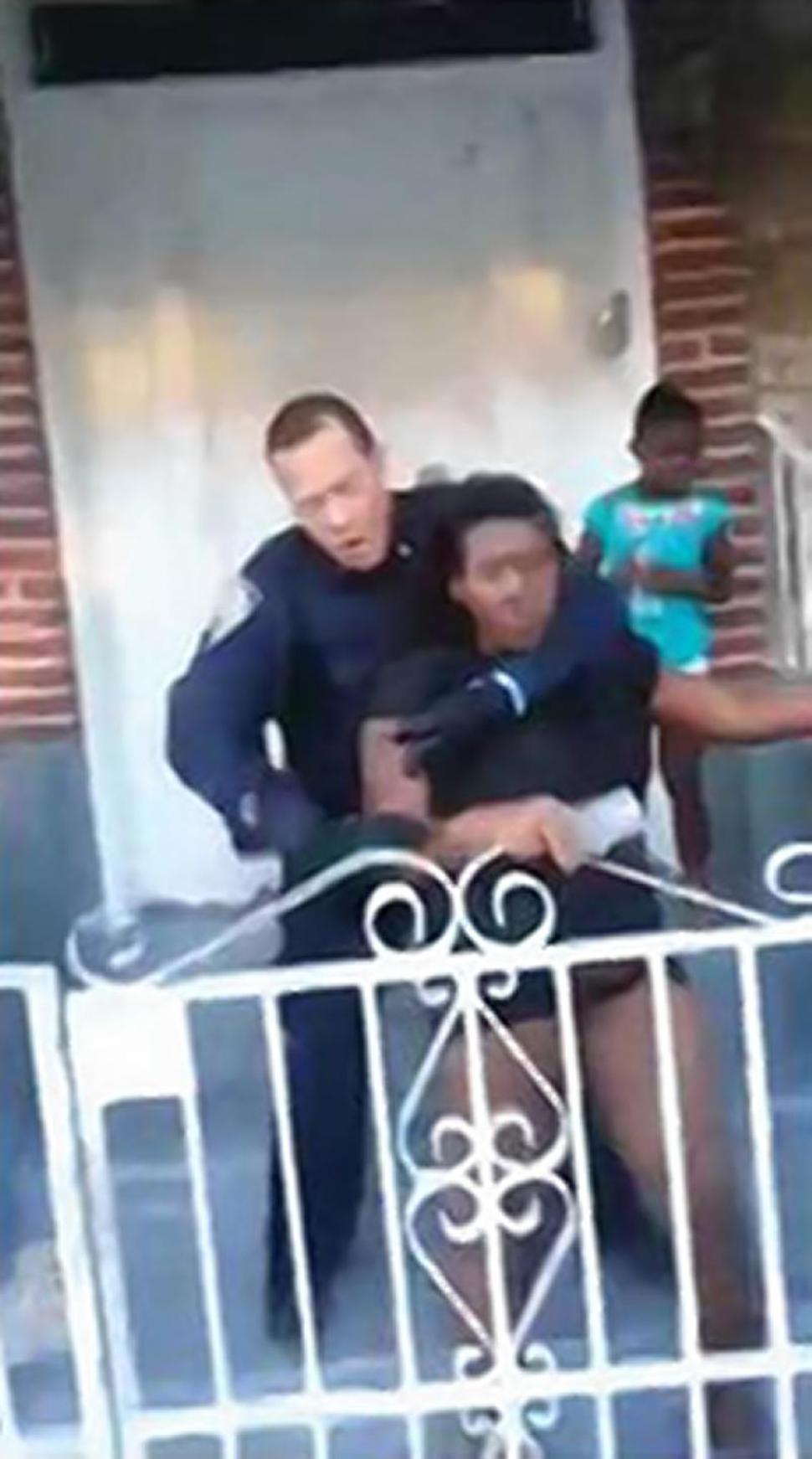 On Monday, the advocacy group People Organizing and Working for Empowerment and Respect released images of Rosan Miller's encounter with NYC police to the Daily News.
And last Wednesday, a video emerged of a New York police officer putting 22-year-old Ronald Johns into what Gawker writer Jordan Sargent described as "a textbook chokehold" after Johns entered a Harlem subway station through the exit gate on July 14.
Chokeholds are dangerous. In Los Angeles alone, between 1977 and 1982, 16 people died in police custody after being placed in chokeholds. The LAPD banned the practice in 1983, and the NYPD followed suit 10 years later.
Since then, however, many New York cops appear to have ignored that ban.
City Council Member Rory Lancman argues that the lack of enforcement effectively gives cops permission to use chokeholds. He's introducing a series of bills that would not only outlaw chokeholds altogether, but make it easier to criminally prosecute officers for using the maneuver.
"Here we are, 20 years after the NYPD placed an absolute ban on chokeholds, and we still see that they are widely used and sometimes to used to deadly effect," Lancman, who hopes to have the measures ready by August's legislation session, told The Huffington Post. "Clearly, we need to do more to deter use of chokeholds and hold people accountable when they are used."
The first bill would explicitly designate chokeholds as a misdemeanor in New York City. Although New York state law bars chokeholds, the legislation as written requires "proof of intent to obstruct breathing or blood circulation but without inflicting serious injury." Lancman's measure doesn't require the proof of intent -- rather, it flat-out prohibits the use of chokeholds, defined by the NYPD as "any pressure to the throat or windpipe which may prevent or hinder breathing."
The second bill would lower New York City's legal standard for assault charges, reducing it from criminal intent to criminal negligence, in the process allowing district attorneys to bring assault charges against individuals who use chokeholds. Lancman explained that it's important to empower district attorneys to go after chokehold offenses because their resources far exceed the CCRB's.
"[District attorneys are] independent elected officials that are not subject to whatever philosophy of crime prevention is invoked at City Hall at a particular moment," he said, adding that CCRB members, by contrast, serve at the pleasure of the mayor. "It doesn't matter to a DA in Queens or in the Bronx that [former Mayor Michael] Bloomberg supports stop and frisk, or that [Mayor] Bill de Blasio supports 'broken windows.'"
Lancman plans to introduce three more NYPD-related bills later this summer. Two would require the NYPD to report in greater detail how its officers use physical force on the people they arrest. Right now, the NYPD is only required to report instances that involve the discharge of a firearm. The third bill would require the police department to examine which low-level offenses its officers enforce the most, in an effort to ensure that cops aren't unfairly targeting minorities.
Lancman said he hopes his measures will represent "the beginning of a conversation" with other lawmakers, police reform advocates and the police unions. Advocates for NYPD reform see Lancman's legislation as a positive step.
"We would applaud legislative changes that increase transparency surrounding the NYPD's use of force, and real accountability for all types of police brutality," Priscilla Gonzalez, a member of the advocacy group Communities United for Police Reform, told HuffPost in a statement. "For too long, there have been inadequate consequences for police officers who use excessive force -- even when it has led to the unjust death of unarmed civilians."
A spokesperson for New York City's largest police union, which is usually averse to this sort of legislation, declined to comment on Lancman's bills, saying the organization will wait to see how the measures are drafted before making a statement. But one former high-ranking police official, who asked not to be identified, told HuffPost that Lancman is "exploiting" the tragedy of Eric Garner's death.
"This shoot-from-the-hip and reactionary call for new legislation, issued without even awaiting the results of any investigation of the facts, is precipitous and ultimately misguided, potentially destroying the delicate balance created by existing laws," the officer said.
The NYPD did not respond to a request for comment.
Meanwhile, Lancman told HuffPost he's looking forward to having a dialogue about the bills.
"I think there's a real interest in the city council to make sure that tragedies like the one that befell Eric Garner never happen again," he said. "This is a council and a mayor that takes these issues very seriously."
(Warning: This video contains content that may be disturbing to some readers.)
Before You Go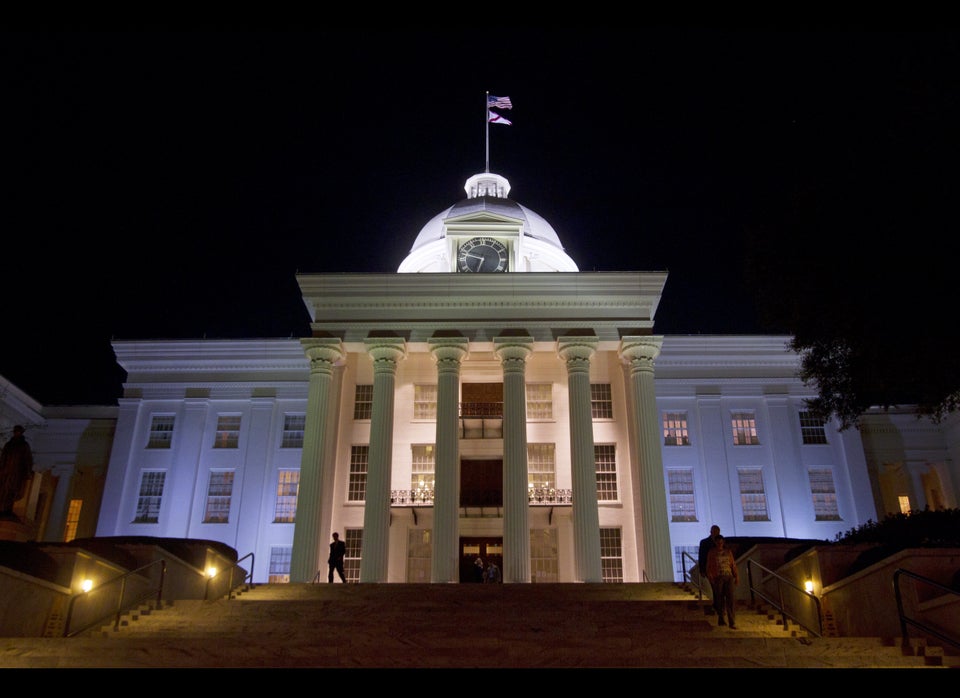 U.S. State Capitol Buildings
Popular in the Community